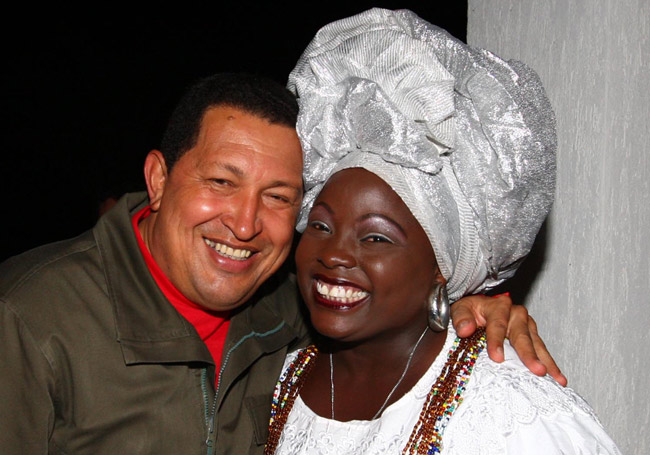 Hugo Chavez wins again: "President Hugo Chávez, long a fiery foe of Washington, won re-election on Sunday, facing down cancer and the strongest electoral challenge of his nearly 14 years in office and gaining a new mandate to deepen his socialist revolution. Though his margin of victory was much narrower than in past elections, he still won handily. With 90 percent of the votes tallied, Mr. Chávez received 54 percent, to 45 percent for his opponent, Henrique Capriles Radonski, the national election council said. Fireworks erupted in Caracas after the news, and Chávez supporters celebrated in the streets. Shortly before 11:30 p.m. local time, Mr. Chávez stepped out onto the balcony of the presidential palace in Caracas and waved to a sea of jubilant supporters. "My words of recognition go out from here to all who voted against us, a recognition for their democratic temperament," he said. A former soldier, he called the election a "perfect battle." Still, after a spirited campaign, the polarizing Mr. Chávez finds himself governing a changed country. He is an ailing and politically weakened winner facing an emboldened opposition that grew stronger and more confident as the voting neared, and held out hope that an upset victory was within reach." From the Times.
"The Trouble with foreign policy , a sage diplomat once observed, is that it involves foreigners—and they don't always do what they are told. In the last weeks before an election dominated by economics, in which geopolitics has often seemed an afterthought, the world seems full of foreigners refusing to bow to American advice and imprecations. Mitt Romney has a simple explanation: allies have lost faith in America and opponents have been emboldened by Barack Obama's inconstancy and lack of resolve. The president, Mr Romney charges, is ambivalent about American might, and embarrassed to assert America's unique destiny as leader of the free world. A Romney presidency, he vows, would follow Reagan's dictum of "peace through strength", whether economic, military or moral, unapologetically championing such American values as free trade and democracy. The Obama camp offers a more nuanced explanation. America remains the "indispensable nation", but is not omnipotent. The world can be "confounding", as Hillary Clinton, the secretary of state, sadly noted in the wake of the murder in September of her ambassador to Libya in Benghazi, a city saved from destruction by American air power. […] Whoever occupies the White House will find a world that still craves American recognition, demands American attention, but resents American meddling. Mr Obama learned this the hard way in his first years in office, taking too long to realise that his cool, reticent persona was doing real harm to relations with long-standing allies. Mr Obama has learned to show a bit more warmth, or at least to feign it. Mr Romney—who managed to insult the (ever-touchy) British during a supposedly easy foreign jaunt to the London Olympics—is also a chilly sort. If elected, he too will have to learn the art of making foreigners feel loved, without receiving much love in return. Nobody said being the indispensable nation was easy." From the Economist.
Nobel Prize in Medicine goes to John B. Gurdon of Britain and Shinya Yamanaka of Japan: "The Nobel Prize recognizes two scientists who discovered that mature, specialised cells can be reprogrammed to become immature cells capable of developing into all tissues of the body. Their findings have revolutionised our understanding of how cells and organisms develop. John B. Gurdon discovered in 1962 that the specialisation of cells is reversible. In a classic experiment, he replaced the immature cell nucleus in an egg cell of a frog with the nucleus from a mature intestinal cell. This modified egg cell developed into a normal tadpole. The DNA of the mature cell still had all the information needed to develop all cells in the frog. Shinya Yamanaka discovered more than 40 years later, in 2006, how intact mature cells in mice could be reprogrammed to become immature stem cells. Surprisingly, by introducing only a few genes, he could reprogram mature cells to become pluripotent stem cells, i.e. immature cells that are able to develop into all types of cells in the body. These groundbreaking discoveries have completely changed our view of the development and cellular specialisation. We now understand that the mature cell does not have to be confined forever to its specialised state. Textbooks have been rewritten and new research fields have been established. By reprogramming human cells, scientists have created new opportunities to study diseases and develop methods for diagnosis and therapy." From nobelprize.org.
World's most obvious bill signed into law: "Every so often, a piece of legislation comes along that you can't believe wasn't made into law eons ago. One such bill is S. 710, a relatively under-the-radar measure, which President Obama signed Friday. It requires companies to keep electronic records of the hazardous waste that's zooming around the country. So, wait a sec. That means that until now, there have been only flimsy paper documents chronicling the comings and goings of dangerous junk, which could easily go up in flames (because that's sometimes what happens to hazardous waste)? Yup. Without it, say there's an overturned truck on the side of the highway that's oozing some sort of goo. The rig is marked "Hazardous Materials." Firefighters and EMTs have only one way of immediately figuring out what the truck is carrying: go into the cab and find the piece of paper where it's written." From the Washington Post.
Who Closed the American Mind? Allan Bloom was brilliant, but wrong about Burke and multiculturalism: "While I continue to learn much from Bloom, over the years I have arrived at three main judgments about the book's relevance, its prescience, and its failings. First, Bloom was right to be concerned about the specter of relativism—though perhaps even he didn't realize how bad it would get, particularly when one considers the reaction to his book compared to its likely reception were it published today. Second, his alarm over the threat of "multiculturalism" was misplaced and constituted a bad misreading of the zeitgeist, in which he mistook the left's tactical use of identity politics for the rise of a new kind of communalist and even traditionalist tribalism. And, lastly, most of his readers—even today—remain incorrect in considering him to be a representative of "conservatism," a label that he eschewed and a worldview he rejected. Indeed, Bloom's argument was one of the early articulations of "neoconservatism"—a puzzling locution used to describe a position that is, in fact, today more correctly captured by its critics on the left as "neo-liberalism." What should most astonish any reader of Bloom's Closing after 25 years is the fact that this erudite treatise about the crisis of higher education not only sat atop the bestseller list for many weeks but was at the center of an intense, lengthy, and ferocious debate during the late 1980s over education, youth, culture, and politics. In many ways, it became the most visible and weightiest salvo in what came to be known as "the culture wars," and people of a certain generation still hold strong opinions about Bloom and his remarkable, unlikely bestseller." Patrick Deneen in The American Conservative.

Flagler County Jail Bookings