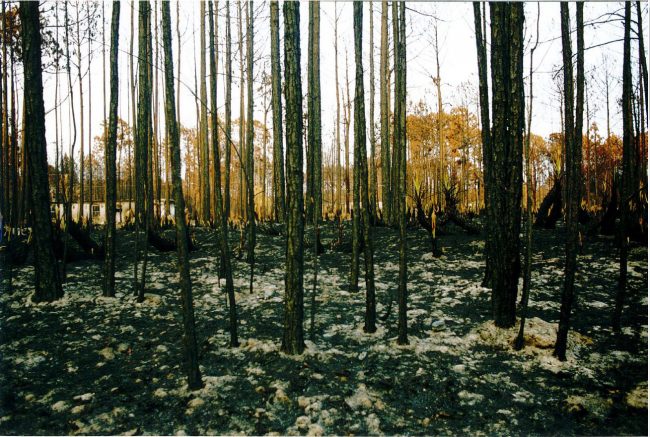 Wildfires are again wreacking havoc with roads in Volusia County, shutting down portions of I-95 in both directions and sending weekend traffic into shambles.
As of 4 p.m. today (Friday), the Florida Highway Patrol had shut down I-95 from mile marker 257 to 261 in both directions because of low visibility. Northbound I-95 is shut down at Dunlawton Avenue, Southbound I-95 is shut down at International Speedway Boulevard.
Drivers can use 511 for updates.
A 30-acre fire is burning near Beville Road and South Williamson Boulevard, the Florida Forest Service says, jumping or crossing, the interstate and sending firefighters to battle flames on both sides. The fire ignited at 2 p.m. The fire was one of some 25 fires burning in the state, mostly in its southern and southwestern portion.
The fires are burning just as the Florida Fire Service is getting ready to mark the 20th anniversary of Florida's devastating 1998 wildfire season and Wildfire Awareness Week, April 8-14.
The 1998 fires scorched 500,000 acres of forests, private lands and communities across Florida and cased the complete evacuation of Flagler County, destroying 300 homes and other structures in all.
"Wildfire Awareness Week serves as an important reminder of not only the catastrophic impact that wildfires can have on our communities and natural resources, but of the bravery and dedication of our forestry firefighters and first responders that work every day to protect Florida," said Commissioner of Agriculture Adam Putnam. "It's imperative that Floridians stay educated on how to avoid and prepare for potential wildfire."
Since the beginning of the year, approximately 1,142 wildfires have burned 68,653 acres in Florida.
"Historically, spring is the most active time for Florida's year-round wildfire season due to typical weather patterns and residents burning yard waste from the accumulation of winter debris," said Jim Karels, Director of the Florida Forest Service. "With expectations of an active wildfire season and continued drought conditions, Wildfire Awareness Week is a great time for residents and visitors to learn their role in preventing wildfires."
Wildfires in Florida usually start and spread quickly, leaving little time to prepare for a possible evacuation. Residents can complete a few simple tasks to help defend their homes and families against wildfire. Homeowners can take the first step by creating a Personal Wildfire Action Plan, but all residents and visitors are encouraged to utilize these resources; including Florida's "Ready, Set, Go!" and "Firewise" programs that provide simple tasks to help defend against wildfires.
Visit the Florida Forest Service's wildfire information webpage to view an interactive map of current active wildfires, drought and fire danger forecast information and a list of current county burn bans. Floridians can also download the Florida Forest Service's "FLBurnTools" app to access wildfire conditions in real-time; available in Apple's App Store and on Google Play.