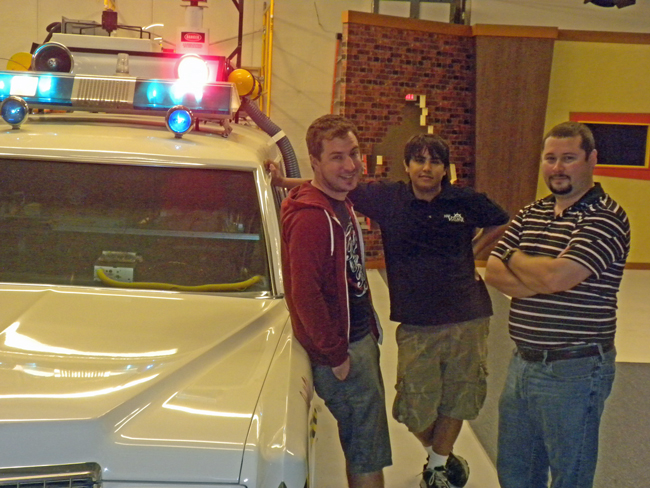 It'd have to be in some alternative comic book universe for the Ghostbuster-mobile and the Stone Age Flintstones-mobile to occupy the same space.
But you'd have to be in an alternative universe if you find yourself in a movie studio in Palm Coast. And so you do, though the neighborhood around Hargrove Grave has always had the feel of a  set from the original Star Trek.
You're just off of U.S. 1. It's a plain-looking office complex. There's nothing suggestive  of movie magic on exterior walls other than a "10th Voyage Studios" sign on the door. But it's there. So is the actual film studio. So are the two mythic vehicles from the kind of movie and television lore created when Palm Coast was itself an undiscovered country at the edge of the exurbian universe.
Just inside is a small office that looks like the chamber of a war ship. A long metallic table dominates the middle of the room. A a periscopes-like contraption keeps an eye on the parking lot. A "Steam Boat Willie" Mickey Mouse model and a small handful of monitors are positioned in front of a mock porthole. It's in this enclave that three young men, Patrick Appolonia, Scott Nance, and Lenny Mosco, sit and talk shop. Or zombies.
The studio bills itself as "Northeast Florida's Premier Professional Motion Picture Production Studio and Facility." It opened in August after an 18-month gestation period. Nance, 31, is a producer and studio president. Credit for the creative interior goes to Nance's wife, who "likes guns, power tools, and videogames," he says. "I did some painting, but she's very creative."
Nance had already been working on 10th Voyage's pilot show, "Zombie Cleanup," for a few years, since "the zombie craze of '09," long before the studio was functional. It's "kind of like 'The Walking Dead' meets 'The Office,'" says Nance, or "a camera-conscious, reality-style zombie show," says Appolonia, 31, a studio director and screenwriter. They're currently two episodes in, though there's still some work needed. They're not sure if they're going network or the web route with the show.
Obstacles are part of the business. One thing holding them back: the need for a special armored and weaponized truck, complete with machine guns and other zombie-killing doodads, that they're calling the "Zombie 1," and are in the process of constructing. It's not like they can turn to their local law enforcement surplus store. They have to create the stuff themselves. The same talented individual who put together their impeccable "Ecto 1" (the more official name of the  Ghostbuster-mobile) has been tasked with the assignment.
These cars aren't cheap. "I won't say numbers," Nance says. Studio executives rarely do. "But it's not a couple of hundred dollars, I can tell you that."
10th Voyage's primary profit at this stage comes from client work, promo videos, infomercials, music videos, and the like. They haven't done any formal advertising yet, but they prefer it that way right now so they can work on their own projects.
Opening a movie studio in Palm Coast, centrally located between Titusville and Jacksonville, is a double-edged sword. The trio say that while they can't bring in as much business as they could in a place like Orlando, at the same time, there's not much competition.
In places like New York and Los Angeles, movie studios are practically as common as Starbucks, says Appolonia. "Competition is always good, but when there's so many options, people might not find you." In terms of shooting locales, the only thing they don't have is mountains. What they do have is the sort of technology and versatility that even a few years ago would not have been as accessible or affordable.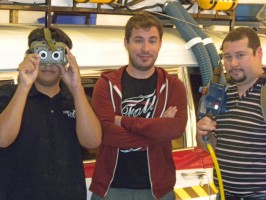 "The truth is," Appolonia says, "the big studios now are starting to shake in their boots a little bit, I think because, you have the capacity to make films, make television shows at the quality they're making them at with a much lower budget because all the equipment is accessible to a studio like this. We have all the equipment we need, whereas in the past you needed a $35,000 Panavision camera or editing equipment that's out of this world and no one has the money to buy something like that as a consumer. So the consumer products that we have now as far as cameras and editing equipment, it's industry standard. I can go on and on."
"We'll be getting the new Blackmagic 4K camera pretty soon," says Nance, a piece of equipment that runs around $3,000, "so well be running Hollywood quality resolution here within the next year."
Whether you're working with classic film or going digital, talent and desire are still almost as necessary as they ever were. "Everyone started with a shoestring budget," says Appolonia. "or 90 percent of people in Hollywood—directors and producers. You can come out of the gate making a film that's theater-ready as opposed to a pitch project or a short, whereas someone's going to look at you and say, 'Oh, we'd like to invest in this person.'"
This is evident even in the early work of luminaries like Quentin Tarantino, Martin Scorsese, or Kevin Smith. "It's all independent money out-of-their pocket stuff, and you can tell. A lot of the time it took that studio boost to kind of get them where they were destined to be with a little bit more money," Appolonia says. "Now, you really don't need that. I mean it's always helpful to have a big budget, but it's not as much a necessity as it once was."
Nance, originally from Broward County, left a local career as a Flagler County Sheriff's deputy—the job he thought he always wanted—until he discovered how much he loved film when he started working on shorts with a friend.  "I'm definitely glad I made the move because it's a whole other world, and it's an escape from the real world," Nance says. "And it's so much nicer."
Lenny Mosco, 22, writer and studio CEO, didn't foresee himself in this position, either. He had no direction, no desire to go to college. "I heard all these horror stories about college, you know, student debts, and the fact that even if you do go to college you're not guaranteed to get a job," Mosco recalls, "even though, from when you're a kid, they drill into your head that you need to go to college—you need to do this you need to do that!"
Mosco just knew that he wanted to start his own business because his father, also named Lenny, who works behind the 10th Voyage scenes as an executive and had also owned his own production company in New Jersey, started his own insurance business at Lenny's age.
"At least with this, if this does not work, I can at least say I was a business owner," Mosco says. Originally from New Jersey, Mosco has lived in Palm Coast for the last eight years.
Appolonia, 30, is the most industry-experienced of the three, having spent all his adult life acting and directing in New York and Los Angeles. He moved back to Palm Coast last year. He also taught acting at the New York Film Academy. He first moved here when he was six and left after he graduated from the University of Central Florida. He came back because he was done with "big city life."
"I'm a writer, so I wasn't really able to have my head space in those living environments," Appolonia says. "I just needed some time to collect what I wanted to do and just thought coming back here was the place to do it."
Mosco first met Nance at a Toys for Tots charity event at the annual Turkey Ride Run. Nance was dressed as a Ghostbuster, as he was part of a small Ghostbuster's fan group involved with charities. Len Mosco Sr., a movie car buff, was there to display the "Speed Racer" "Mach Five," the only licensed one in the world, according to Nance, and to sell Speed Racer merchandise. Referring to his original talks with Mosco Sr. that resulted in the studio's own "Ecto 1," Nance says, "He was, like, you get a hearse and we'll get it," meaning transform it, "and we just kind of went from there. The film thing just kind of snowballed."
10th Voyage wants to get its name out there, hence its participation at the first Flagler Film Festival in January,  where the studio first showed off  its cars. The festival currently accepting early-bird submissions for its second edition.