Over time the Flagler County Chamber of Commerce's periodic Common Ground breakfasts at Grand Haven Golf Club have turned into the county's only forum of its kind—a place where leading newsmakers, political or business leaders, representatives of media and other institutions appear in panels arranged around particular themes.
This morning's breakfast was a first: the Chamber's Gretchen Smith had thought of bringing the county's principal circuit and county judges together to speak about their work. It would provide the sort of rare insights judges rarely speak of. Smith texted the idea to County Judge Melissa-Moore Stens. The judge was enthusiastic. And this morning, Moore-Stens and circuit judges Dennis Craig, who handles the criminal docket, and R. Lee Smith, who handles family law, appeared together to answer questions for 40 minutes after providing brief biographical introductions.
"I don't know how often we have the opportunity to have our entire judicial resources of the county in the same room at the same time," Marc Dwyer, the attorney from Chiumento Selis Dwyer—the Palm Coast firm sponsoring the event—told the audience. "It is a very august occasion, and makes me feel really important to be here this morning. In fact I feel presidential."
The judges spoke candidly about how to remain impartial, about juries and jury selection, about the way judges' personal lives intersect with the community, and of course about work loads (Craig has presided over 14 jury trials so far this year), that being a sensitive matter lately: Moore-Stens is proportionately the busiest county judge in the state, and Flagler came close to getting an extra county judge starting in July. The Legislature appropriated the necessary $100,000. Then Gov. Rick Scott vetoed it.
---
"It's the most fun I have every month, is my jury trial week."
---
"The work-load study verified that we do have a need here in Flagler County, and just because I'm able to manage it, and hopefully everybody feels like I'm managing it well, and with the help of Tom Bexley and all of his people, like Judge Smith said, and the sheriff and the bailiffs and everybody, we make it run as smoothly as we can. But I do believe the county would be better served by having another county judge." She thinks a redistribution of judicial wealth could help Flagler draw from some of Putnam County's county judgeships.
She said the circuit judges were equally overworked, and have been for years: it's only a few years ago that the county got an additional circuit judge. But it's not as simple as swiping a judge from Putnam, where the work-load study recommended a county judge could be de-certified (that is, eliminated). "It's a difficult place for me to be, but I do think four judges would be able to handle everything that we have here, and we're close. We're at three and a half right now. But you figure next year is another election year, so you figure I'm going to be either on canvassing board or I'm going to be campaigning, so that's going to take a lot of time. We need another person here full time, in Flagler County."
Craig is now the administrative judge for the county. That may help the equation in the future. But, he noted, "the good news is, per population, we don't have nearly the rate of crime that Volusia County has, and I think that applies for St. Johns although I haven't looked at the numbers as close for St. Johns." That pleased the audience of 72 people.
Most questions were less politically touchy. The judges, for example, spoke about objectivity and personal experiences. "Every judge has their own life experiences," Smith said. "They come to the bench either made up of their own thoughts or based upon things that have happened in their lives, so to suggest that we can just sit on the bench and forget everything that's happened or forget everything that we've learned, it doesn't happen that way. But you have to take your experiences and draw upon them to make an educated decision. That doesn't mean to say you just have to completely forget who you are or what you're made up of. What it does mean is that you have to be neutral."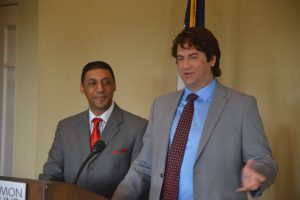 Particularly as the neutrality has to also inform juries' behavior.
"I love jury trials, I'm like Dennis, we love trying cases," Moore-Stens said. "It's the most fun I have every month, is my jury trial week, so I get to interact with jurors. On Monday what I try to impress upon the jurors, what's what we're looking for is somebody who's fair and impartial. Obviously everybody is going to have some experiences," whether it's from a victim's perspective or that of a perpetrator of, say, domestic violence, drunk driving, alcoholism and so on. "The question that I ask of the jurors is, can you set those feelings aside and listen to the facts of this case and be fair and impartial. If there's any question on whether or not you can be fair and impartial, it's OK, we just need to know. Really it's what we do as judges. If I can't be fair and impartial, I'm giving the case to somebody else."
To Craig, impartiality "comes with practice, and starts with being a lawyer and learning to be on both sides of a case." His approach? "You compartmentalize things. What you do is, you take your personal feelings, you put them in that box over there, and then you compartmentalize that. And even though you maybe personally would rather prefer one decision over another decision, you're going to keep your professional hat on" and make the decision based on the law.
Jury selection is a corollary of that requirement for objectivity. Juries must be impartial. But jury selection is also a weeding process. Not all those selected for the jury pool make it onto a jury. Only a minority do, especially in criminal court. Prosecutors and defense attorneys get to pick the juries, within certain bounds, and get to dismiss potential jurors for a variety of reasons and, at times, for no reason, though such options are not unlimited.
Smith's family law cases don't involve juries, so he deferred to the other two judges, who defended the system. "Most of the time if you are quiet in jury selection, you probably will get selected," Moore-Stens said. "That doesn't mean you don't have opinions, it doesn't mean you're not educated, it just means you might be less vocal about those opinions, and so for us as judges, we're really just calling balls and strikes. We're not the ones truly making those decisions. It's the attorneys making those decisions. They're the ones that are looking at that group of, 16 in my case, and saying I don't want this one for this reason, I don't want that one for this reason, and as long as it's essentially a race-neutral reason, and there's no challenge to it, that's where we're going to end up. There's very few decisions that we make in jury selection."
Craig traced back the jury system to the Great Charter, better known by its Latin name—Magna Carta—under England's King John in the 13th century. "I love the juries," he said. "You'd be surprised at how wise their decisions are, and I'm always surprised at how they can kind of get in between all the posturing and everything else and make certain decisions even when you know that some of the legal things that are thrown their way—they just can't have a complete understanding of it. But there's almost an innate common sense between those six people. They really put it together, and it just never ceases to amaze me, regardless of what their educational background is. More often than not, not only do they make a legal decision, but they really make a just one as well."
The judges were asked how the job impacts their personal lives. They answered with revealing stories about their personal lives, and surprising observations about which court leaves the heaviest burden on personal lives.
---
"I've got to learn how to leave the job at the job, and go home and focus on my family."
---
The family law docket affects a judge more than the criminal docket, they agreed, because it gets very personal. "In criminal court I think people understand, hey, this is a consequence, sometimes maybe even a cost of doing business," Craig said. "They don't necessarily blame the judge. In family court, it doesn't matter what you do. Judge Zambrano, he actually lived in Volusia County when he did the family docket here. He liked that separation, because he wasn't in the same community where he was making all these decisions. Now, when I'm doing the family law thing, I'm living here in Flagler County, and I tell you what. It gets a little uncomfortable when you're in Publix, when you're in Walmart, when you're over at the Little League field and you're practicing. It makes a difference, and sometimes it can be very uncomfortable and you almost have to withdraw a little bit from those types of things when you're a judge. Now I actually don't feel nearly as uncomfortable now that I'm on the criminal docket walking around town than I did when I was on the family docket."
The dynamics in Moore-Stens's courtroom are often driven by the fact that litigants represent themselves. The issues may be less cataclysmic than murder, rape and assault trials. That doesn't mean the courtroom is quieter. Most small claims cases involve people who have dealt with each other for months or years, but whose relationship has spoiled to the point where they need the court's intervention. "They're at their wits' end in whatever situation they're in, and it is very personal for them too," Moore-Sten said. "I agree, it's probably not the level of civil law, but my civil cases get more tense, and I've had litigants either come to blows or close to blows in my civil cases, and not in my criminal cases."
Then there's the matter of dealing with litigants after the fact, in the community. That has made going to restaurants "extremely difficult," the judge said. "You're a lot prettier than you were on that television screen," a waiter once told her, though he was grateful she had dismissed his case. "I've also had waiters and waitresses who come to the table one time and then never come back. I'm not kidding. They send somebody in their stead for the rest of the time. So it definitely impacts my life."
For Smith, the job required finding a different kind of separation. One evening when he was a prosecutor Smith was reading "Green Eggs and Ham" to his son. "At the end of it I realized that I had just, in my head, given my opening statement from my trial the next morning, and I had no clue what I had just read," he said. "And at that point I said to myself, you know what. I've got to learn how to leave the job at the job, and go home and focus on my family." These days the judge has an 80-minute drive each way that gives him time to "transition." It's easier said than done, he said, "and there are some cases that gnaw at you."