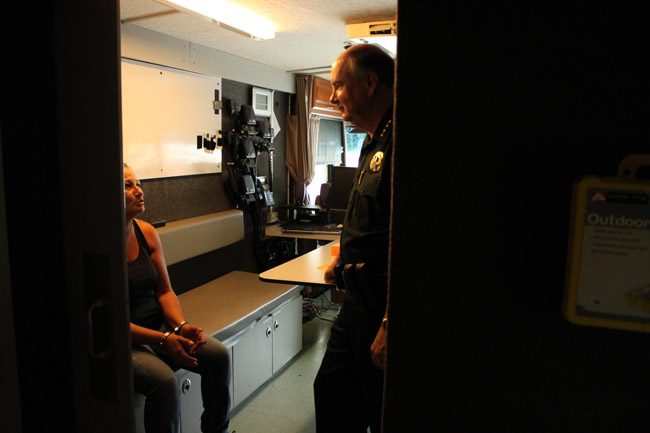 Jay P. Estes, a resident of Palm Coast's R Section and a contractor, showed up at 11 Claridge Court South at about 10:45 on June 8. The "homeowner" wanted to remodel the bathroom, including some plumbing work. Estes' estimate for the work: $2,900. He went back to the house on Wednesday to collect a deposit.
Instead, he was arrested and booked at the Flagler County jail on a misdemeanor charge of contracting without a license. He was one of five contractors arrested or given a notice to appear Wednesday, in the culmination of a two-county sting operation against unlicensed contractors in Flagler and Volusia counties. The homeowner had actually been an undercover detective with the Flagler County Sheriff's Office.
Unlicensed contracting is a recurring problem in Flagler, with the elderly or the unaware routinely targeted, and particularly so in the wake of Hurricane Matthew, when roofers, electricians and other contractors fanned out across the region to reap repair windfalls. The sheriff himself was targeted through one such attempted scam.
The Sheriff's Office dubbed the Flagler portion of the sting "Operation Wrong Number," because it was partly inspired by a phone call Sheriff Rick Staly's wife, Debbie, received at their house not long after he was elected, with a contractor saying he'd be in the area, and proposing to give estimates on certain scopes of roof work for hurricane damage. When Debbie Staly asked the contractor if he was licensed and insured, he hung up—the telltale sign that a contractor is working without a license or insurance, which is illegal, potentially dangerous and costly to homeowners, who have no recourse when work is badly done, or when faced with liability issues should injuries result from work performed.
"I was going to do this anyways because I thought about it during the campaign after I was selected," Staly said, "because you get people that are unlicensed contractors that come in and commit fraud against seniors or homeowners that need repairs."
The Sheriff's Office teamed up with the state Department of Business and Professional Regulations and Palm Coast government, both of which provided names that had been reported to them as unlicensed contractors. The Sheriff's Office got a vacant house, recently purchased and being remodeled, through the Flagler Home Builders Association where it set up the sting.
---
"The ultimate goal is, go get a license. You're welcome to do work in Flagler, but do it legally."
---
"A lot of these contractors move between counties, and so jointly we worked with the Volusia County Sheriff's Office, and they ran a same type of sting operation," Staly said. He was holding a joint press conference with Volusia Sheriff Milke Chitwood in Daytona Beach this afternoon.
In Flagler, the operation looked at 18 contractors. Thirteen were scheduled for estimates. Ten showed up to give the estimate. Five returned on Wednesday to collect their deposit. Charges are being filed on the five others who didn't show back up, and "strongly-worded" letters are going to additional contractors believed to be working without a license, but not caught through the sting.
"The whole key is we want you to get licensed, we want you to do it legally," Staly said, "get the insurance, get licensed, that protects our homeowners. We're starting hurricane season, God forbid we have another hurricane, but if we do we don't want unscrupulous contractors coming in, so this is basically sending a message, it's not going to be tolerated in Flagler, it's not going to be tolerated in Volusia."
Also arrested were Thomas J. Smith, 43, of Harbor Road in Port Orange (his arrest affidavit is identical to that of Estes, which suggests an error in the drafting of the affidavit, though he was also charged with contracting for electrical work without a license); Jonas R. Rich, 35, of Cleveland Avenue in Palatka. He'd provided a $16,620 estimate to fix the dock at the same house, and was charged with contracting for construction without a license; and Cynthia Haggerty, 45, of Imperial Drive in Daytona Beach, who had provided a $3,750 estimate for electrical and construction work. A fifth contractor, Desiderio Carlos Carreiro, 38, of Redius Place in Palm Coast, was given a notice to appear and was not booked at the county jail.
---
Contractor Jay Estes Provides His Estimate in "Operation Wrong Number"
"Some of these people have multiple charges, like for example there's one lady who, when she was arrested, she had been charged in the past," Staly said, referring to Haggery. "She had like, 10 others estimates she had given for other people. Each one of those is a crime."
Haggerty told authorities she didn't think she needed to be licensed to do the work she was planning to do. Staly was at the house for about 90 minutes, and was part of the arrest of Haggerty, with whom he spoke.
The fifth contractor was given a notice to appear rather than arrested because he had brought his young son, 7 or 8 years old, with him. "We didn't want to put dad in handcuffs in front of his son," Staly said. "That's the hard part about these things because in this particular case, I was there for that arrest, and it was probably dad trying to probably put a roof over his kids' heads, and food, but, you have to be licensed. He was very remorseful, said I just want to get my licensing and get those things fixed. It's the same thing as an arrest. He just didn't physically go to the jail."
Staly said licensing is in place for a reason: if an electrician did poor work, someone could be electrocuted, a house could burn down.
Estes, based on footage from an undercover video detectives shot, tells the "homeowner" that he's been working on houses in Palm Coast since 1996. "So I know the good ones," he says, referring to contractors who show up. "Everybody is busy, but then they're taking so much work, they're not finishing things."
"Gotcha," the "homeowner" says.
"Anyway, this is what I do all the time, by the way, and I personally do the work, I don't sub anything out, my reputation around town is impeccable, and tons of people can talk to [it] about me."
The charge for doing work without a license is a first-degree misdemeanor, which carries a maximum penalty of 364 days in jail, though most of those arrested on such charges usually don't face jail time. They may have to pay fines and serve probation, if convicted.
While this is all misdemeanors and we have other serious crimes, we will do periodic undercover investigations," Staly said. "The ultimate goal is, go get a license. You're welcome to do work in Flagler, but do it legally." The sting, he added, provides additional attention to a recurring problem, and aims to better inform consumers on what to watch out for and how to protect themselves.
The first step is to request from any contractor to produce clear proof of licensing and insurance, and to verify that proof at the Department of Business and Professional Regulations, which is easily done through the state agency's website, here. The department provides ample information about unlicensed activity here. And it makes it easy to file a complaint against contractors here. Residents can also report illegal activity by email, [email protected], or by calling the Unlicensed Activity Hotline at 1‐866‐532‐1440.
Alternately, If anyone has questions about whether a contractor is licensed or whether they need building permits before doing work on their home or business, contact the Palm Coast Building Department at 386.986-3780.