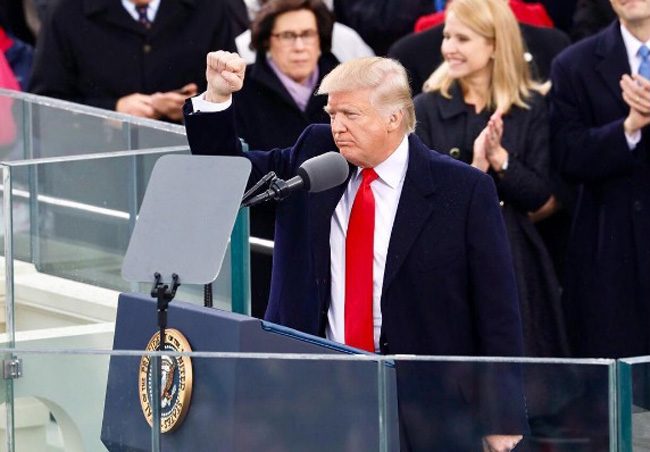 So this is what hell is. A week of the Trump era has been the seven days of Genesis in reverse, an unmaking of reality and civility and light. Trump said let there be me, and there he was, making and remaking himself in his own image. Instead of sea and sky we have a hall of gaudy mirrors. Instead of fruitful multiplications we have Eric and Ivanka and Jared and Don Junior. He saw that it was good, and everything else bad. And so it was. From the very first hour it was that apocalyptic vision of America as a city in pit, a Sodom and Gomorrah of crime and drugs and tombstones and bad dudes. Instead of John Winthrop he gave us Freddy Krueger. Instead of a salve to the poor, the tired and huddled masses he gave us Emma Lazarus as bouncer and Woody Guthrie as extreme vetter: this land is not made for you and me. It's for those who pass Trump muster.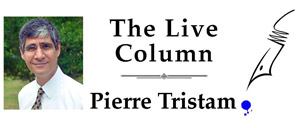 Evening came and morning came, and there he was again, making up new shit.
It's all blurring together. There's been so much of it in so little time. At one point he seemed to be describing the worst of the worst, to borrow a phrase from the now comparably tender Dick Cheney, when he was merely speaking of his predecessor presidents, of members of Congress he's supposed to work with, of the "Nazi" intelligence community, or, supreme heretics worse than Nazis, members of the media, "among the worst people" he's ever met. Those mirrors he cherishes have their blind spots.
Then came the lies about crowd sizes, an obsession as lurid as his exchange with Marco Rubio about something else he wanted to assure us was huge. He lied again about Muslims (remember those dancing Muslims on 9/11?), Syrians, Mexicans, the millions of illegal voters, those bogus cheers at CIA headquarters, at least partly juiced up by a bunch of fans Trump brought in, and of course the alternative-fact performance-artistry of Kellyanne Conway and Sean Spicer all week. They remind me of the old Sears hoax in the late 19th century—an actual newspaper advertising by the old company–that promised a sewing machine for $1. People who wrote in for it duly got a needle and a thread. The Trump illusion has been no different since its origins, down to Conway and Spicer making us believe they're shilling for something new: their "alternative facts" are just a rewrite of Trump's "truthful hyperbole," itself a term invented by Trump's ghostwriter in the 1980s to euphemize Trump's lies.
"The Talmud allows three exceptions to the requirement of truthfulness — involving knowledge, hospitality, and sex," the political philosopher Michael Sandel once wrote back in those innocent days of bestained blue dresses and cigars not being quite cigars in the other Clinton's Oval Office. I don't recall much of anything having to do with knowledge or hospitality in the past week, and I doubt there's been any opportunities yet for pussy-grabbing. So it's three strikes on Talmudic exceptions to truthfulness. And yet evening came and morning came, and the lies kept rewriting Genesis in Trump's image.
We're told us liberal losers to accept his victory, to move on and, give him a chance. We accept. We surrender. We want to give him a chance. We have moved on. But he hasn't. He can't accept the size of things. Can't accept that he's the least popular incoming president in memory. Can't accept that his electoral victory wasn't the Reaganesque landslide he pretends it was, or could have been if it weren't for those dead Mexicans voting. So he harps. He rewrites history. He makes up more stuff. By himself. Him and his 140 characters in search of a play.
There's been so much talk about fake news lately, worries about these rogue websites spreading lies that tip conversations or possibly even elections one way or the other. News organizations have been scrambling to come up with new methods on handling fake factories. The Czech Republic established a police department to combat the plague, like Centers for Disease Control, but for fake news.
---
The most promiscuous peddler of fake news is the president himself, Donald J. Trump.
---
We've all been looking in the wrong places. It's not Facebook. It's not rogue websites or Russian hackers we should be worried about. The greatest fake news organization on the planet is the Trump Organization, starting with the lie that its owner has divested himself from it. The most promiscuous peddler of fake news is the president himself, Donald J. Trump. That's dangerous for media, for America and for democracy.
Fake news has been the halo or armature of leaders from Pericles to Caesar to Ferdinand (of Isabella fame), and was codified in Machiavelli's "Prince" (modeled in part on the horrid Ferdinand). It's the enduring how-to of dictators, presidents, CEOs and too many school principals. But it's usually been a tactical necessity, not a strategy. Trump has turned it into his own little Sharia law: the guiding principle of every move he makes. Long before the first day, back when "there was darkness over the deep," and his father's spirit hovered over his watery ambitions, he created the lie.
He made up his big ratings for the Apprentice, made up 10 extra floors at Trump Tower, made up stories in "The Art of the Deal" to better sell the book, and called it all "an innocent form of exaggeration," "a very effective form of promotion." Nobody cared because the lies had no import. They went no further than tabloid gutters and tacky lobbies. But when Trump applied the deception to the public interest, when he built his electoral strategy around the racist myth of Barack Obama's foreign birth, things got serious, then toxic, then vile.
It's how dictators drug up their popularity. Ferdinand in his day was beloved by the people for the very things that soil his reputation today–his love of violence and torture, mutilating heretics, expelling Jews, Muslims and anything that didn't comply with the purity of his creed. Mostly he was cheered for instituting the Inquisition, from which Trump seems to be modeling his contempt for immigrants and whetting his lust for new inmates at Guantanamo. Those appeals to the baser instincts of his base preserve what little popularity he has. And it is all built on lies.
Of course all presidents lie, whether it's Thomas Jefferson's magnificent lies to acquire the Louisiana Purchase, Woodrow Wilson's considerably less magnificent lie never to send doughboys to Europe, Johnson's and Nixon's morbid lies that cost the lives of 2 million Vietnamese and 57,000 Americans, or George W. Bush's fake WMDs, his "Mission Accomplished" in Iraq, his heckuva job during Hurricane Katrina. But as Maria Konnikova writes in Politico, with indisputable evidence to back it up, "Donald Trump is in a different category. The sheer frequency, spontaneity and seeming irrelevance of his lies have no precedent. Nixon, Reagan and Clinton were protecting their reputations; Trump seems to lie for the pure joy of it. A whopping 70 percent of Trump's statements that PolitiFact checked during the campaign were false, while only 4 percent were completely true, and 11 percent mostly true. (Compare that to the politician Trump dubbed "crooked," Hillary Clinton: Just 26 percent of her statements were deemed false.)"
But facts and comparisons aren't Trump's business. They're not his admirers' business. Contempt for evidence is the dictator's modern equivalent of the True Cross, relic of so many crusades. It neutralizes his most able opponents, who still think facts and words matter. It exalts his troops. That's why his war on the media. He loves hating it because he could not exist without it, both as conduit and foil. That's why his chief White House strategist, Stephen K. Bannon, calls the media "the opposition party." That's why Bannon thinks the media should "keep its mouth shut," naturally praying it never does.
The strategy brought Trump to the White House, down to the mendacity of his billionaire narcissism pretending to care about the working class or his trillionaire cabinet somehow being separate from the elites he insults every day. Those are not innocent exaggerations anymore. They are attacks on the national character. This is dangerous. It is not only an unmaking of reality. It is an unwinding of America's moral fiber.
"From barbarism to civilization requires a century," wrote the great historian Will Durant. "From civilization to barbarism needs but a day." We've had seven, with 1,450 to go.


Pierre Tristam is FlaglerLive's editor. Reach him by email here or follow him @PierreTristam. A version of this piece aired on WNZF.