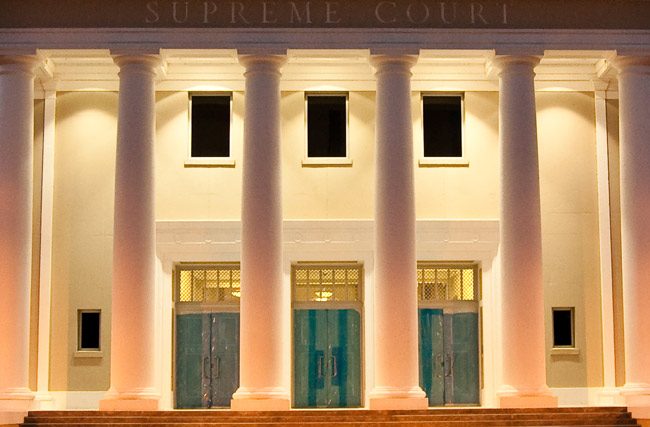 By Ben Hogarth
"Support, protect, and defend the Constitution and Government of the United States." These words resonate in every oath of office to which the recently elected have been swearing since November. So it's inexplicable why Florida Republicans are filing legislation that directly conflicts with this principle.
Rep. Julio Gonzalez, the Venice Republican, filed House Joint Resolution 121 immediately following the Christmas holiday, hopeful the rest of us aren't paying attention. Like a knife in the dark, the bill, if voters approve the constitutional amendment it's seeking, would grant the Republican-dominated Legislature a golden pen and supremacy over all courts—county, circuit, appellate and supreme, regarding future legislative matters.
If the Florida Supreme Court today strikes down a law passed by the Legislature, that law is no longer valid. If Gonzalez's proposal becomes law, the Legislature may one day have the authority to override any Supreme Court ruling—or any other non-federal court ruling—with two-thirds majorities of the House and Senate. Florida Republicans already have those majorities in both chambers.
Gonzalez filed a separate bill asking Congress to start the process that would lead to an amendment to the U.S. Constitution, granting Congress the same power over the United States Supreme Court.
Gonzalez claims the "judiciary branch of the Federal Government has taken an increasingly activist role aimed at molding legislation." He is just as critical of state courts. He may have a case if it were true. But his understanding of constitutional history is as shaky as his grasp of recent issues between his Legislature and the Florida Supreme Court.
In Marbury v. Madison, the Supreme Court's first landmark case, Chief Justice John Marshall established the principle of judicial review over all matters pertaining to laws of the United States. Marshall's ruling also reinforced a fundamental, hierarchical difference between constitutional law and all future legislative acts. The Constitution is paramount. No law, in other words, may override or "offend" the Constitution.
"It is emphatically the duty of the Judicial Department to say what the law is," Marshall wrote. "Those who apply the rule to particular cases must, of necessity, expound and interpret the rule. If two laws conflict with each other, the Court must decide on the operation of each."
Why then, do Florida Republicans feel entitled to a legal redress? What injuries have they suffered at the hands of the judiciary? What, to them, defines judicial overreach? Certainly a better case can be made that suggests the opposite. It's the Legislature that's been overstepping its mandate by attempting to manipulate elections through illegally drawn electoral districts.
The foundations of democracy depend on legitimate elections in truly representative districts. That's not the kind of districts the Legislature drew after the 2010 census. It got to work disenfranchising swaths of voters while maximizing Republican electoral chances. The League of Women Voters of Florida accused the state GOP of active partisanship in redistricting, sued and won: The Supreme Court ruled that certain electoral districts in Florida had been illegally drawn by the [Republican majority] legislature and were in fact, partisan in intent – a more diplomatic label for gerrymandering. And this after voters had approved a constitutional amendment to reduce gerrymandering. (Flagler County's House and Senate districts were affected by the decision.)
If not for an arguably conservative intervention by the court, the disenfranchisement of Florida voters would have lingered and perhaps proliferated so long as the Republican majority remained in control.
"The very essence of civil liberty certainly consists in the right of every individual to claim the protection of the laws whenever he receives an injury," Marshall wrote. Unfortunately for Florida voters who have suffered injury from Republican manipulation of voting districts, there is no true remedy for mendacity. Elections cannot be undone.
Ironic how the same legislative body that swears to uphold the Constitution undermines voters while seeking to silence the only branch of government in its way. "If such be the real state of things, this is worse than solemn mockery," Marshall had aptly written about duplicitous oath-takers. "To prescribe or to take this oath becomes equally a crime."
If we grant any merit to legislative proposals like Gonzalez's, we'd be overriding hundreds of years of common law, Constitutional law and judicial interpretation. We'd be complicit in eroding our democracy and handing unchecked power to a few senators and House members. It would be no less of a mockery than to still give credence to the oath our legislators swear to uphold even as they scheme to undermine it. How our democratic nation could tolerate such provocation and transgression by any body of representatives is beyond comprehension.
Thankfully, our laws and Constitution are still in our hands – for now.


Ben Hogarth, a former Special Projects Coordinator for Flagler County, is the legislative affairs and communications coordinator for the City of Stuart. He interned in the late Sen. Ted Kennedy's foreign policy office in Washington in 2007. Reach him by email here.