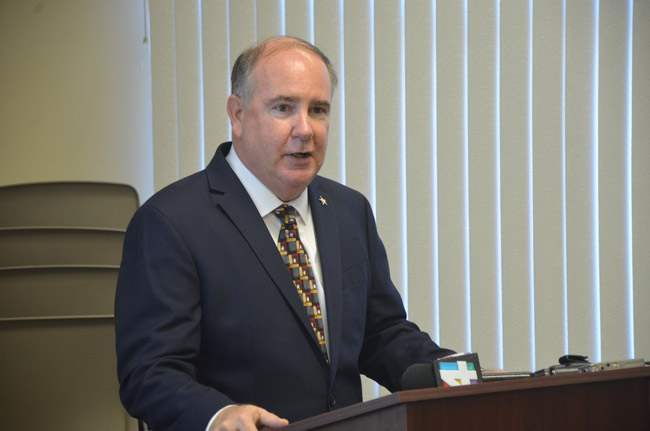 Changes are coming to the Flagler County Sheriff's Office. How significant those changes will be—aside from a new sheriff in Rick Staly—depends on your perspective.
To residents in the county and its cities, the changes will be almost imperceptible, even when the sheriff's planned three-zone policing approach is implemented and a greater focus is placed on commanders and managers patrolling alongside line deputies. Residents will still see the same sheriff's patrols—perhaps by different deputies or a slight increase in the visibility of uniforms–but administratively, those patrols will be split into between the Barrier Island, Palm Coast and the West Side.
There'll be a greater focus on gang-related crimes and an attempt to be more prepared in terms of "homeland security," to prevent lone wolf attacks, with greater attention to social media chatter. But even those changes are likely to be less visible to the public. An important new initiative at the jail, to facilitate re-entry into society, will be visible only to offenders. Various contracts totaling $100,000 will be scrubbed, most of those pertaining to social media, advertising and public relations.
It'll be a different story within the walls of the agency.
Changes externally and internally are the result of some 350 meetings Staly held with sheriff's staff and reviews by his transition team. "Some common themes were identified in this process, such as a disconnect between management and the line workers," Staly said, "low morale caused by staffing shortages and mandating excessive overtime, along with a variety of other issues that affected morale and various other operational concerns."
Staly gave local media a 40-minute preview of his new administration and organization chart this morning, much as Sheriff Jim Manfre did at the outset of his administration four years ago (with Staly at Manfre's side, as undersheriff.) The difference today was mostly in tone and focus. Internal changes will be considerable, at least to those affected. But of those 30 individuals whose jobs could have been changed, only eight will be "reclassified" (that is, demoted in most cases) while the rest will be transferred, re-appointed to their current position (with perhaps a title change) or promoted.
"Let me also mention that every manager in this agency that is a sworn law enforcement officer, will also be a watch commander," Staly said. "That means that everyone will get out from behind the desk and work the streets alongside the men and women they lead, including myself."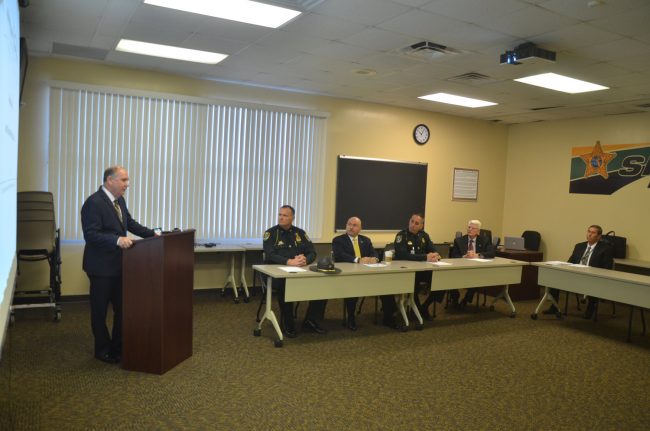 Staly is speaking of changes, but in a less aggressive, more inclusive tone. There will be administrative changes, including two significant demotions and a reorganization that shifts departments, creates new ones, eliminates certain ranks and designations and redraws the county's patrol zones. But Staly in this morning's conference projected less the personality of a new sheriff in town trying to reinvent the wheel—or put his stamp on everything he touches—than that of a new sheriff seeking to adapt an existing organization to his vision and that set out by his transition team, while speaking of better matching talents with jobs. Every sheriff reorganizes. Staly appears intent on carrying out his reorganization less abrasively than Manfre had in his early days.
To a few, however, the changes will still be jarring. Chief Deputy Jeff Hoffman, who's essentially been running the agency for the past two years, will be reassigned to a watch-commander post, while Director Jim Troiano, the agency's chief spokesperson, will be reassigned to closed-circuit TV control room officer—a position as close to Siberian exile as can be within the agency. It's difficult to imagine how Hoffman's or Troiano's talents better match their new assignments. But the change allows the incoming sheriff to more completely remake his command staff, as new sheriffs generally do, while sticking by his pledge that, in contrast with Manfre's reorganization, no one would be fired.
[Update: Just after noon Friday, Troiano resigned effective Tuesday. An email he sent media and others stated, in part: "Due to the reorganization of the FCSO, my current responsibilities have been eliminated and I will be resigning from the FCSO effective Monday, January 2, 2017. It has been an honor and privilege to have been able to serve you and our community, as well as representing the men and women of the FCSO over the past few years."]
Becky Quintieri, the jail director, has been reassigned to a new position, Offender Rehabilitation and Inmate Services, one of Staly's new initiatives designed to give offenders a better chance at re-entry into society. The jail itself will be headed by Steve Cole, who'll be heading a new division that groups jail and court services, including the courthouse's corps of bailiffs.
Those demoted will also see a reduction in pay. "The pay is consistent with the agency pay plan or their tenure in the agency, so whatever that came to," Staly said.
Aside from Jack Bisland, who Staly said he was appointing undersheriff earlier this month, two new names will be on the sheriff's command staff: Mark Strobridge as chief of the Organizational Services Division—and as chief spokesperson of the agency—and Rick Ramirez as chief of the Investigative Services Division. Ramirez a year ago retired from the Florida Department of Law Enforcement, where he was Special Agent in Charge of the Tampa Bay Regional Center. Strobridge worked with Staly previously at the Orange County Sheriff's Office, where Strobridge was the Executive Services Division Chief, overseeing media relations, internal affairs, government affairs and accreditation, among other responsibilities.
Aside from Bisland, who headed the agency's investigative division few months in the early part of Manfre's current administration, Staly is also bringing back Bob Weber, who had resigned or retired in 2015 after serving as Manfre's chief spokesman. Weber will be in charge of management services. Paul Bovino, a favorite among line deputies, will be promoted to Chief of the Community Policing Division, supervising all road patrol deputies.
Ramirez and Strobridge aside, the changes are remarkably contained to within the agency: Staly is not bringing in an entire corps of former colleagues from Orange County but rather relying on his existing staff to do the job (Strobridge is the exception rather than the rule, with Bisland a former employee and Ramirez the only other truly new face at the agency.) But a reorganization plan, especially at the sheriff's office, may be judged more by its endurance than its announcement: it was a matter of months before Manfre's plan fell apart, with almost every member of his command staff leaving the agency and the initial round of firings and demotions creating a gaping rift between him and his ranks. Staly's approach is distinctly different in style, though to some extent he can afford the magnanimity at least in part thanks to Manfre's house-clearing (in which Staly himself played an important role as undersheriff).
Staly spoke this morning from a training room at the old jail, where he's had his transition offices for the past month. He spoke from a lectern as several members of his command staff sat to his left—Cole, Ramirez, Bovino, Srobridge and Weber. Bisland was not present. He was delivering news of the changes, including the demotions, to employees, Strobridge said. The press packet distributed to media included a Dec. 29 memo to employees listing the changes, but it wasn't; clear whether that memo had been emailed agency-wide. (See the memo and the packet below.)
Crime and policing has not been a significant issue in the county in the past several years. Crime has continued to fall, with no major detectable trends beyond property crimes, though violent crime is up somewhat, and domestic crimes have been a persistent problem regardless of who occupies the sheriff's post.
Today Staly did not announce major new crime-fighting initiatives, and the shift in focus to gang-related crimes and homeland security is for now more of an outline than an explicit strategy.
"I felt that we really need to focus on our safety in this community and work with our local, state and federal partners so hopefully we can prevent a lone wolf attack," he said, with the memory of the Orlando massacre a reminder that such attacks can take place anywhere. "They telegraph their plans using social media and we're not really monitoring that at this point."
"One of my duties as sheriff is to prepare this agency for anything that could happen and ideally prevent these kinds of attack from occurring in our community," Staly said. "That's the kind of stuff that'll keep me up at night, is not only worried about my deputies out there, but do I have a nbut that's trying to make a name for themselves. So I did not feel that the agency was doing a good job in trying to prevent these kinds of incidents." He referred to the issue in March 2015 when two Palm Coast servicemen landed on an alleged ISIS kill list. He conceded that the matter "wasn't found to be a credible threat," but, he said, "ISIS knew about Palm Coast."
Staly offered few details about how to preempt attacks other than through more communications with state and federal authorities, and assigning a detective to monitor social media–the sort of needle-in-a-haystack approach documented to yield more false positives than reasonable suspicions.
But Staly made this startling claim: "In 2015, there were 71 ISIS-inspired attacks in this country. Now, you've only heard about the big ones. You heard about San Bernardino, you heard about Orlando this year." He said he heard the number at a briefing at the Joint Terrorism Task Force in the state. Pressed for details, he said: "I don't have the documentation, it was a presentation in a meeting that I was in." He added: "Our government in many cases doesn't tell the public because they don;t want the concern and fear out there. You hear about the big ones."
The claim, as it turns out, was not correct. On Jan. 5, Staly emailed a more detailed Homeland Security Department "snapshot" of terrorist activity in the nation, and noted reports on CNN and The Atlantic. The CNN report linked to the original study, by George Washington University, that cited 71 ISIS-related arrests, rather than attacks, in the United States.
(Last July CNN reported a total of 123 ISIS or ISIS-inspired attacks in 23 countries, only a handful of them in the United States, the Orlando massacre among them.)
The new intelligence unit he's asked Ramirez to start in the detective bureau would not be focused only on ISIS, but on the sort of social-media plotting that, in one recent case, led to the expulsion of at least two students who'd made claims and bomb threats against a local school. The sheriff's office has yet to release details about that alleged plan.
Asked about how he'd prevent overzealous policing locally, Staly said: "We have very good employees here and we're not going to go out on witch-hunts."
The clearest new initiative is Staly's second-chance plan for offenders. "We have a room at our hotel if that's where you want to go," he said, referring to the county jail, "but I would like you to learn some trades so that you can be a community worker and not living off the taxpayers in jail. That's the goal there." Inmates will work with various organizations "to try to get people back on the straight and narrow path."
As he has on the campaign trail, Staly said sheriff's deputies had not been feeling supported "from the top," and that he would be different, having walked in deputies' shoes (and been shot in the line of duty). Asked to explain what he meant by not feeling supported, he said: "Mainly that's because the previous sheriff, the outgoing sheriff, has never been a street cop, so in their mind they don;t feel like he really understands what they're going through and what they have to deal with. I think that's what they were referring to. They did mention though that since there's been so many ambushes and so forth across the county, our local residents have really supported them, that they hear thank you much more often, they can be eating dinner at a restaurant and they go to pay their bill and they find out that somebody has already paid it. So our community, we're very blessed, I think there';s a lot of support for law enforcement."


The Staly Plan for the Flagler County Sheriff's Office (2016).
<![if !IE]><![endif]>