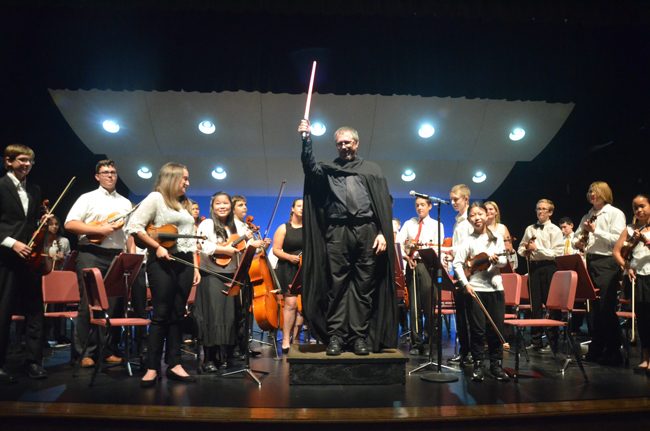 Showcasing five orchestras featuring its youngest beginners to its most advanced performers, the Flagler Youth Orchestra presents its first concert of 2016-17 on Nov. 16 at 7 p.m. at the Flagler Auditorium in Palm Coast.
This is the Youth Orchestra's 12th season and the first of three full-orchestra performances this year. The orchestra's quartet and its advanced ensembles perform throughout the year on more than a dozen occasions at smaller venues and festivals and at public and civic functions.
Conductor and Music Director Sue Cryan and fellow associate conductors of the FYO will lead orchestras totaling more than 375 string musicians — a cross-section of public, private and homeschooled students in performances of some 14 works, most from the classical repertory, all themed in this fall concert around nature's elements–water, wind, fire, and so on.
The program features various arrangements for the beginning and intermediate string players, many of whom will have their first-ever big-stage experience. It will then progresses to more challenging works by Igor Starvinsky (the finale from his Firebird ballet suite that, Stravinsky's breakthrough work), Gustav Holst's "Bringer of Joy" (an arrangement of one of his most beloved pieces from his "Planets"), and the evening's main course: five movements from Handel's Water Music (Originally written to please a king who thought London's Thames River could use a little music, back before it had The Eye). The Harmony Chamber Orchestra–FYO's most accomplished–will close the evening with Deborah Baker Monday's "Synergy," a romp of energy and tonal variety designed to challenge performers and rouse audiences.
Midway through, the concert will also include what has been a tradition at every one of the Youth Orchestra's 33 major concerts to date: a chamber performance by the faculty–Sue Cryan, Maggie Snively, and Joe Corporon. They'll play the spirited final movement of Haydn's Sunrise Quartet.
Tickets are available at the Flagler Auditorium box office or by calling (386) 437-7547. Adult tickets are $6 with $1 from each ticket going to the Auditorium's Arts in Education Fund. Tickets for children 17 and under are $1. The orchestra's proceeds help underwrite instrument scholarships and repairs, teaching staff and concert productions.
Keep in mind: the fall concert usually sells out.
The Flagler Youth Orchestra, a unique program in Florida that offers free music education and performance opportunities to all students who enroll (third grade and up), is made possible by the Flagler County School District, with the support of the Friends of the Youth Orchestra. The orchestra's sole mission is to provide free music education after school to all Flagler children with a desire to play an instrument. (Rehearsals take place Mondays and Wednesdays at Indian Trails Middle School in a dozen one-hour classes, between 3 and 6 p.m.)
For more information on the concert, how you can show your support of this performing arts program or enrollment in the strings program, contact Cheryl Tristam, program director, at (386) 503-3808 or by email at [email protected].