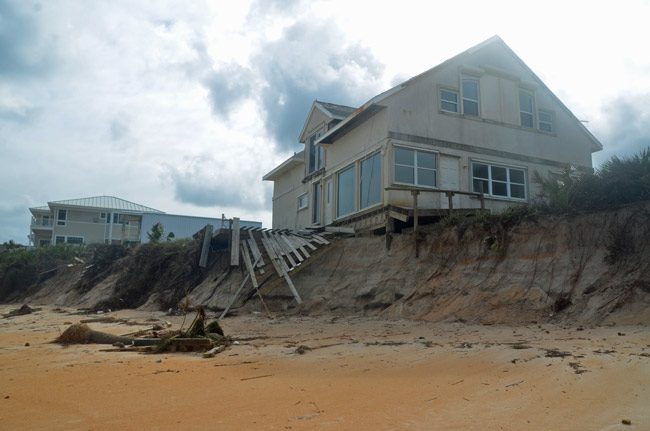 It's not what Flagler County's battered, eroded and barely recovering beaches need right now.
A cold front is moving through the region this afternoon, with strong high pressure building southward from the Ohio Valley on Saturday. While that may be good news weather-wise, with cool, dry, vaguely autumnal air–highs will be in the upper 70s–strong northeast winds will develop in coastal locations this evening in the wake of the front, with sustained wind speeds of around 20 mph and occasional gusts up to 35 mph. That'll continue through Saturday afternoon.
What that means for the sea and the beaches is less pleasant: On Saturday afternoon, the National Weather Center in Jacksonville warns, there will be elevated water levels of 1 to 1.5 feet above predicted tide heights around high tide, starting shortly after noon in the region.
"These levels could result in minor flooding at the northeast Florida beaches during the early afternoon hours on Saturday, especially given the compromised state of the protective dune structures," the Jacksonville station's Ben Nelson said.
That's particularly bad news for Flagler County and Flagler Beach, which have been struggling to rebuild demolished dunes at several points along the shore, especially at Washington Oaks Gardens State Park, at the north end of the county, in Marineland, along Painters Hill and at the south end of Flagler Beach, where construction has been speeding along to reopen the 1.3-mile stretch of A1A that Hurricane Matthew partially demolished.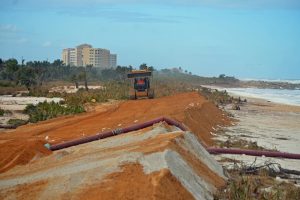 A half-dozen houses along what remains of the dunes in Painters Hill are also precariously positioned as if on cliffs right now, as the buffer of dunes that had previously protected them is gone, and the county has only emergency, 60-day authorization from state regulatory agencies to give property owners the go-ahead for repairs, leaving a permanent fix still pending.
"They have pushed up a dune that is probably 2,000 feet long to stop future breaches," Copunty Administrator Craig Coffey said this afternoon of the restoration work at Washington Oaks. Homeowners along Painters Hill have been dumping sand to buttress their foundations. "We'll be monitoring it very closely again and if we get some kind of break we'll be ready to take action but in the short term we're not anticipating another breach based on the work that's been done by the county, the DEP and homeowners." The DEP is the Department of Environmental Protection.
The worry Coffey said, is that even if there are no breaches, the tides' actions against eroded walls "could undermine houses further and bring other houses in jeopardy." There are just six houses in Painters Hill that have been compromised, but that list could grow if more sand is eroded. "I think we will still fare OK in this event although it can keep adding to the eroding of the existing protection."
A coastal flood advisory may be required for the late morning and early afternoon hours on Saturday for coastal northeast Florida, including the St. Johns River Basin, where water levels have been above normal due to astronomical effects, the Jacksonville station says. Expect high surf and a high risk of rip currents on Saturday, with breaker heights of 5-7 feet possible. These waves may create minor beach erosion during the high tide cycles on Saturday afternoon and just after midnight on Sunday.
Winds and seas will begin to gradually diminish during the overnight hours into Sunday.
In all, there's a group of 16 to 19 homeowners in one area, five to six in another, and a total of 140 properties–houses and vacant lot–that directly front the ocean, and that are susceptible to high-tide events. "Every supertide has the potential to add additional properties, all those homeowners are very concerned," Coffey said.
The county has been spending a lot of time with coastal engineers and is starting to meet with DEP and U.S. Army Corps of Engineer officials to work out a long term solution.
Meanwhile, DEP issued its guidelines in a 19-page emergency order outlining what may and may not be done during a 60-day emergency repair window, from vinyl sheeting to sand barriers, which has helped. But Coffey said the goal is to work on a solution that won't have homeowners being forced to remove what emergency repairs they have in place when the 60-day window closes, or when a more permanent solution is approved. "It just doesn't make sense for owners to go through that gyration only to rip it out right after," Coffey said. "A permanent solution is what we're trying to do."
In the long run, possibilities for permanent repairs include the creation of voluntary taxing districts that would help finance beach-property restoration over many years. But that's in the earliest conceptual stages, and it would depend on property owners' willingness to go that route.