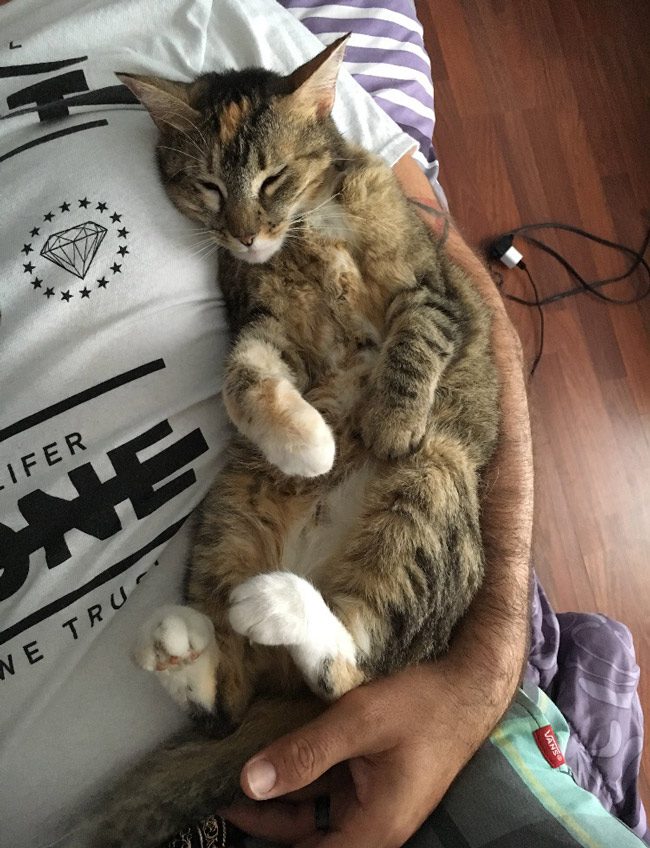 At the beginning of the month one of Christina Deangelis's cats inexplicably disappeared and never reappeared. On Oct. 15, Deangelis walked out of her house at 15 Laguna Forest Trail in Palm Coast to find another one of her cats, 5-year-old Baby Cat, lying motionless in the driveway.
Baby Cat's jaw was "extremely deformed," she told Flagler County Sheriff's deputies, according to an incident report, and there was blood on the small cat's gold-and-black-striped fur. Deangelis immediately took the cat to Flagler Animal Hospital, where Dr. Erika Mendez carried out the examination, along with an x-ray.
The veterinarian concluded Baby Cat had been shot in the face.
The bullet, or projectile, entered through the upper left muzzle and stopped above the cat's left shoulder. "The injuries were severe," the incident report stated. "The jaw was broken in three pieces, and her shoulder also appeared fractured." There is little question that the cat was the victim of willful cruelty.
Because Baby Cat was so severely injured, the decision was made to euthanize. The projectile was removed from the cat's body afterward and turned over to the sheriff's office as evidence as the animal hospital reported the incident. The sheriff's office launched an investigation.
By then Deangelis told police that she was worried her other cat had been killed as well. Deangelis has lived on Laguna Trail for three years "and has never had a problem with any neighbors or previous problems with her animals," according to the incident report. She has no idea who might be responsible for the cruelty.
In Florida, animal cruelty is a crime. Anyone who kills any animal in a cruel or inhumane manner commits animal cruelty, a first-degree misdemeanor. Also, someone who intentionally commits an act to any animal that results in the cruel death or unnecessary pain or suffering commits aggravated animal cruelty, a third-degree felony. With very few exceptions,  it illegal to shoot a firearm in a residential neighborhood.
On Oct. 19, a deputy conducted a neighborhood canvass, making contact with several residents along Lleberry Path and Llethorn Place, on the back side of Laguna Forest Trail. "No pertinent information was obtained," the report states. Palm Coast Animal Control reported no complaints about cat nuisances in the area.
The case bears a few similarities to another recent animal-cruelty incident, back in late February in Palm Coast's W Section, when a dog was found dead of gunshots. That incident was mired in a messy and at times bizarre dispute between neighbors, one of whom was investigated, his home searched, though no arrests followed.
Earlier today the sheriff's office issued a release about the cat shooting and included the following recommendations:
If you have problems with animals in your neighborhood, please contact the proper authorities. These agencies are available to help peacefully resolve situations involving animals that may be considered a nuisance. Here's how to reach the agencies:
Flagler Animal Services: (386) 246-8612. They serve unincorporated Flagler County and the cities of Bunnell and Flagler Beach.
Palm Coast Animal Control: (386) 986-2520.
Flagler County Sheriff's Office non-emergency line: (386) 313-4911.
If anyone has any information about the incident involving Baby Cat, please contact the sheriff's office at (386) 313-4911. You may remain anonymous and be eligible for a reward of up to $1,000 by calling Crime Stoppers of Northeast Florida at 1-(888)-277-8477.