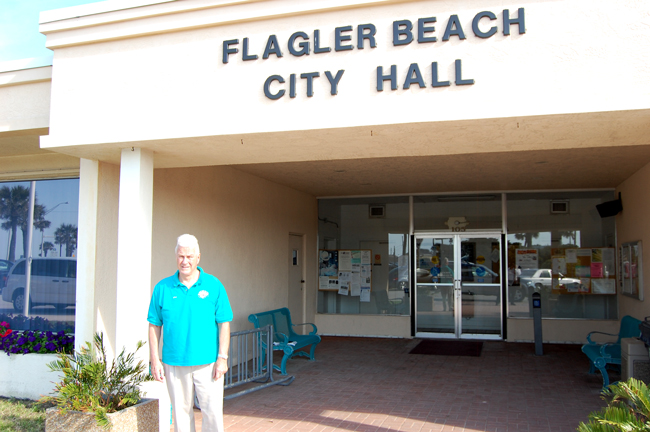 Flagler Beach City Commission Chairman John Feind began a meeting with his colleagues last week with an announcement as strange as it was cryptic. Fellow-commission Ron Vath was absent, Feind said, and would remain absent for the foreseeable future.
Feind didn't explain. He said only that a commissioner's unexcused absence for three consecutive meetings would result in that commissioner forfeiting his seat. That's in the city charter. So Feind asked that commissioners excuse Vath's absence. Which they did, without discussing or explaining why excusing Vath was warranted. Like its individual commissioners, the Flagler Beach City Commission collectively works in mysterious ways.
The commissioners, however, weren't sitting as a commission, but as the city's Community Redevelopment Agency. The item wasn't on the CRA meeting's agenda, nor was it on the regular commission meeting's agenda, which immediately followed that of the CRA board.
Reached on his cell phone Tuesday evening, Vath was even more cryptic than Feind. He said he was "out of town on business. Personal business." How many meetings would he miss? "I'm not sure how many meetings." Would he participate by phone, as members of other elected boards often do when they're physically absent? "Not sure right now," Vath said. "I may try." Asked where he was geographically, Vath answered: "It's just my own business where I am."
"Everyone goes on vacation, everyone leaves," he said. That's not the case: absent extraneous circumstances that are usually more clearly explained, elected officials don't go on extended vacations or sabbaticals that have them missing long swaths of critical public business.
The commissioner would not discuss the effect his absence would have on city business, leaving a commission potentially hung on even votes or affecting public business before the commission where his support–or opposition–would be material to the outcome of the issue. "If I'm not there, whatever happens, happens," Vath said.
One rumor is that he's in California. Another, alluded to by Feind last week, is that Vath is working with the Federal Emergency Management Agency. A third rumor is that he's doing something with the military. Californian speculations aside, rumors about Vath's other dealings may be stretching credibility: he's a septuagenarian. Vath, who's married and has three children, was as a mechanical engineer and industrial safety director for the Mennen and Colgate manufacturing companies before working for Bova Construction as a home builder in the late 1990s, before his retirement. (Vath's son-in-law, John Boback, who owns Bova Construction, was arrested in mid-August on a grand theft charge.)
Since Vath last attended a meeting of the commission in mid-August, he missed a special meeting regarding the police and firefighters' pension funds, the regular meeting of the commission, and of course the CRA meeting that same day. He missed a commission budget workshop on Sept. 30. And he's about to miss a slew of meetings, including all three special meetings set to interview 12 candidates for city manager (on Set. 2, 8 and 9) and two public hearings on the adoption of the coming year's budget. The manager's search hasn't been quite smooth.
During last week's commission meeting, commissioners briefly touched on Vath's absence again, wondering if he would,or could, participate by phone. The commissioners' attorney said he could, as long as the public could clearly hear what he said and vice-versa.