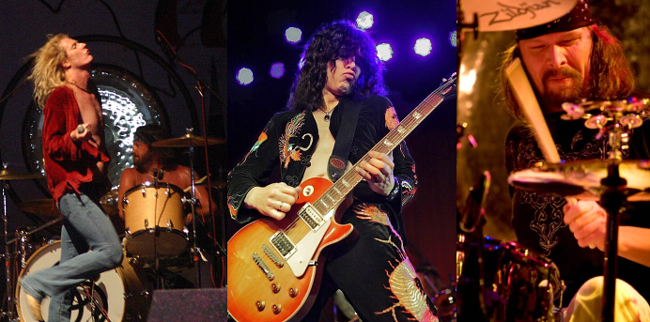 It's one of those yummy paradoxes of American culture. Led Zeppelin, a late 1960s and 70s band renown as much for its epics of hard rock and zany spiritualism as for sexual debauchery worthy of the most decadent Roman emperors and popes, has nevertheless spawned legions of imitators, notably a band called Zoso, "the ultimate Led Zeppelin experience," that now plays to silver-haired audiences and the occasionally hard-of-hearing ear in venues as staidly conservative as Palm Coast's Flagler Auditorium.
That's where Zoso, a name inspired by no less than Jimmy Page's dabbling in Aleister Crowley's weird mysticism and satanic numerology (think six six six), will be tonight at 7:30, for one performance only.
("Stairway to Heaven," the band's most famous song and a tune that still gets as much radio play as Mozart Ein Kleine Nachtmusik, was not only cribbed, like many of the band's most famous songs, from another band, but its symbolism of rising from dark to light owes a bow or two to Luciferian genealogy. Zoso will inevitably play it, not quite Dolly Parton style.)
Zoso is similar in concept to the auditorium's recent Bluzmen, the tribute to John Belushi's and Dan Aykroyd's Blues Brothers: actor-musicians transform a famous act into their own. Zoso stars Matt Jernigan as Led Zeppelin's Robert Plant, John McDaniel as Jimmy Page, Adam Sandling as John Paul Jones and Greg Thompson as the late John Bonham, who died in 1980. It's probably safe to say that there will be neither cheek-and-lung tearing groupies nor unusual sexual pyrotechnics backstage before or after the show. "The thing people forget when they tut-tut about this stuff," Plant told a biographer, "is what a laugh we were having. People have a tendency to look back on the band as this dark force spreading its wings when we were just young guys, having a good time. The main thing I remember most about those days now is the laughter."
Imitators, particularly imitators of a band as unique as Led Zeppelin, risk looking more like a parody than an interpretation. If so, it hasn't affected Zoso's popularity: since it was formed in 1999, it's put on some 2,400 performances around the country, working through 57 Led Zeppelin songs. Aside from a few standards that audiences expect, you never know which you might get.
"Our show constantly changes," Matt Jernigan (i.e. Robert Plant) told Utah's Park City Record before a performance there a few months ago. "Sometimes there are songs that we haven't played for three or four months that we'll throw back in the mix. You never know what we're going to do. I mean, we do have a couple of staples we play all the time, but we do switch things around." He added: "Led Zeppelin's live performances were different. So we try to play a mix of studio and live versions of songs, and like Led Zeppelin did with their own songs live, we don't play note-for-note, by-the-book, we do go off a bit."