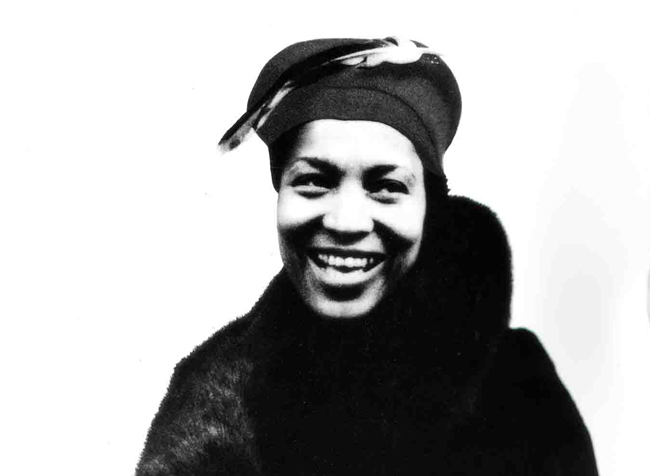 Eatonville isn't far from Palm Coast and Flagler County: it's a northern suburb of Orlando, itself a distant suburb of Flagler, and for the past 22 years, it's been the site of the annual Zora Neale Hurston Festival of the Arts and Humanities. The 22nd festival is going on right now and through January 30.
Hurston, of course, is one of Florida's greatest writers. Her four novels, most notably Their Eyes Were Watching God, and two books of folklore rank her among the 20th century's leading black American writers. She was born in Alabama in 1891, but moved to Eatonville soon after to what was, back then, the nation's very first incorporated black township.
---
Click On:
Zora Neale Hurston festival Website
---
---
It was, as Hurston described it according to the official Hurston website, "a city of five lakes, three croquet courts, three hundred brown skins, three hundred good swimmers, plenty guavas, two schools, and no jailhouse." Her biography continues: "In Eatonville, Zora was never indoctrinated in inferiority, and she could see the evidence of black achievement all around her. She could look to town hall and see black men, including her father, John Hurston, formulating the laws that governed Eatonville. She could look to the Sunday Schools of the town's two churches and see black women, including her mother, Lucy Potts Hurston, directing the Christian curricula. She could look to the porch of the village store and see black men and women passing worlds through their mouths in the form of colorful, engaging stories."
She graduated from Barnard College in 1928, published often, received some critical acclaim, but the most she earned from any single book was $944. She died poor in Fort Pierce on Jan. 28, 1960, after a stroke. A collection was taken for her funeral. Her grave wouldn't have a headstone until 1973. Two years later, an essay by Alice Walker in Ms. Magazine, "In Search of Zora Neale Hurston," revived the writer's reputation. And in 1995, the Library of America canonized Hurston with a collection of her complete works in two volumes.
"Like all mortals," she wrote in her memoir, Seeing the World As It Is, "I have been shaped by the chisel in the hand of Chance–bulged out here by a sense of victory, shrunken there by the press of failure and the knowledge of unworthiness. But it has been given to me to strive with life, and to conquer the fear of death."
Every year in Eatonville, the Zora Neale Hurston Festival of the Arts and Humanities focuses on a theme focused around some 30 events–lectures, seminars, concerts, an awards gala. The focus this year: "Zora Neale Hurston and Her Connection to Haitian Culture."
As one organizer wrote: "On one hand, we're excited about Ashford and Simpson. While they may not offer the same academic or political depth of some of the Festival guests, we've loved their music since the days of Marvin and Tammi, and that's by now officially a long, long time. Plus, there's the always-exciting and diverse sounds at Club KOHA, so there will be sweet music all around. On the other hand, we're looking forward to the focus on Haiti this year. As you know, it's been just over a year since the devastating earthquake, and the country is still gripped by political and social chaos."
The Florida Historical Society is also presenting an original theatrical production, "Female Florida: Historic Women in Their Own Words," Friday (Jan. 28) at 10 a.m. and 2 p.m. at Eatonville's Town Hall, 307 E. Kennedy Blvd. The performances are open to the public as well as the middle- and high-school students who will be attending the festival that day. The play features dramatic portrayals of businesswoman Caroline P. Rossetter, who took over the operations of Standard Oil in Florida when her father died–in Veuve Clicquot style–environmentalist Marjory Stoneman Douglas, the Grande Dame of the Everglades, and educator Mary McLeod Bethune, as well as Hurston.
Find out more at the Zora Neale Hurston Festival website.