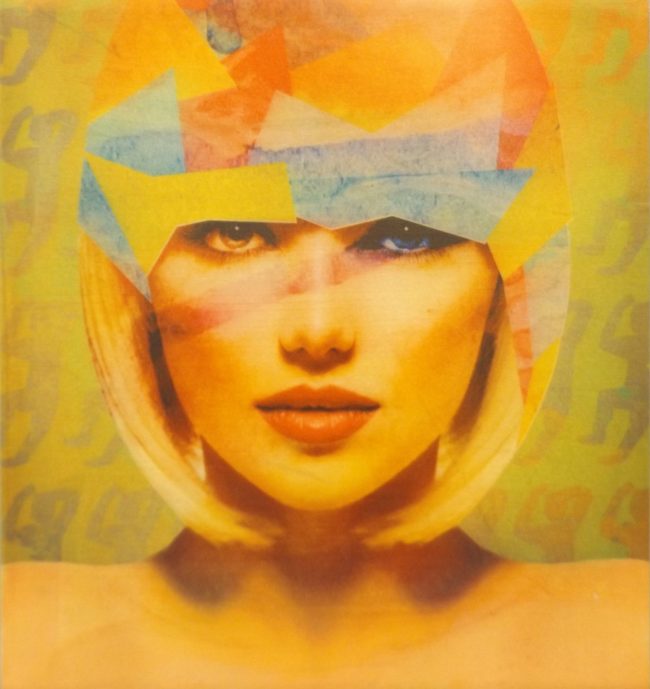 At a recent series of workshops, facilitator and artist Tom Gargiulo presented a simple assignment for his six fellow local professional artists: Create "simply a head – a single head."
As the results of those workshops were being hung at the Flagler County Art League for an exhibition titled "Work," which opens with a reception from 6 to 8 p.m. Saturday, Gargiulo lamented with faux exasperation: "You can see artists don't follow directions. So, we have some that are different."
As Gargiulo certainly knew, the results would have been substantially, even radically different even if photographer and digital artist Charlie Badalati hadn't violated the assignment's limits by fashioning multiple heads for his "Social Stress at the Cabbage Patch."
Indeed, that is the intention of "Work" – to reveal the richness, chaos and variety of the artistic process by having different artists create from the same set of explicit parameters.
The workshop series was initiated by the Gargiulo Art Foundation using a $2,320 arts and cultural grant from Palm Coast government. Seven professional artists participated in the three workshops: photographer Charlie Badalati, fabric artist and painter Carol Baker, painter and digital artist Petra Iston and painters Diana Gilson, Betty-Jo Sansbury, J. J. Graham and Gargiulo himself. (Gargiulo, his partner Arlene Volpe and Gargiulo's brother, Frank Gargiulo, created the Gargiulo Art Foundation in 2000 as a not-for-profit organization to support area artists. Its main activities include its Art in Public Places program, annually recognizing a Flagler County Artist of the Year, and staging exhibitions.)
"I think the show will be exciting for visitors because they will see seven of us each doing the same assignment," Tom Gargiulo said.
Creating on 12-inch-square canvases, all seven artists tackled two other assignments along with that head. One was to incorporate a piece of grass-green corrugated cardboard and a piece of string.
The other was to use a shape that Gargiulo traced from one of his works in progress: a human shape that looks like one of those body outlines marked off by police at a murder scene. However, Gargiulo confessed, the eerie shape is from an installation he is working on that was inspired by a 2014 accident in which he was struck by a car while bicycling, leaving his neck fractured in three places.
While Gargiulo speculated that the workshop may have shoved participating artists out of their comfort zones, Graham noted that he is "pretty comfortable with whatever is thrown at me in this point of the game. It didn't necessarily get me out of my comfort zone, but it made me engage in something that I wouldn't have engaged in otherwise."
That four-letter word that is the title of the "Work" exhibit carries numerous connotations, each evoked by the art show and-or the workshops that spawned it: the business side of art, the work ethic of artists, the work of hanging and dismantling a show (patrons will be able to participate in the latter).
And the exhibit may invite associations with Studs Terkel's 1974 book, "Working: People Talk About What They Do All Day and How They Feel About What They Do."
Although "Work" also features other, larger pieces by its seven artists, the workshop pieces are hung together, thus giving patrons side-by-side glimpses into how different artists work their muses.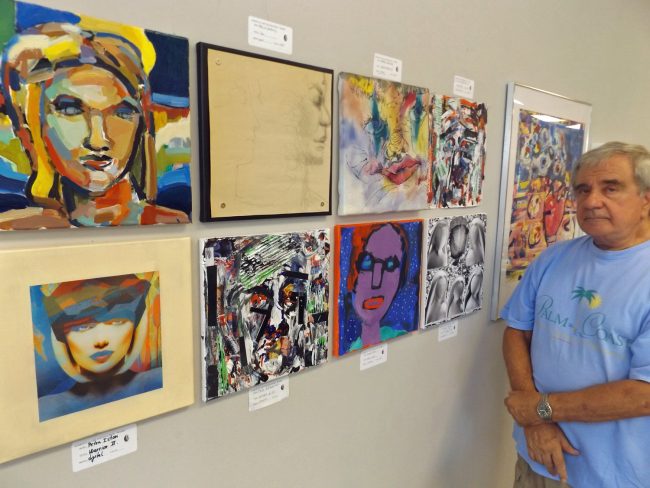 Of course, patrons will have to draw their own Terkel-esque conclusions, but the exhibit provides plenty of fodder, whether it's Iston's digitally created, icily beautiful, female "Warrior III," Betty-Jo Sansbury's mixed media "Accidental Makeover" or the tumbling, Keith Haring-like silhouettes that Badalati superimposed over a photo of a re-enactment of a Revolutionary War canon firing – all of which utilize Gargiulo's unsettling body image.
"The exhibit shows how different artists working in different mediums approach something when they're given the same materials and what they can do with them," Graham said. "For viewers, it opens you up to the different mindsets and different processes of creatives."
"Work" is an apt title for the exhibition for other reasons.
Artists were mandated to create their workshop pieces in only two hours, ensuring that they summoned their most disciplined work ethic.
"We also focused on the business side of art" at the workshops, Gargiulo said. "We discussed what business practices we used, what worked, what didn't work. We shared experiences and we have some ideas for the county, what they can do to help art and culture."
He noted that since Salvo Art Project was forced to vacate its location at Nature Scapes to a smaller venue in Bunnell, "We no longer have a large open space where artists can have solo or two- or three-person shows. We really need that.
"And we need to focus more on the professional artists. The Flagler County Art League has 400 members, so their plate is filled just with showing their members' work every month. Many of them are hobbyists or students and they do very good artwork. But their concerns are quite different from the professional artist who is trying to sell his work, trying to get a livelihood through art."
And "Work" will invite patrons to, well, work during the exhibition's closing reception from 6 to 8 p.m. on August 8.
That reception will feature not only a panel discussion and Q&A session with the participating artists, but also patrons will be able to "participate in taking down the show, help the artists take their works to their van or car," Gargiulo said. "Many people have no idea what it takes to hang a show — they'll see it in reverse."
Each of the workshop pieces will be on sale for $100, with 50 percent of proceeds benefiting the Flagler County Art League and 50 percent going to the Gargiulo Foundation's Art in Public Places program.
"Work" will be on exhibit from July 8 to August 8 at the Flagler County Art League in the City Walk complex, 160 Cypress Point Parkway, Suite 207C, Palm Coast. An opening reception with the artists will be 6-8 p.m. Saturday, July 8. Closing reception, including an artists discussion panel, will be 6-8 p.m. August 8. All events are free and open to the public free. Information: Gargiulo Art Foundation at 386-446-0617, or the Flagler County Art League at 386-986-4668 or flaglercountyartleague.org.