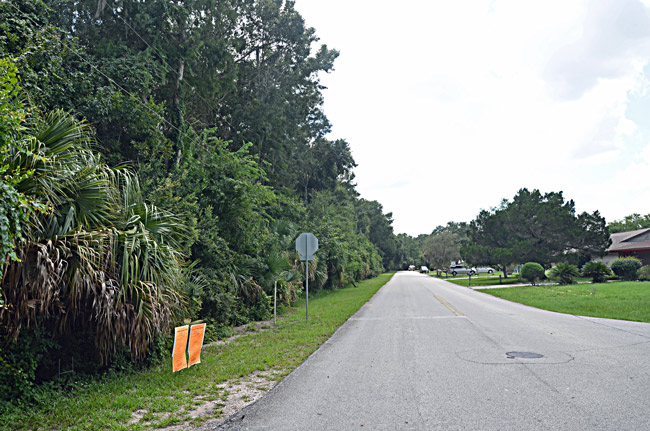 The Woodlands, one of Palm Coast's oldest and statelier neighborhoods, live up to their name. The small subdivision, roughly square-framed by Palm Coast Parkway, Old Kings Road, Colbert Lane and the expanses of Graham Swamp to the south, is thick with woods, light of traffic and rarely the subject of crime-splattered headlines. So residents were stunned to discover bright-orange postings along the tree-line on Blare Drive a few weeks ago, announcing hearings for land-use changes to pave the way for a developer to build a big retirement-home complex next door.
Grand Haven, the enormous gated community along Colbert Lane, owns lands adjacent to the Woodlands, south and east of Blare Drive. Jim Cullis, the Grand Haven developer, says residents of Grand Haven have been leaving their community and finding retirement homes elsewhere. They would like to move into assisted living facilities closer to their friends. This projected 216-unit community, which he calls Grand Living, would be it. But it would also result in a 25,000 square-foot commercial shopping sprawl and a half dozen multi-story buildings as high as 60 feet right at the edge of the Woodlands, turning tree-lines into something more similar to urban skylines.
Woodlands residents were livid. They took their case to the Palm Coast Planning and Land Development Regulation Board, which first reviewed the Grand Living land-use changes, but with little success. The board approved recommending the proposed changes unanimously, and the recommendations were conveyed to the Palm Coast City Council, which heard the proposal Tuesday evening before a jammed audience at the Palm Coast Community Center, within almost walking distance of the Woodlands (if you're in good shape).
It was mostly a reprise of the planning board scenario, but longer, because council members appeared more interested in posing questions and eliciting promises from Cullis, including on some of the more vexing matters to Woodlands residents: the height of the buildings, the preservation of conservation land, and the elimination of a planned entrance from the retirement community onto Blare Drive, which, to Woodlands residents, would be the equivalent of a permanent levee breach, flooding their neighborhood with traffic.
Yet in the end, the council unanimously approved all land changes in the first reading of a set of ordinances opening the way for the project, with some conditions that may or may not stick. They'll go through the exercise again in two weeks.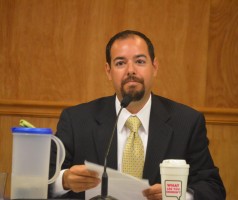 "I wanted to touch on the community aspect of this," Council member Jason DeLorenzo  said in a surprisingly personal explanation of his vote. "Aging in place is very important for a community, having the opportunity for your parents and grandparents to live continuously in the same community with their children and grandchildren." He paused, clearly moved. "Excuse me, I have a family issue that's approaching this. It's very important for a community being able to keep the family unit together, it's something that we've lost in this country." He paused again. He would later explain in an interview that this very week he's had to face the matter of a parent's increasing frailties. "We've become fractured. People are forced to leave their communities." His voice broke. "And they don't have the opportunity to stay home. Again, I apologize. This is why I think this project is important for our community. Having the opportunity for your family to stay in your community builds a stronger community."
But Grand Living had never faced the sort of opposition for opposition's sake. Woodlands residents welcome the idea of a retirement community. They just wonder why it should be smacked in their midst, so close to the quiet world they've invested in, when Palm Coast is sprawling with vacant land at Town Center, for example. It's a one-time shot, many of the nearly two dozen people who addressed the council said: either the neighborhood's character is preserved, ort it's lost for good.
"If we allow history to be our guide in how to handle our present and future actions, we can avoid the many pitfalls and grievous errors of those who came before us who could only live with the regret of having ravaged our pristine Florida landscape," said Elizabeth Hathaway, a Woodlands resident who, with her husband Matt, has been among the leaders of the opposition to the plans. She spoke the concluding words of a letter she'd also sent the council earlier. "Once something has been done, it can never be undone. This is a slippery slope for the City of Palm Coast and once we begin rezoning what was set aside as a protected conservation land (for a very valid reason), there will be no stopping anyone who wants to come in, with the right amount of money, to take it all. It is my deepest desire to see that our city leaders have the courage to step up and use their power for the good of the land and its people. We need to be good stewards of this land so that we will have something worth leaving to our next generation. If it doesn't stop here there may be nothing left."
Another resident raised questions about the developer's and the city's assurances that wetlands weren't being substantially affected in the projected development. "Wetlands in Florida are protected," she said. "If you look the other way and you ignore, it's like buying indulgences from the Catholic church. You can sin and then you can buy your forgiveness. That's what I'm seeing this as being, OK? And I'm not being facetious when I say this. I wasn't born yesterday. I know that you can't grow cypress trees on dry land, OK?"
The council was clearly interested in limiting the development's impact, but also in working with Cullis, who is a local developer with a long history in Palm Coast—and strong social, economic and political ties. Jim Landon, the city manager, summed up the council's demands at the end of the hearing.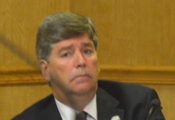 "I heard there's really four things that you would like the development agreement which is approved by this ordinance to include," Landon said. "One of them is that if the commercial COM2 be reduced to COM1 standards." That means diminishing the density of the commercial development zone. "The second one is that the conservation area have an agreement or a provision agreement that it would be transferred to the city of Palm Coast or another public agency." Some of the development would eliminate conservation acreage, but in exchange for conveying a greater amount of acreage to conservation land.  "Number three is that there would not be a connection to Blare Drive and there would be two connections to Colbert Lane, and number four is that all efforts would be taken during the site plan to keep the height of the buildings as low as possible and still maintain the 216 units approved."
That summed it up.
"The only way we're going to preserve the amenities of the Woodlands is if we keep that conservation, if we keep the trees, whether they're 50 or 60 or whatever height," Mayor Jon Netts said, referring to the height of the buildings. "I would hate for 20 years from now for city council to sit and hear a presentation that that land needs to be re-designated. So how can we be assured that that's not a future concern?"
"That land does not have a conservation easement put on it now," Cullis said, "and we're more than happy to put a conservation easement, and we're more than happy to dedicate that land to any steward the city thinks is an appropriate entity for that."
Netts wanted the city to own it, and he specified: "I don't want ownership transferred to the city without the conservation designation on it. I don't want to pave the way for somebody 20 years from now to say that would be a great place to put a—whatever."
The mayor then put it starkly to Cullis: "Mr. Cullis I would like your assurance—we had a couple of people testify to your credibility and your trustworthiness," Mayor Jon Netts said, "I would like your personal assurance that you will do everything possible, should this be approved, to reduce the height even further."
"You have that, Mr. mayor," Cullis said.
"We want it in blood," Bill McGuire, the council member, joked.
"I feel a little bloodied, so that's OK. Appropriate term," Cullis rejoined.
Council member Bill Lewis, never much for joking, wanted stronger assurances: "I've sat here and I listened and I listened to the developer and I'm listening to us say many things over and over and over again," Lewis said. "He keeps saying yes, I agree, yes, I agree. At some point you're going to have to say OK, we take you at your word, but we're going to put it in writing, but I think he agrees to that also."
"Absolutely," Cullis said.
"Mr. Cullis, you will probably be back some day," Netts warned, "so don't fool me."
But it was left up to Bill Reischmann, the city's attorney, to remind the assembly that much of what it was dealing then and there was not appropriate, in that it was not part of the ordinances being up for a vote, and that some of the restrictions the council members hope for may not be legally enforceable for various reasons.
"I've heard this evening I believe the developer indicate that they are confident they're going to be able to design this property with two access onto Colbert Lane," Reischmann said, "and yet I've heard other comments that there could be concerns about the [state Department of Transportation] standards as far as how close you can have intersections from each other. I do not want to get us into an exercise in futility if we're going to have as one of the conditions of this development agreement, we're not going to allow any points of access into the community, and then come back and find that we cannot design this with two access points into Colbert."
Reischmann added: "We want to make sure that we don't mislead people here tonight, so I just want to clarify that there could be limiting factors from a technical standpoint."
"I'm happy," Cullis assured, "to be subject to a development order requirement to have two accesses on Colbert Lane and none on Blare as long as we can do it and meet the DOT code, and as long as we can do it in the best interest of public health and safety."
But that was just the sort of caveat that left Woodlands residents uneasy. "I am pleased to see their concern for the Blare Drive access and the height of the buildings, but feel these need to be followed up on and well documented. There was too many undocumented promises made," Matt Hathaway said the day after the meeting. He was not too appreciative, either, of the developer's either-or approach: Cullis and even city staff had said that if Grand Living wasn't developed, the land could be turned over to far worse possibilities, such as tattoo parlors.
"I still strongly disagree with the city and builder's analysis of assuming what could be there is worse than the proposed Grand Living facility," Hathaway continued. "The notion of what could be there seems to be a far stretch and at no time has anyone addressed why no builder has attempted to build on the lot as is. It currently seems to have no economical viability, yet one of their main arguments to rezone is to prevent future commercial development on that specific lot."