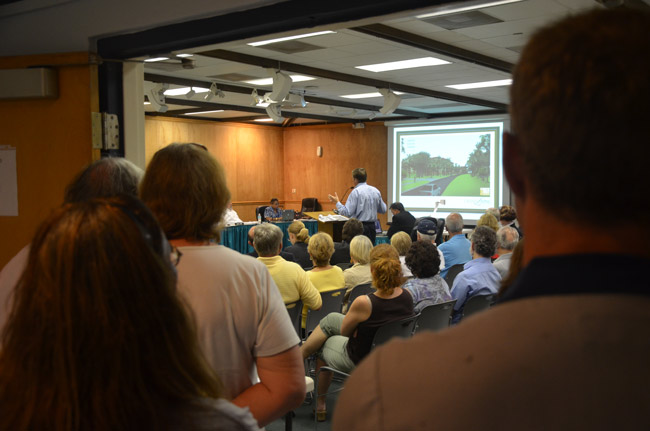 Several years ago Jim Cullis, the developer of Grand Haven—the sprawling gated community along Colbert Lane in Palm Coast—was approached by a couple of priests who were worried. A lot of elderly people who lived in Grand Haven, they told Cullis, would reach a certain age, then move out, no longer able to maintain n their households, to assisted living facilities in St. Augustine or Ormond Beach, because there aren't enough of such facilities in Palm Coast. The Grand Haven residents didn't like leaving their community and circle of friends, but had no choice, as Cullis told the story. Cullis's idea: build them just such an assisted and independent living facility, within walking distance of Grand Haven itself.
The result: Grand Living, a 216-unit complex of about half a dozen buildings, some of them possibly rising 60 feet, surrounded by greenery and a 25,000 square foot shopping and commercial zone. All on Colbert Lane, just south of Palm Coast Parkway and the campus of Daytona State College. The project could be done by 2014. "I personally am in favor of the project if they do what they say they're going to do," a resident of the neighboring Woodlands. One of Palm Coast's oldest and greenest neighborhoods, said.
But that's the rub. The project has the Woodlands in a guarded uproar as residents there are almost all opposed to the project if it proceeds as planned—with an exit road onto Blare Drive, which crosses the relatively quiet Woodlands (and already is absorbing more traffic than Woodlands residents are comfortable with, because drivers from Colbert to Old Kings are using it as a short-cut). And with construction of some of the project on land currently zoned as conservation land, which means nothing can be built on it. Many residents along Blare Drive and other sections of the Woodlands had bought their homes on the assumption that the woods in the neighborhoods would remain as they are, in conservation.
But the Grand Living project entails rezoning 3.5 acres of conservation land to "mixed use" to enable the development, while converting other acreage in the area to conservation. The swap would more than compensate for the loss. But that's not the issue to Woodlands residents. It's the location of the lost conservation acreage that worries them—east and south of Blare Drive—and the proximity of the assisted living facility, its traffic and its building heights that they object to.
A standing-room-only crowd jammed the Palm Coast Community Center Wednesday evening to hear Cullis and his team make the case for the project to the Palm Coast planning board, and to have its own voices heard. The public response was by no means unanimously opposed to the project, and even those who opposed it did so with less animosity and a greater willingness to hear possibilities of compromise. They were responding to a couple of factors: Grand Haven is no stranger, nor is Jim Cullis. Both are vested in the community and have a reputation to maintain, and Cullis himself on repeated occasion projected a willingness to accommodate concerns rather than ram through a project, despite having most of the necessary land already designated for commercial development.
More than two hours into the hearing, and despite hearing a number of unresolved contradictions and unanswered questions surrounding the project, the planning board voted its unanimous recommendation in favor of Grand Living (it was a 6-0 vote). It's a mere recommendation. But the proposal now goes before the Palm Coast City Council, which can use the planning board's unanimity for cover despite the public opposition the project may still draw. It's a matter of math: the number of residents affected are a relatively small group on the map, geographically and politically.
While the council has been known to backtrack and even radically reverse its own unanimous votes in the face of well-orchestrated public opposition (as it did in June, when it first approved, then killed, a 6 percent utility tax), it has done so only when the opposition reflected a large political base. Ironically, the utility tax reversal was driven by Grand Haven, the single most powerful political bloc in the city.
That's where Woodlands residents may find their closest allies if they are to influence the Grand Living development their way, Grand Haven—which has its own elected Community Development District Bard of Supervisors, and acts as a quasi government—was instrumental in forcing a name change on Grand Living (from Grand Haven North), as Grand Haven didn't want the direct association with the assisted living facility. On Wednesday, Stephen Davidson, who chairs the Grand Haven board of supervisors, made a detailed presentation of his own to the planning board that endorsed Grand Living in principle, calling some of its designs and concerns for conservation "admirable."
"However," Davidson said, "the devil, as they say, is in the details." So Davidson, speaking for the board of supervisors, not only asked that the city make Grand Haven aware of all the development's details as they proceed, but put them on notice regarding six issues of serious concern to Grand Haven: traffic from the new project would not only affect the Woodlands, but Colbert Lane, whose paths are heavily used by bicyclists and pedestrians. Grand Haven is looking to see those amenities enhanced, not compromised, by the new development. Davidson also reflected a worry echoed by Woodlands residents: if Cullis's current project did not go ahead, would apartment buildings replace it, without restrictions on the age of tenants? No such alterations should be allowed, Stephens said. He also cited concerns about preservation of natural resources, the height of proposed buildings and other matters.
As Woodlands residents spoke one after the other, the most recurring concern (aside from the surprise announcement, by Cullis, of a future Publix in the area) was that exit from the complex onto Blare Drive. And it was left up to Matt Hathaway and his wife, who moved to the Woodlands because of its woods and quietness (they have three young children), to remind the board: "Make no mistake, you are rezoning conservation land." He added, citing other available land in town for projects of that size: "It sounds like a great project but why build it in between two residential communities, because ultimately you're punching it right in there."
No fewer than 22 people addressed the board after Cullis, about three-quarter of them opposed to the project. "I realize this gentleman did invest in this property," one Woodlands resident said, pointing to Cullis, "but so did everybody that lives in the Woodlands. We all invested in our homes." That drew immediate applause. "And it's named the Woodlands for a reason," she said.
Another resident pointed out Cullis's contradictions. "Several times he said that this property is really not good commercial, and probably one of the reasons that no commercial building has gone on there. But then on the other side the fear factor comes in and says if we don't do this, you're liable to get bars and gas stations and all this other kind of stuff. So what is really the truth?"
But there were also voices such as that of Cornelia Manfre, the commercial Realtor, and Irene McKenna, both Grand Haven residents, who lent their outright support for the project. "It would be very nice to know that an opportunity for gradually more extended care would be right here in the area we've all come to love," McKenna said. "So I'm speaking on behalf of many of my friends and associates in Grand Haven, and we think this would be a very nice addition rather than the strip mall."
Toward the end of the hearing, Cullis addressed one of the recurring concerns:  "I don't like tall buildings either, but the answer is, until you get out there and figure out where all the trees are that you have to save, it's hard to say how high the buildings need to be in order to build enough units to do the project nice and first class. I hope in the end they end up being two and three, four-story buildings, and we have room out there to build a nice community. I'm open to any suggestions from the planning commission on that."
The planning board had virtually no suggestions. Its members raised a few cursory issues (Ray Tyner, the city's chief planner, suggested that the project be made to have a certified arborist as opposed to a mere landscape architect, and to coordinate its designs with the city's own arborist and landscape architect) but more often sounded like advocates for the project rather than overseers of the city's interests or advocates for Woodlands residents. The unanimous vote, when it was taken, was by then not a surprise.