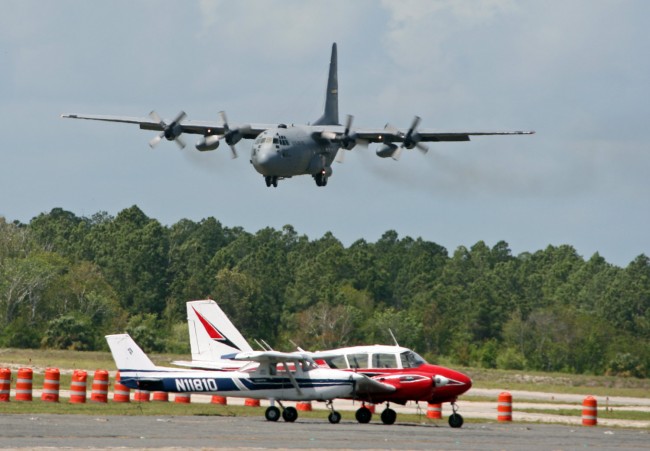 It circled around the Flagler County Airport once, the colossal C-130's 100,000 pounds defying every logic by staying aloft, then it landed, needing less than 3,000 feet to before taxying to a stop on a spot that should prove one of the main attraction at the third annual Wings Over Flagler Air Show this weekend.
The transport plane and its crew of eight landed at the end of a 140 minute flight from its home base in Pittsburgh, where it's part of the Air Force Reserve's 758th Airlift Squadron of the 911th Airlift Wing. That particular plane has been putting in herculean work since it first flew in 1978, including multiple deployments to Iraq and Afghanistan as a transport and hospital plane and a recent deployment to Puerto Rico with its current crew: Commander Brad Ayer, co-pilot Richard Bell, and flight engineer Marshall Martindale ("just remember," he's quick to remind you, "the engineer is the most important part of the plane") and five others.
"Best job ever. Best office in the world," is how Bell describes that cockpit. "The view is great."
"Still can't believe they pay me to do this," Ayer says.
The crew will all be at the air show Saturday and Sunday, showing off the plane and giving tours of its hulky interiors and control-freak cockpit.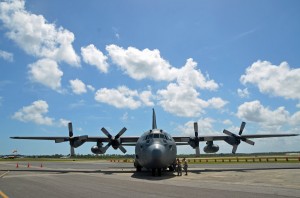 Blue Sky Yakrobatics, the force behind Wings Over Flagler, is the work of Bill and Kim Mills in conjunction with the airport. They've assembled some 50 to 60 military and specialty aircraft for the fly-in. About 15 planes will take part in aerobatic demonstrations over the weekend, including renown acrobatic pilot Greg Koontz landing a plane on a moving truck.
This year's Wings Over Flagler will celebrate the life of William "Wild Bill" Walker, the aerobatic pilot who died in a crash while performing at last year's show. A scholarship fund in his honor has been created and two scholarships were awarded in his honor in 2011.
"We will have an announcer this year for the events," Flagler County Airport Director Roy Sieger said. "We will also have a free gigantic kids zone with an acre of aviation related items for the children to enjoy." And of course that other mainstay of the county airport, Jack Howell's Teens in Flight, will also be at the show both days.
The Air Show opens at 9 a.m. Saturday with a dedication at 11 a.m., when the Stars and Stripes will be brought in by parachute. At the same time, Flagler County Commissioner George Hanns will sky dive into the show. Hanns is dedicating his sky dive in honor of all veterans, including his brother, Donald, a Vietnam veteran who died on Christmas Day last year.
The C-130 is bound to be the show's hub. It burned 12,000 lb. of fuel on its way down to Flagler, out of a fuel capacity of 52,000 lb. The fuel it burned equates to 2,000 gallons. It'll refuel at the county airport, which makes Sieger very happy.
Sieger himself likes to say that he's taken off five more times in C-130s than he's landed: "I used to jump out of these," he says of his days as a Marine.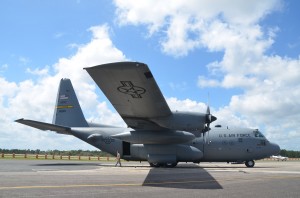 Name the task. The C-130 has carried it out: troop transport, gunship, cargo plane, hospital ship, humanitarian cavalry ship, electronic eavesdropper and jammer, infiltrator of special forces behind enemy lines, search and rescue aircraft, show craft, fire-suppressant, training craft. It does it all. It's also the only plane in the world that can carry the enormous and horrific bomb known as the Daisy Cutter, also known as the BLU-82, a 15,000 pound giant of destruction that was last in service in 2008, when it was replaced by the also known as the Moab ("Massive Ordnance Air Blast Bomb," which airmen like to nickname "mother of all bombs"), an even more powerful, 21,000-pound device. The Russians, however, have developed an even more deadly device, which they call the "father of all bombs."
Needless to say, the plane sitting on the tarmac at the Flagler County Airport, while generously armored, is not armed.
The plane was designed by the Lockheed executive Willis Hawkins, who modeled its interior dimensions after those of a railroad boxcar. When he first proposed the design to Lockheed executive, they rejected it. He convinced them to enter the design in a competition for a Pentagon contract. It won. The plane first flew in 1954. It's been in continuous production since. Just seven weeks ago (on Jan. 30), Lockheed delivered its 2,400th C-130 from its plant in Marietta, Ga., "the longest continuously operating military aircraft production line in history" (in Lockheed's words).
It's had its high-profile crashes. In 1988, a C-130 carrying President Mohammad Zia ul-Haq of Pakistan crashed and killed all aboard. In August 1996 a C-130 carrying a Secret Service agent, a crew of eight and one of the cars used by security officers in President Clinton's motorcade crashed into a Wyoming mountain moments after take-off from Jackson Hole airport. Four weeks earlier a Belgian Air Force C-130 crashed in the Netherlands, killing 32 people, most of them members of a Dutch military orchestra. Last July a C-130 belonging to the Moroccan military crashed and killed 78. But those are exceptions to a very long history of safety and reliability, and squadrons of C-130s routinely logging hundreds of thousands of flight hours without a hitch. The plane at the Flagler County Airport has logged between 11,000 and 12,000 hours.
Advance tickets for the Air Show are $5 for adults and $3 for students from 2 to 17 years old. Children under 2 years old get in free. Advance sales end on Friday at 6 p.m. Tickets at the gate are $7 for adults and $5 for students.