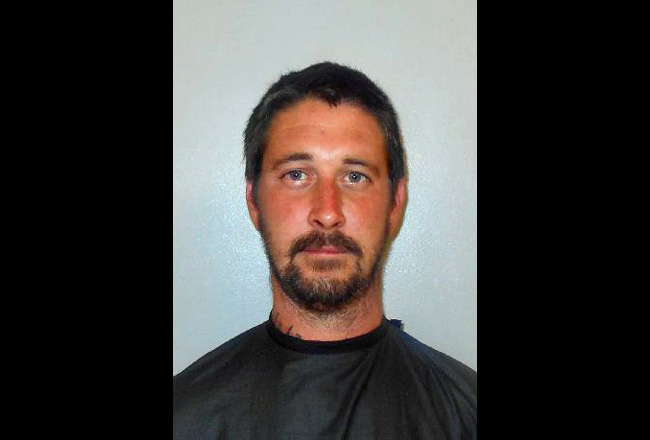 By the time a Flagler County Sheriff's Commander pulled over William Murphy and saw him chocking his girlfriend, Murphy and his victim had been arguing for about half an hour. According to Murphy's girlfriend, he'd been hitting her "continuously" since leaving Daytona Beach.
Paul Bovino, the sheriff's commander, was at the wheel of his marked patrol car when he noticed a strange commotion inside the black Dodge van traveling in front of him. The two vehicles were heading north on U.S. 1 through Bunnell, just past 7:30 Tuesday evening. Bovino saw the Dodge go all over the road, according to Murphy's arrest report.  As Bovino approached, he could see through the rear window that some sort of altercation was taking place in the Dodge. Several times the passenger door opened and shut, as if the passenger was trying to jump out.
Bovino turned on his emergency lights to pull over the Dodge. The van pulled over in the 100 block of South State Street Street, at the corner with State Road 100, which is lined with several businesses. As Bovino was doing so he radioed dispatch. Two Bunnell Police Department officers who were in a nearby business on State Road 100 immediately rushed over. One of them could see through the front window of the van that Murphy was trying to jump into the passenger seat. "As I got closer to the vehicle," one of the officers reported, "I noticed that William had both his hands around [the woman's] neck and was choking her. As William was choking [her], Commander Bovino opened the passenger side door to the vehicle and gave several verbal commands to 'let go of her.'" The driver's side door meanwhile was locked as the two deputies tried to open it.
When Murphy released the woman, the officers ordered him several times to open the driver's side door. Murphy unlocked it, but refused to open it or come out, according to his arrest report. At that point the two officers grabbed both his hands and attempted to pull him out. He resisted, so the two officers "forcefully pulled William out of the van and escorted him to the ground."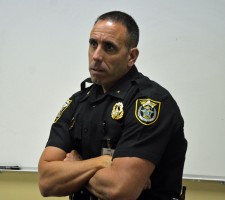 On the ground, Murphy, the report states, continued to resist, tensing up and trying to roll over, but the two officers handcuffed him and placed him in a patrol car. When one of the officers asked Murphy why he and the woman were fighting, Murphy replied: "We weren't fighting, you can't prove that."   An officer noticed he had glassy, bloodshot eyes and smelled of alcohol. The officer asked him if he'd been drinking. His reply is redacted, as Florida law allows the redaction of self-incriminating statements by a suspect during an investigation. After replying, Murphy began yelling  angrily, "causing several people from the nearby businesses to come out," the report states.
Meanwhile, the alleged victim was "crying hysterically," shaking, and showing many signs of having been physically harmed. A subsequent documentation of her injuries revealed multiple bruises to her chest, bruises on both arms, and redness around her neck. She initially said she would not tell cops what had happened, for fear of retaliation. But when a cop told her that revealing the origin of the incident was the only way to prevent further harm, she spoke freely.
She and Murphy had been visiting friend in Daytona, where Murphy had had to drink. Since she thought she was more sober than Murphy when they left, she suggested she should drive. Murphy refused, and the two began to argue. During the drive the argument got heated, and Murphy, according to the woman's account in the report, "began slamming on the brakes randomly, which caused her head to fly forward and hit the dashboard." She tried to get out of the van several times because Murphy, she said, was continually hitting her, but he'd pull her back in every time. As Bovino was attempting to stop the vehicle, Murphy "became more enraged and that's when he jumped on top of her."
This wasn't the first case involving Murphy. He was arrested on a felony charge of driving on a suspended license in June. He was arrested on a domestic violence charge in April, and for a probation violation in 2009. At the jail, Murphy was put through a field sobriety exam, which he could not complete satisfactorily, the report indicates. He refused to submit to a breathalizer test. A check of his record showed an indefinitely cancelled driver's license.
Murphy, a 36-year-old resident of 703 North Anderson Street in Bunnell, was booked on charges of domestic battery by strangulation, false imprisonment, resisting arrest without violence, knowingly driving on a suspended license, driving on a revoked license, and drunk driving. He remained in jail Wednesday afternoon on $13,000 bond.