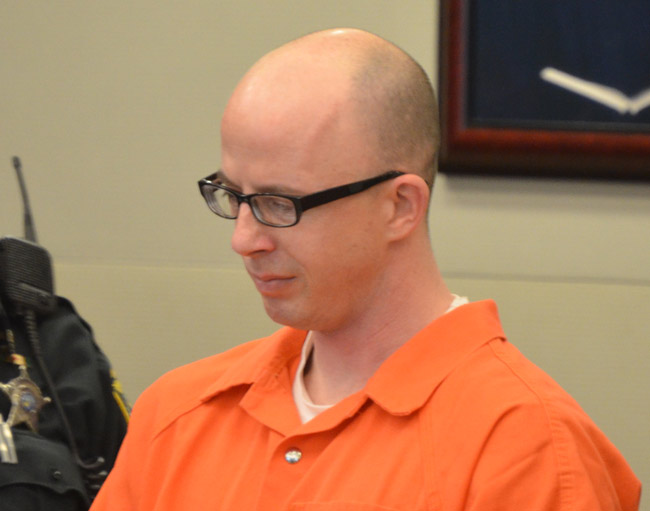 Stefanie Merrill's older brother described the day when her husband pointed an AK-47 at her and pulled the trigger, ostensibly thinking it was not loaded, as "one split second of stupidity in which a mother, a daughter and a sister was brutally taken away from us."
He then described Stefanie's young son, now 7 years old, saying: "I want to get a gun and shoot myself so I can be with my mom." And he begged the court to give William Carson Merrill the maximum punishment—30 years in prison—for what Merrill did that February morning on Covington Lane in Palm Coast.
Flagler County Circuit Judge Raul Zambrano sentenced Merrill to 25 years.
"Your conduct is tantamount to nothing less than reckless behavior," Zambrano told Merrill, who stood before him this afternoon. Zambrano cited Merrill's stash of firearms, and his violation of "basic firearm" rules–"you pointed it at the person you claim to love most, then you pulled the trigger and took her life." Zambrano said it didn't matter that it had been an accident: Merrill had to pay for the crime's end results–a mother killed, and two young children rendered half-orphans. The children have been cared for since their mother's death by their maternal grandparents, who are going ahead with legally ending Merrill's parental rights.
Merrill is 33. He'd be 58 when he sees freedom next, if he serves the full sentence.
Almost two dozen people spoke on William Merrill's behalf, asking the judge for leniency, compared to just a handful speaking for Stefanie Merrill, and asking the judge to levy the maximum punishment. That would have been 30 years. The minimum would have been just over 10 years. Merrill's original charges included possession of a firearm by a convicted felon, which would have pushed his maximum sentence to 45 years. But that charge was dropped when Merrill pleaded guilty to the manslaughter charge.
The morning of Feb. 21, after William Merrill had dropped off his son Thomas at school, he decided not to go to work, and instead went home, and played with his guns. His 30-year-old wife was in the bathroom, giving a bath to their 3-year-old daughter, Moriah. William, who goes by Carson, took out the AK-47 from a bathroom closet, one of almost two dozen handguns and rifles recovered from the house, and pointed it at his wife, playing with its laser pointer. Then he fired. Stefanie died soon afterward. Those moments were caught in a lengthy 911 call William Merrill placed, when he is heard trying to revive his wife and respond to the dispatcher's instructions.
"What has been done to Stefanie's children, there's no punishment severe enough," Stefanie's mother told Zambrano. She, too, asked for the maximum punishment, after noting that the only reason Stefanie had stayed with her husband, in "an unhealthy situation," was out of "pure fear." William Merrill had been accused of battery on his wife in 2006, and had a prior record dating back to his days in Tennessee, including a felony conviction for drug possession. He had another felony conviction in Flagler County, in 2007, for grand theft.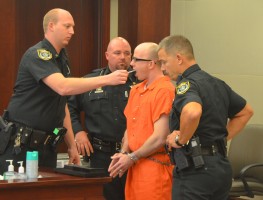 "I don't believe, and it's not our position that Mr. Merrill intentionally killed his wife that morning," the prosecutor said, but Merrill's actions had been egregiously reckless and showed disregard for the safety of others. He cited two examples of the recklessness: cell phone photos that showed him pointing the AK-47's laser light at his wife's forehead, and the fact that his then-3-year-old daughter was in the bathtub when he was pointing the assault rifle at his wife.
The judge then heard from Merrill himself.
"I'm truly sorry for what has happened that brought us here today," he said, his voice breaking, "I take full responsibility for this tragedy that has happened." He recounted his life with Stefanie dating back to meeting her when he was 14 and she 13, down to the birth of their children and their "family night out" on Wednesdays, "pizza movie night" on Thursdays and "mom and dad time" on Saturdays, when the children's grandparents gave their parents time to be with each other.
"Stef and I were not perfect. We both fell short," Merrill said, but most of the marriage was good, he claimed. He apologized repeatedly to Stefanie's family, speaking at length through tears. "I did not want to grow old by myself, without Stefanie, my wife," and without his children, he said, apologizing to the court when he asked it "to have mercy on me, for my kids' sake," saying his wife would say that his children now need him "more than ever."
Merrill's attorney, Brett Kocijan, a regional conflict counsel (similar to a public defender, but not from within the county), described a client wrecked by remorse. To underscore Merrill's qualities as a father, Kocijan said Merrill made him realize "what I lack as a father" for his own children. The attorney of course was pleading with the court to be lenient in its sentence, and to "depart from the statutory guidelines."
Well over a dozen witnesses spoke to the court of Merrill: A neighbor of his father's. A former neighbor of his. A co-worker. An uncle. A sister. Many friends. The property manager of the house the couple was renting. A woman who described herself as the couple's best friend. A couple who has three biological children, and consider him their fourth child. His sister. The running theme was his kindness, his love for his wife and children, his respect for others.
"He was my playmate, my friend, my best friend, my enemy, we'd get in trouble together, play together," his sister said.
Robert Strong, who lived across the street on Covington Lane, where the shooting took place, said, when his voice wasn't breaking: "It's a stupid thing he did, it really was, but you can't send a man to jail for 30 years for being a fool, at least I hope not." Others described the couple's relationship in warm terms. The young woman who called herself the couple's best friend went as far as saying that the loving look in William Merrill's eyes, for his wife, was more sincere than any such look she'd seen in her own parents' eyes for each other.
Most of the witnesses spoke of Merrill's non-violent nature–a very sharp contrast with the way his brother-in-law described him, having known him since junior high. None asked the judge not to punish him, but most asked him not to hand down the most severe sentence, citing his children, his past, and the future he could still have.
Periodically, the prosecutor, Robert Mathis, would, quietly and non-confrontationally, ask the witnesses whether they knew that Merrill had "more than 20 guns" in his house at the time of the shooting. None said they did, though some knew that he had a few guns. Brad Guffy, one of Merrill's closest friends, surprised the court and the prosecutor, when he described an incident when Guffy and Merrill were young—and when Guffy fired a gun so close to Merrill's ear, that Merrill went deaf in that ear.
It was another unbidden illustration of Merrill's fixation on firearms, and a close call that had caused Merrill's personal injury, but did not make him more careful. The detail emerged when the prosecutor was asking Guffy whether he knew about what the prosecutor capped Merrill's "obsession with guns."
Duffy said no, nor had he known that he had as many guns in the house as he did. But he did know that he had some. Guffy then volunteered another detail: that he thought Merrill had those guns not because he'd acquired them, but because he was "holding on to them for somebody else," a remark that elicited a disbelieving look from the prosecutor. One witness later, an older man who said he was 69 said he'd given Merrill "all these guns" because he wasn't going to use them anymore. "That's how he got all these guns," the man said. But he described himself as a hunter. The AK-47 is an assault rifle, favored by soldiers and mercenaries. It is not a hunting gun.
The prosecutor would also ask witnesses whether they knew Merrill was a convicted felon. Most said yes. The prosecutor, who was trying to undermine the image of Merrill as a peaceable husband, asked the couple's best friend whether she had been around when Merrill had been charged with battery on his wife–a head-butting incident prompted by the couple's arguments over money, a police report at the time noted. She said no. In many cases, Merrill, who sat in his orange jail suit, in his black-rimmed glasses, looked at the witnesses, cried and sobbed.
The pleas were not enough. Gasps and sobs when up in the nearly-full courtroom when the sentence was handed down. Merrill's advocates had sat on one side and Stefanie's on the other. Merrill has 30 days to appeal the sentence.