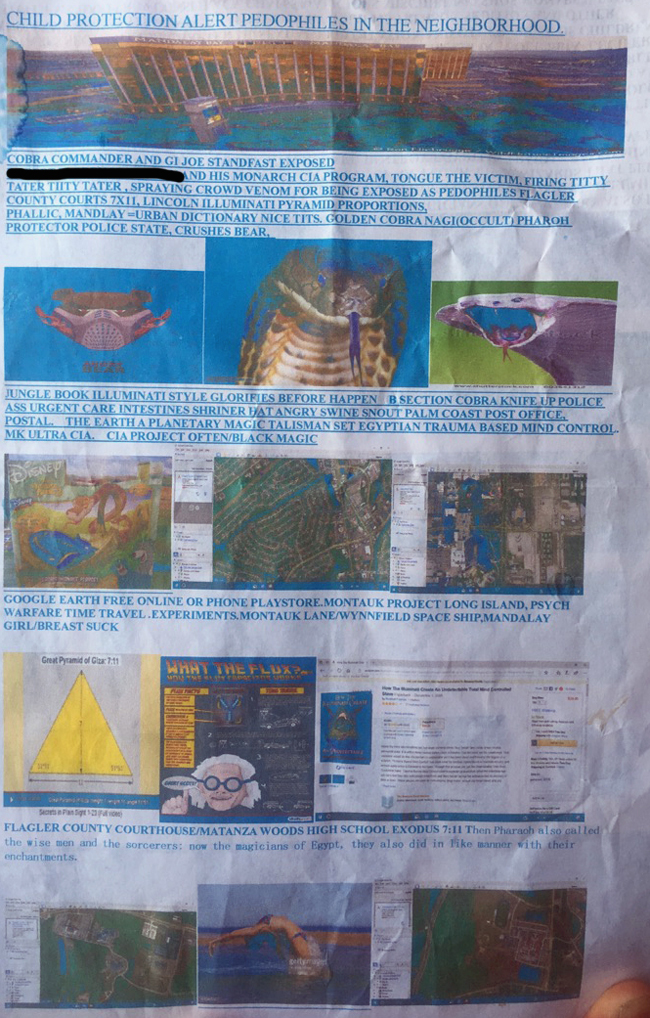 Residents of Whippoorwill Drive, Wills Place and Wallis Place got a strange-looking flier slipped into their mailboxes that would have been filed away as weird clutter or absurd conspiracies had it not been for its allusion to the recent Las Vegas massacre and reference to "evil" and pedophiles.
The suspicious incident led the Flagler County Sheriff to send the fliers to the FBI, contact contact the FBI and the federal Department of Homeland Security, among others.
Two residents from the neighborhood initially turned some fliers over to the sheriff's Palm Coast precinct on Friday (Oct. 6), which then led deputies to canvass the neighborhood and knock on doors, asking residents whether they had had similar papers slipped into their mailboxes. Some did. Most did not or did not answer the door at the time of the canvassing.
One of the sheets starts off with capitalized letters stating "CHILD PROTECTION ALERT PEDOPHILES IN THE NEIGHBORHOOD," and goes on in blue capitalized letters, line after line of incoherent statements making all sorts of inexplicable allusions to "GI Joe," "Illuminati Pyramid proportions," "Mandalay=Urban Dictionary," "Pharoh," "Jungle book," "CIA project Often/Black Magic" and other seeming gibberish. The flier also makes one reference to a local pain management doctor "and his monarch CIA program," again without context. The lines are interspersed with equally strange images from Google Earth (the mapping app), someone diving into the surf, a pyramid, Disney imagery apparently referring to characters in "The Jungle Book."
One of the pictures is of the Mandalay Resort, the hotel from whose windows Stephen Paddock shot and killed or wounded some 600 people attending a concert below last week before killing himself as police approached. The flier also mentioned the Flagler County courthouse and Matanzas High School. "It should be noted," a sheriff's report states, "that the letters are extremely difficult to decipher and it is unknown if actual threats are being made in these letters."

Man Arrested Over Alleged Machete Attack
Sunday evening Marc Pritchett, 46, was watching TV with roommates Ian Roberts, 63, and Jeffrey Ticich, 50, in the house the three share at 17 Radcliffe Drive in Palm Coast. They were all drinking. Ticich then asked Pritchett "how long he had on his 30-day driver's license before it gets suspended for his 2nd DUI," according to an arrest report.
Pritchett was arrested for drunk driving on Aug. 13. He was found guilty of a previous drunk driving charge two years ago, then charged with driving on a suspended license. (That charge was dropped.) When Ticich taunted Pritchett about his license Sunday evening, it "set him off," the report states of Pritchett. Ticich locked himself in his bedroom and called a friend, but Pritchett managed to open the door and entered–allegedly wielding a machete.
Ticich got out of the room and into the living room, where he claims Pritchett threatened to kill him (the friend Ticich was speaking to on the phone during the altercation would later tell deputies that he heard the word "kill," but couldn't hear much else distinctly). Ticich, who eventually fled to a friend's house, alleges that Pritchett came after him swinging the weapon to the point that he had to duck to avoid getting slashed. He took pictures on his phone of the alleged attacks. The pictures turned out blurry but a deputy's analysis indicates one of them shows Pritchett seeming so conceal an object behind a chair.
Ticich "was extremely upset about about the altercation and was physically shaking uncontrollably from the incident," Pritchett's arrest report states. He bore no signs of injury.
When Flagler County Sheriff's deputies tried to make contact with whoever was at 17 Radcliffe Drive, they were unsuccessful at first even though they could hear someone moving objects in the garage and see Roberts sitting in the living room. Roberts eventually made it to the front door but had trouble remaining on his feet or speaking coherently because of the drinking. But he pointed to Pritchett's bedroom. Pritchett was summoned and "secured for officer safety."
Pritchett claimed he had been the victim–that he had been allegedly threatened by Ticich all evening, and had never swung the machete at him. He'd armed himself with it, he said, because he felt threatened. But asked where the weapon was, Pritchett was unclear. Deputies found it in the attic. "I asked [Pritchett] why he would go through the trouble of hiding the machete in the attic space if he was innocent of wrongdoing and if he was acting in self-defense," a deputy narrates in the report, "and his initial reply was he didn;t want to have it in case law enforcement arrived on scene." The deputy concluded that hiding the weapon in the attic "didn't make sense" if Pritchett thought Ticich may return to the house and threaten him again.
Pritchett was arrested and charged with aggravated assault with a deadly weapon, a felony. He has a $10,000 bond, and was still at the Flagler County jail Monday afternoon. Three years ago he was booked on a domestic violence assault charge after he allegedly tried to break down a bathroom door where the alleged victim, a 66-year-old woman, was hiding from him during an altercation that turned violent. The charge was dropped.