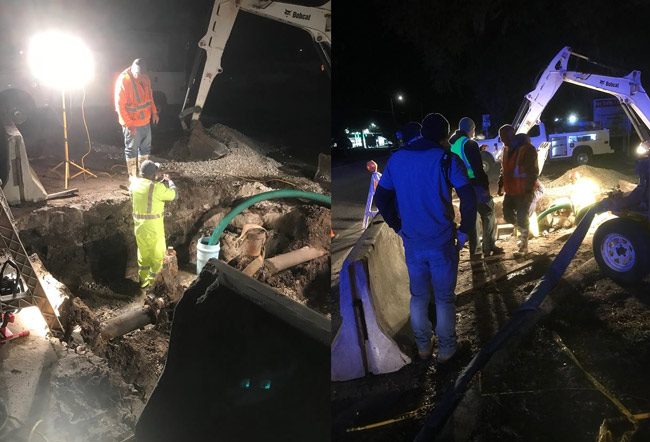 Update: The boil-water notice was lifted Saturday morning, Dec. 1, city officials said.
Bunnell residents, businesses and government offices, including the courthouse, have been under a boil-water notice since Thursday following repairs to a watermain on East Moody Boulevard. The city hopes to green-light regular water usage before the weekend.
The city shut down its water plant on Nov. 28 just before midnight, cutting off water service city-wide, to facilitate the repair of a crippled valve on a 6-inch watermain. City crews worked in frigid temperatures through the night to make the necessary repairs, the city said in a release issued Thursday.
The work completed. But as is always the case when water service is shut down, a Boil Water Notice was issued. "This is a necessary action due to the pressure loss in the water lines," the city said. "The notice will remain in place until lab testing clears the system. City staff has already started to pull samples from the water lines for testing. The city anticipates being able to rescind the Boil Water Notice before the weekend."
The boil-water notice does not affect dish-washing, laundry-making, lawn-watering and other uses of water for non-potable needs.
Under a boil water notice, water used for drinking or cooking consumption can be disinfected by any one of the following methods: Bringing the water to a rolling boil and holding it there for one minute, or using a disinfecting chemical.
The city advises that if you cannot boil water, you should put eight drops of common unscented household bleach or one-eigth of a teaspoon, in one gallon of tap water. Shake and allow the water to stand for 30 minutes before drinking. If the water is cloudy, use sixteen (16) drops, about 1/4 teaspoon of bleach instead of 8, shake it, and let it stand for 30 minutes. There should be a slight chlorine odor. Use common household bleach that has 5 to 6 percent active ingredients. Use food grade containers.
You may also use water-purification tablets or iodine that many sports and camping stores sell, or you may buy commercial bottled water for consumption and food preparation as an alternative.
It is the second time in less than three months that city-wide serviec had to be shut down. Service was shut down at the beginning of September, though in that case it was the result of a vehicle crash into a hydrant, which then required repairs.
The city may be reached at (386) 437-7500.