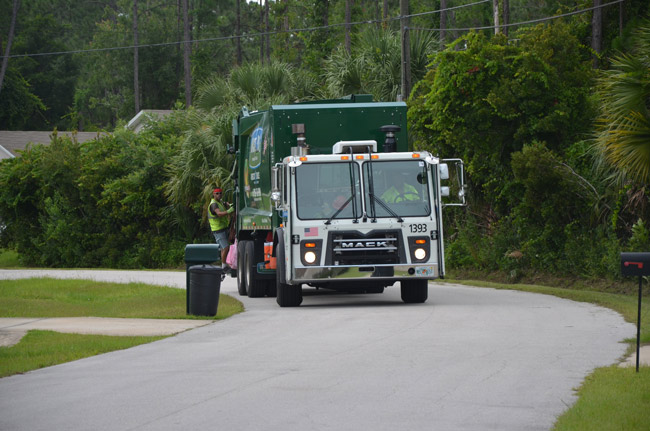 Both Flagler County and Palm Coast governments are again raising serious questions continuing their contracts with Waste Pro after the garbage hauler had another bad week. A county commissioner and a city council member each autonomously raised the possibility of ending the relationship with Waste Pro, which has three years left on its current contracts. Flagler piggy-backs on Palm Coast's contract, last renewed in 2017.
Waste Pro has been struggling on and off for the past couple of years and was summoned before each government to give accounts about recurring customer dissatisfaction, mostly centered on missed pick-ups. Palm Coast fines the company every time certain benchmarks are missed. Those monthly fines have spiked several times in the past two years.
The latest issue generated some 300 complaints in a week in Palm Coast, and an undetermined number of complaints in the county, where County Commissioner Joe Mullins said he forwarded "hundreds" of messages complaining about the service to County Administrator Jerry Cameron last week.
Waste Pro acknowledged that there'd been unusual issues last week, with unexpected "call-outs" from drivers and two trucks that broke down, but the company said the issues should be resolved.
That may not necessarily resolve the issue with the two local governments, who account for all of Waste Pro's business in the county. The city has scheduled a meeting with Waste Pro officials next Monday.
The county commission was alerted to problems during Monday's commission meeting when Carl Laundrie, a west-side resident who used to be the county's public relations director, brought his own recycling-related complaint to the meeting. "Recycling out there is a hit-and-miss proposition," he said. "I had a recycling bin out there last week. I left it out to see if they'd pick it up, they didn't pick it up. You call there, and usually you get the answer that their truck is down." Laundrie said if the trend continues, people will stop recycling for not wanting to be stuck with a box of refuse. "I don't know what's going on, but it needs to be ended. It's not like you can't pay because it's deducted" from the tax bill. "It's just not happening out there," Laundrie said.
Cameron said Laundrie's was not the only complaint. "We're going to, number one, have a real sit-down with that vendor, and number two, if we can't come to a resolution, we are probably going to have to go out for RFP to take a look at other providers," Cameron said, referring to a request for proposals, which starts the bidding process for a new contract. He said the county might approach Flagler Beach to contract the service, and would discuss the issue with Palm Coast City Manager Matt Morton.
"I've gotten hundreds of messages that I've forwarded to Mr. Cameron about the trash service all over the county, not just in the west side," Mullins said. "Waste Pro needs to step it up, or they need to go. Bunnell has its trash service. They do their own, and they would certainly be a good option to look into for the west side. But all over the county this should not be a problem. We're subbing it out, the company should be providing what they're supposed to, and it's just too many people throughout the county are saying the same thing."
A day later, much of those comments were echoed at the Palm Coast City Council meeting. Council member called the hauler "our favorite friend, Waste Pro," though he meant wryly. "The phone has been ringing off the hook, or off my hip, either or," he said. "I'm the type of guy that if I pay for a service, I expect the service to be performed, especially when it's contractual, and if they can't meet the obligation, then we need to start seriously looking at other options." He said he hadn't reviewed the current contract but surmised it should contain a penalty clause.
It does. The company had a terrible month in March 2018 and was fined $34,400, according to city records. Matters improved rapidly after that, the fines going down to $6,170 the next month, and to a few hundred dollars a month from July through September. Problems crept back up, as did fines, spiking last January to $14,510, and topping $3,000 each of the last two months. April is expected to be another spike, judging from the complaints registered with the city.
"Customer Service Manager Cynthia Schweers said we had a bad week last week," Cindi Lane, the city's spokesperson, said today in an email. "We received about 300 phone calls, with the biggest complaint being that they didn't finish routes. In discussing with Waste Pro, we learned they were short-handed last week – both with managers and employees. But this week they seem to be back on-track. The number of complaints has dropped back down."
"Sometimes we have to take drastic action and say all right, enough is enough," Howell said. "I want to put them on note. If you can't deliver, we'll find somebody real quick, real soon that can deliver the service."
Howell is over-optimistic. The garbage-hauling business is extremely competitive but not necessarily rich in haulers: when Palm Coast sought bids in 2012, just two other companies put in a bid, aside from Waste Pro, and one was quickly disqualified because of the specific requirements of the Palm Coast contract (requirements dictated by residents' and council members' desires). Waste Management, the largest hauler in the business, just this week acquired Ponte Vedra Beach-based Advanced Disposal Services for $4.9 billion. One of the reasons Waste Pro has built longevity locally–it's been hauling for Palm Coast and the county since 2007–is familiarity, and a good deal of popular support as well: if the company has weathered complaints over the past two years, every story about the complaints also generates reactions from readers who praise their haulers and sympathize with the hard work.
Earlier this year, after another spate of complaints, Waste Pro pledged to add two trucks and add staff, including supervisors, and redraw its routes, cutting them shorter, to make the work more manageable and efficient. Just last week the company, in a good-will gesture of its own, treated all 400 of Palm Coast's employees to a free lunch, catered to their work locations. But it's continued to struggle to find garbage haulers.
"It's been a struggle for us for some time now," Palm Coast Mayor Milissa Holland said Tuesday morning at the council. "I continue to receive emails in regards to the issue. I know we have put them on notice previously." She said the city met with Waste Pro management a few times–management that's changed along the way, and that's contended with various difficulties. "We have set up a job fair, working with the Center for Business Excellence in order for a way to connect those that are working for a job. They pay very well. It's not that."
But, the mayor told Morton, it's time to contact Waste Pro again and let them know "we're dissatisfied with the service they're currently providing."
Morton described the problems as "a big issue" and said that while there are fines being levied, "but there gets to be a point where the fines to the community are irrelevant, they would like the service to be carried out."