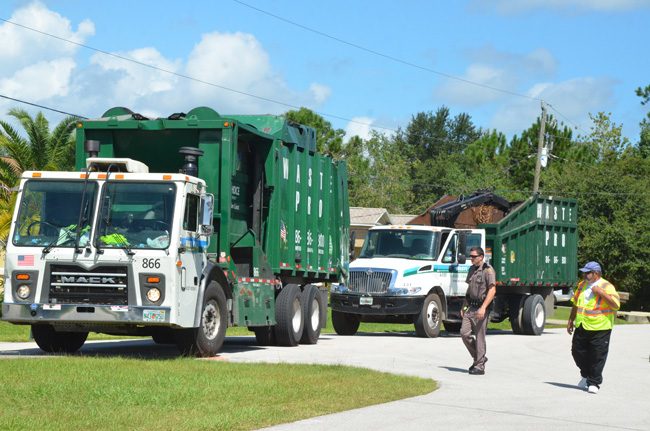 A Waste Pro garbage hauler was severely injured today when he was run over by his own truck as he and his partner were on a recycling run through Palm Coast's B Section.
The pair of haulers were going through Bickwick Lane at noon. They had turned a curve and were going south on Bickwick, with the driver handling the even-numbered properties and the victim handling the odd numbers.
About the time when the driver emptied the recycling from #38 and the victim emptied #39, the victim was getting back onto the truck, climbing on the step on the passenger side of the cab and holding on to an outside bar there, a Florida Highway Patrol investigator at the scene said. The driver thought his partner had securely gotten back on.
"He slipped off the step and and fell under the truck," the FHP trooper said. "The truck driver didn't hear him until he heard him scream" as the wheel went over his leg, severely breaking bones.
The victim appeared to go into shock and to be losing consciousness, authorities reported, with the injury so severe that the bone was showing. Fire Flight, the county's emergency helicopter, was called in. The victim was transported by ground to nearby Matanzas Woods Parkway to be flown to Halifax hospital in Daytona Beach, but in fact ended up being transported by ground, and Fire Flight returned to base at the county airport.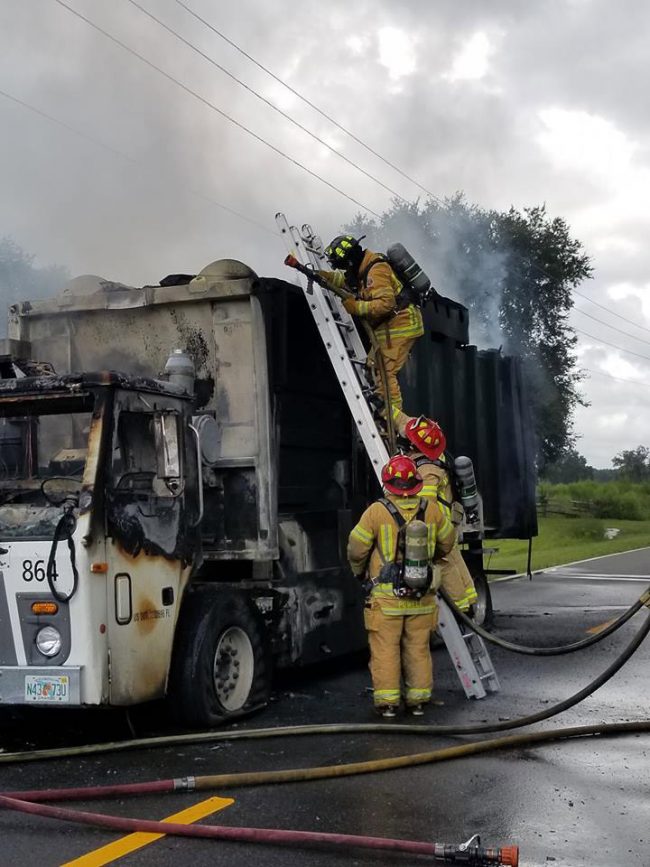 The Palm Coast Fire Department and Flagler County Fire Rescue responded to the incident, as did the Palm Coast Fire Police, though the Fire Police had little traffic to deal with and the scene was cleared very rapidly: after a Waste Pro supervisor surveyed the scene and spoke with the driver, Truck 866 was back on its route, barely 45 minutes after the incident.
The name of the victim was not immediately available.
For Waste Pro, today's incident was the second serious issue in two days. On Monday, the company lost a garbage truck to fire on County Road 305.
The FHP investigator said there was a witness to the incident–a driver immediately behind the hauler–and that no foul play or anything other than an accident was suspected. "Charges will be pending but probably not likely," he said.
Waste Pro is the private hauler under contract for almost a decade to provide garbage, recycling and yard waste service (among other services) to Palm Coast and Flagler County unincorporated residents. Garbage and recycling haulers rank third on the list of the riskiest jobs in Florida, according to the the Hinkley Center for Solid and Hazardous Waste Management in Miami.