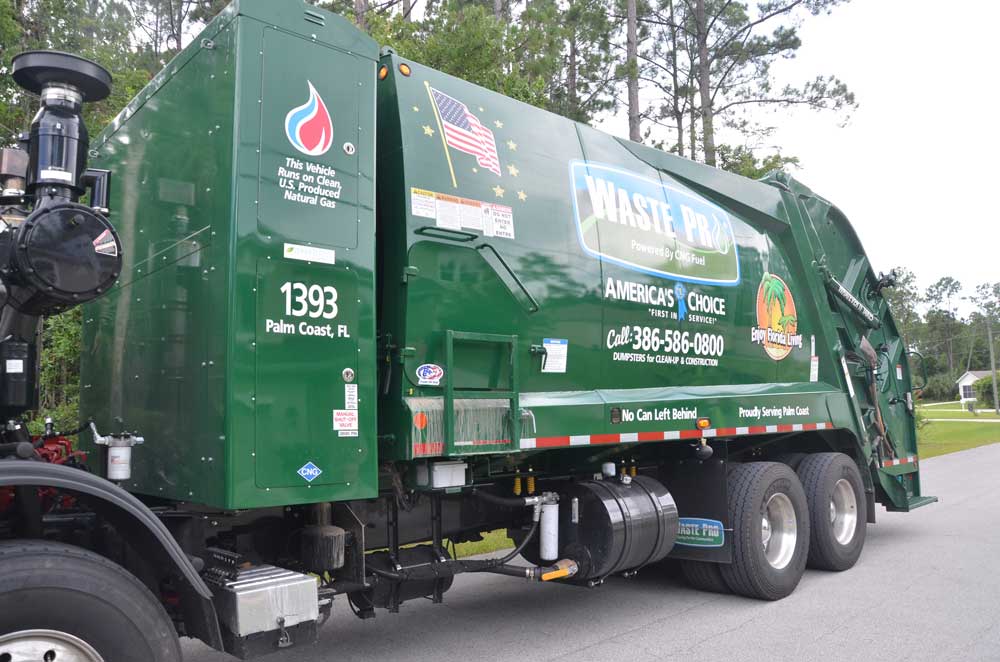 Last Updated: 7:47 p.m.
In 2017, when Flagler County government signed on with Waste Pro for the third five-year extension of its garbage hauling contract, it was what would equate to a monthly rate of $19.82 per single-family house, with twice a week pick-up, recycling once a week, yard waste pick-up once a week (4 cubic yards), and bulk trash removal once a week.




Earlier this month, when the County Commission approved a new five-year contract with Waste Pro to service the unincorporated county's households, it was for the bid price of what would equate to at least $32.05 a month, a 62 percent increase. That price may increase annually from now on, based on inflation, as opposed to being locked in for five years, as it had been between 2007 and 2022.
(Palm Coast residents pay their garbage bill as part of their monthly water utility bill. County residents pay their garbage bill annually, with their tax bill. That also meant that new homeowners did not pay for garbage service until they got their tax bill.)
Residents will feel some sticker shock, in addition to the increase they saw a year ago, when the Waste Pro contract expired and the county, piggy-backing on Waste pro's contract with Palm Coast government, went along with a one-year extension, with sharply higher rates that equated to $300 a year, or $25 a month. The immediate rate increase will be closer to $400 a year, an increase of over 65 percent from what customers were paying a little over a year ago.
The county for years had been taking in less revenue than it cost to run the garbage service, because it had set a ceiling on the rate, thus creating an operating deficit. It was covered by the franchise fee paid by Waste Pro. That cap will be removed. (Note: this article was updated with figures as reflected on tax bills and in projections from the new contract.)
So the higher cost is driven only in part by a labor shortage (which Waste Pro officials said is no longer affecting them), inflation and labor demands for better pay, especially in a notoriously thankless and dangerous trade. Neither Palm Coast nor Flagler County are an exception: communities across the country are seeing steeply higher garbage fees.




Flagler County's renewal with Waste Pro is at variance with Palm Coast's decision to sever its ties with the company and sign with a new hauler, FCC Environmental, starting in June.
Palm Coast residents saw their garbage bills skyrocket 47 percent last June with Waste Pro when the city extended its contract with the company for a year. That happened after Waste Pro filed a bid protest after Palm Coast indicated it would go with FCC Environmental, and the city re-started the bidding from zero, potentially leaving it without a hauler. (See: "Palm Coast Was Set to Recommend New Garbage Hauler. Waste Pro Protested. City Will Re-Start Entire Bid Process.")
After the second bid, FCC still came out ahead in the city. When that seven-year contract begins in June, Palm Coast customers will pay close to the same rate as county customers: $32.32, another 7.8 percent increase from the $29.97 fee they are paying currently, and a 59 percent increase rom the rate they'd paid between 2017 and 2022. The FCC contract with Palm Coast also includes an annual re-evaluation of cost based on inflation. Rates would increase on Oct. 1. (See: "Palm Coast Plans to Trash Waste Pro for New Hauler, FCC Environmental, and Another Fee Increase.")
City customers had complained about Waste Pro service during certain months, but the company made effort to address the issues, some of which had been caused by severe storms, some by labor shortages, with the Covid pandemic playing a big role, and the issues diminished considerably. Nevertheless, the city was willing to switch to a new hauler despite what had grown into a 16-year relationship with Waste Pro, and considerable satisfaction with the hauler when customers were surveyed by the city. The county has generally had a closer relationship with the company.
FCC Environmental was the only other bidder when the county opened its process last October.
"All of my employees are local employees. All of our money we spend right here locally," Waste Pro Division Manager Heather Badger-Felmet said. "We are going to continue to run natural gas. We are going to continue to focus on what's important for Flagler County through this bid process." She said the price rise was "inevitable," and spoke of the annual price increases ahead.




"We all know what happened in the last five years. I mean, let's just talk about gas alone," she said. "When we were doing negotiations and we wrote the contract to better suit you guys, so that it's not such a hard heavy hit in five years. We're going to renew it and review it with you guys every year now. So if there's going to have to be an increase, it'll be a much smaller increase, so it's not hitting the residence so hard in five years."
Staffing had been the issue when the company had its difficulties with Palm Coast and the county over a year ago. Badger-Felmet now said Waste Pro is "overstaffed."
"We have actually four extra drivers on hand. Covid times are long gone," she said (though clearly the company has to absorb the employees it no longer needs in palm Coast). Recruiting is ongoing at Flagler Technical School, or through word of mouth. The company said it would not lay off current employees, having other areas where they could also put in some work.
County commissioners only had praise for Waste pro, barely questioning the details of the contract, which was included on the commission's consent agenda–the portion that gets approved in bulk, without discussion. Commissioner Andy Dance asked that the item be pulled for some discussion, because of the breadth of the contract. Unlike Palm Coast, which fined Waste Pro for missed routes or other types of errors on the job, the county never had such a system, and will not have one in the new contract.
"Happy that Waste Management will continue–Waste Pro, excuse me, Waste Pro of Florida will continue to support the county," Commissioner Dave Sullivan said, briefly mistaking the company with one of its main competitors.
The county issued a release today announcing the contract's ratification, then pulled it back to erase mention of the new rate, pending a public hearing "in the near future to determine and levy the new assessment rate," in the release's wording. The release had briefly flashed the figure of $384 a year. A county official said: "That number is the flat cost of the service that the County will pay WastePro for the first year under the new contract. Customers will actually pay more than that because we also have to account for price escalation clauses in the contract and fees to the Tax Collector and Property Appraiser, and we have to factor in the 4 percent discount that most tax payers take advantage of by paying their taxes early. We haven't pinned down the exact figure yet but should have it soon. Customers will get notice mailed to them, and we will have a public hearing to levy the new assessment."
The full contract is below.

waste-pro-flagler-county-2023