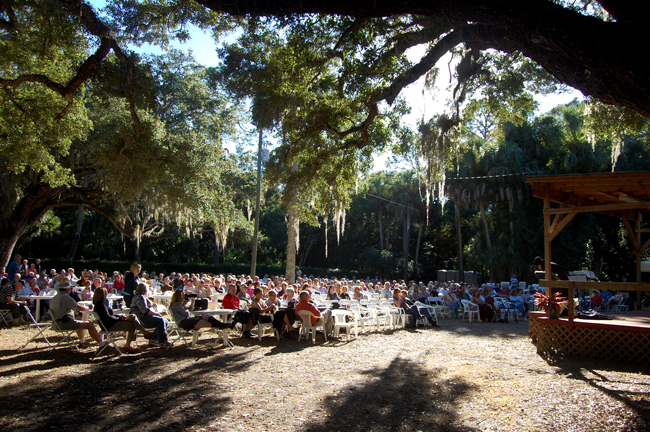 It's happened three times before, a virtual budgetary scare tactic that heightens anxieties, makes the point that state government is in the poorhouse, but doesn't actually follow through entirely: the Florida Department of Environmental Protection draws up a list of state parks it's proposing to close, publicizes it, then then uses the tactic to raise prices at the parks or reduce staffing and services, but keep them going.
It's happening again: DEP has drawn up a list of 53 parks it's proposing to close, among them two of Flagler County's three most popular and statelier parks–Washington Oaks Garden State Park and the Bulow Plantation ruins. It's part of a plan to reduce the division's budget by 15 percent. Gov. Rick Scott next week, in his budget plan to the Legislature, will reveal to what extent the cuts may become reality.
There's a difference of context between this year's proposed park cuts and previous years' proposals: the state budget gap of $3.6 billion is the largest to date. Gov. Scott is not as friendly to the environment or to parks as Charlie Crist was. No federal aid will be offsetting state shortfalls this year, as it did last. will be The state parks have no further concessions to make: at Washington Oaks, for example, the entrance fee is $4 per car, but there's no one there to take it anymore. The state doesn't have the money to fund a gate keeper. Entry pay is on the honor system.
Florida House Rep. Bill proctor, the St. Augustine Republican who represents Flagler County, said Tuesday afternoon he won't deal with the issue until it reaches the House Appropriations Committee, of which he's a member. But, he said, given the circumstances, it's unlikely that in a choice between cutting parks and cutting education or public safety, the parks would prevail.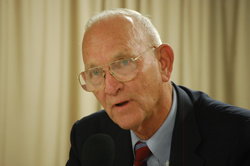 "It would be foolish to think that under the current prevailing circumstances, anybody is going to come up with a budget proposal that's going to be widely well received," Proctor told FlaglerLive. "Unless there's some approach in this situation that I don't understand, when you consider that human services, education and public safety consume about 80 percent of the current budget, you know that you can't cut $4 billion out without cutting in those areas." And, he added, "I can't imagine that any agency that operates in those areas are going to give up money to the park services."

DEP's 53 parks were chosen according to attendance. Washington Oaks and Bulow Plantation happen to receive fewer visitors, comparatively, than other state parks across Florida. None of Flagler's parks rank among Florida's top-25 most visited parks. The most visited is Honeymoon Island in Pinellas County was the biggest draw in 2010, with 1.04 million visitors, followed by Sebastian Inlet and Lovers Key (749,000 and 731,000). DeLeon Springs in Volusia County ranks at Number 20, with 254,000 visitors.
"It doesn't seem possible," says Anne Wilson, president and chairwoman of the A1A Scenic and Historic Coastal Byway (the 72 miles of A1A from the Duval-St. Johns County line to the Flagler-Volusia line). "The events I've been to at the parks have always been so well attended. Isn't that one of the most popular wedding spots in Flagler County? The Rose Garden there–people use that for weddings all the time. It's a beautiful spot. I don't understand that at all. It's got such an incredible setting. the old house there is such a wonderful example of old Florida architecture."
Peggy Heiser, vice president of tourism development in Flagler County and a member of the board of directors of the Florida Association of Conventions and Visitors Bureau (FACVB), said Tuesday the association has been tracking the DEP's proposal, but isn't taking action yet, and won't, until concrete budget cuts are proposed. "We don't believe there's a real threat at this point," Heiser said, the proposal being only theoretical. Should it become concrete, there'll be an organized response at the state and local level: tourism businesses and associations will be called upon to contact their legislators and apply pressure against the cuts.
"It would be a horrible thing for them to close any of our parks," Heiser said. "It's not only attendance, they also offer amazing trail systems, just the beautiful natural surroundings we have here in Flagler County, they're very well run, the ranger system we have is very well run, and part of our marketing is the eco-niche. It will affect us if something like this were to happen." Heiser and the county's Tourist Development Council have been emphasizing Flagler's eco-tourism for the past two years, with measurable success: the county last year realized better hotel stays than the previous year, despite the poor economy.
Both Washington Oaks and Bulow Creek are part of a linear park system that runs from Marineland to Ormond Beach. Several parks in St. Johns and Duvall counties would also be closed.
In September 2009, the Washington Oaks Historic District was placed on the National Register of Historic Places. A $75,000 fund-raising campaign is under way by the Friends of Washington Oaks to restore the park's historical greenhouse, creating gateway signs to identify the park's highlights, and to build a permanent stage. All three projects would cost $200,000. Grants and in-kind donations would provide the balance.
Washington Oaks is also known for its bird life and, of course, its gardens.
"That's what boggles my mind," Wilson said. "The entire concept of shutting those places down is not rational. You don't shut down gardens, not in Florida, because they take over if you don't maintain them on a regular basis. Both of those places really showcase the beauty and history of Florida. It would be a crying shame to close them down." Wilson said her email in-box has been flooded with traffic about how to respond. That response will be organized, should Scott make the cuts part of his budget come Monday. "We're pretty good with the power of the pen," Wilson said.
Here's the list of parks the Department of Environmental Protection is proposing to close:
Allen David Broussard Catfish Creek Preserve State Park, Haines City
Atlantic Ridge Preserve State Park, Stuart
Big Shoals State Park, White Springs
Bulow Plantation Ruins Historic State Park, Flagler Beach
Camp Helen State Park, Panama City Beach
Cedar Key State Museum State Park, Cedar Key
Colt Creek State Park, Lakeland
Constitution Convention Museum State Park, Port St. Joe
Crystal River Archaeological State Park, Crystal River
Dade Battlefield Historic State Park, Bushnell
Dagny Johsnon Key Largo Hammock Botanical State Park, Key Largo
Deer Lake State Park, Santa Rosa Beach
Devil's Millhopper Geological State Park, Gainesville
Don Pedro Island State Park, Boca Granda
Dudley Farm Historic State Park, Newberry
Dunn's Creek State Park, Pomona
Estero Bay Preserve State Park, Estero
Fort Cooper State Park, Inverness
Fort George Island Cultural State Park, Jacksonville
Fort Mose Historic State Park, St. Augustine
John Gorrie Museum State Park, Apalachicola
Judah P. Benjamin Confederate Memorial at Gamble Plantation Historic State Park, Ellenton
Lake Jackson Mounds Archaeological State Park, Tallahassee
Lake June-in-Winter Scrub State Park, Sebring
Lake Talquin State Park, Tallahassee
Letchworth-Love Mounds Archaeological State Park, Tallahassee
Lignumvitae Key Botanical State Park, Islamorada
Madison Blue Spring State Park, Lee
Marjorie Kinnan Rawlings Historic State Park, Cross Creek
Natural Bridge Battlefield Historic State Park, Woodville
Olustee Battlefield Historic State Park, Olustee
Orman House Historic State Park, Apalachicola
Paynes Creek Historic State Park, Bowling Green
Peacock Springs State Park, Luraville
Perdido Key State Park, Pensacola
Ponce de Leon Springs State Park, Ponce de Leon
Pumpkin Hill Creek Preserve State Park, Jacksonville
Rock Springs Run State Reserve, Sorrento
San Felasco Hammock Preserve State Park, Alachua
San Marcos de Apalache Historic State Park, St. Marks
Savannas Preserve State Park, Jensen Beach
St. Lucie Inlet Preserve State Park, Stuart
St. Sebastian River Preserve State Park, Fellsmere
Suwannee River Wilderness Trail/Nature and Heritage Tourism Center, White Springs
Terra Ceia Preserve State Park, Palmetto
The Barnacle Historic State Park, Coconut Grove
Troy Spring State Park, Branford
Wacasassa Bay Preserve State Park, Cedar Key
Washington Oaks Gardens State Park, Palm Coast
Werner-Boyce Salt Springs State Park, Port Richey
Windley Key Fossil Reef Geological State Park, Islamorada
Ybor City Museum State Park, Tampa
Yellow River Marsh Preserve State Park, Holt