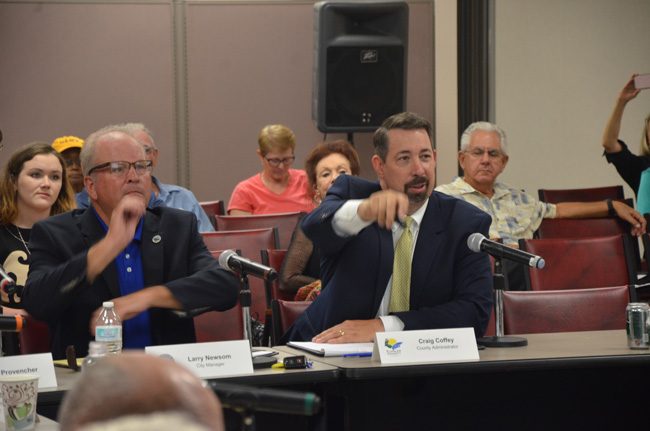 Ten months after Hurricane Matthew, federal emergency dollars have yet to be secured for beach repairs and the county is well into another hurricane season with its dunes–its defenses–down. But plans are in the works for building thin, emergency dunes in Flagler Beach sometime in 2018, assuming the Federal Emergency Management Administration approves.
And the county has an even broader plan for a more permanent fix: rebuilding the dunes for good, but to do so, Flagler Beach and the county would have to abandon their 12-year effort to "renourish" beaches through a U.S. Corps of Engineers project.
That's the message from County Administrator Craig Coffey to a joint meeting of the county and Flagler Beach commissions Monday afternoon. It was not exactly what Flagler Beach commissioners wanted to hear, though it was not a surprise, either, because it was also a reflection of current realities: Hurricane Matthew depleted the county's coffers, limiting its financial ability to do much on its own. FEMA's rules and the U.S. Army Corps' bureaucracy and funding sources tend to grind rather than move along, leaving local governments at the mercy of both.
The better alternative, in Coffey's view, is to bring more decision-making closer to home: to the county and to state agencies.
Flagler Beach had long put its hopes in a U.S. Army Corps of Engineer project to "renourish" the beach by dumping sand and raising its dunes, even well before Hurricane Matthew. The hurricane could have accelerated the project. It has done the opposite, even though Congress last year authorized at least some renourishment. But authorization doesn't mean appropriation of money. Those appropriations are nowhere in sight.
"We've been at it for almost 12 years," Coffey said, and spent $3 million along the way, between the various government agencies involved, "and we have nothing to show but getting approved as a potential federal project, and moving forward we don't have a clear path." The project has been scaled back to 2.6 miles out of 6.25 miles, the timing is uncertain, the rules keep changing.
Coffey's proposal: Drop the Army Corps of Engineers approach, and go with a more state and local-based approach.
"I've said it from 12 years ago, I'm OK that they don't dredge, because they're dredging sand that doesn't belong on our beach," Flagler Beach Commissioner Joy McGrew said.
But "there is a dredging element coming up" regardless, Commission Chairman Nate McLaughlin said.
That alternative involves the county, the state Department of Transportation and–still–the U.S. Army Corps of Engineers, but it would focus exclusively on building a wall of dunes. That wall would be built from a base of rock, coated in a thick layer of sand to make the rocks invisible. At least until the next storm. The approach is based on the restoration of 6.25 miles, dredging sand from offshore and rebuilding dunes rather than rebuilding the beach. The cost: $20 million. (That $20 million is entirely separate from the $35 million reconstruction cost of State Road A1A.)
Coffey has an idea where the money would come from: mostly from the state Transportation Department, with smaller amounts from the state Department of Environmental Protection and from Flagler County's Tourist Development Council. But most of that money has not been secured.
The design alone for that project would take one to two years. Construction would not start before 2019, and some of it would dovetail a project that will begin in 2018, and that has no direct county or city involvement: the state Department of Transportation's plan to rebuild State Road A1A, with a sea wall at the north end of the city.
The sand for those dunes would be dredged from about seven miles offshore.
There was quite a bit of government-bashing along the way, particularly from McGrew, though Coffey said the motives of local and state governments can be more easily understood than government further away.
Meanwhile, even for a short-term fix, the county itself cannot step in and drop protective sand in Flagler Beach ahead of time, even if it would be reimbursed, for lack of money.
"You're talking about big dollars here," Coffey told the Flagler Beach commission, and if the county were to front the money now, it could be left holding the bag if FEMA does not come through, or if certain FEMA rules aren't followed to the letter.
Getting FEMA to come through has been a 10-month challenge. "The FEMA solution is the temporary solution," Coffey said.
County officials, including Coffey and Commissioner Greg Hansen, met with Federal Emergency Management Association to speed up a process that's been "meandering a little bit," in Coffey's words. The county and Flagler Beach have applied for FEMA funds to repair Hurricane Matthew damage. EMA hasn't gone so far as even filling out the so-called "work sheets" necessary to get the grants going.
"We have their attention," Hansen he said, after meeting for 10 minutes with FEMA's assistant director of disaster recovery for 10 minutes. "I was able to lay out some frustrations." The next thing Coffey heard, Hansen said, was that they would be "concentrating on Flagler County."
For Flagler Beach, the city's three miles or so of shoreline could be in line for emergency protective "berms," or smaller, thinner dunes (they would be 6 cubic yards), that would be built in early 2018 and would cost $5.46 million, with a local match of $1.4 million. "We have no guarantee of approval," Coffey said. "it's not 100 percent clear-cut, they have rules and regulations but you have some interpretation a little bit."
That would still leave Flagler vulnerable at least to one storm season, Commission Chairman Nate McLaughlin said.
The question is what sand to use in Flagler Beach. That's still not settled.
"We have two sources of sand at no cost," Jon Netts, the former Palm Coast mayor who still serves on the Florida Inland Navigation District, said, describing it as "beach-quality sand," near New Smyrna Beach and near the Matanzas inlet. The sand is free. "The only cost is transportation." Testing is ongoing.
The county is currently buying sand for its own purposes in unincorporated Flagler but not from those sources. "The sand we're buying is at between $5 and $10 a ton, it's not super-expensive sand as much as the transportation," Coffey said.
"We are trying to get the corps to federalize the entire 18 miles," Hansen said, but only to the extent that the projects would meet FEMA standards, but not beyond that. The beaches will not be considered Army Corps beaches that, whatever happens in the future, would be rebuilt at federal expense. In other words, should another major storm strike the shore and demolish the dunes, there is no insurance policy, not back-up plan to rebuild the damage, other than to o it all over again–at state and local expense, assuming dollars and willingness are at hand.