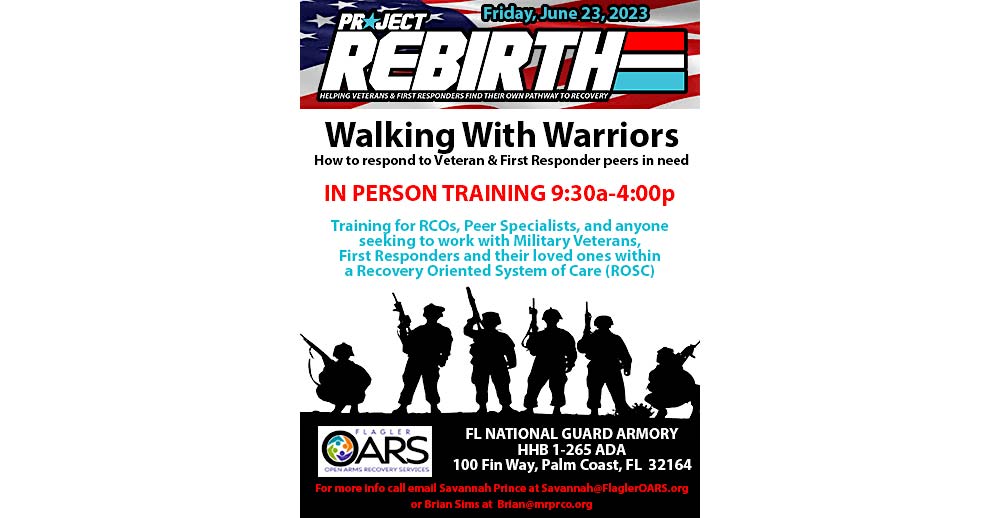 In response to the unique needs of our brave Military Veterans and First Responders, Walking with Warriors: A Project Rebirth Training is coming to the Florida National Guard Armory in Palm Coast on Friday, June 23 from 9:30am – 4pm EDT with lunch included. The Armory is at 100 Fin Wy 100 Fin Way, Palm Coast.
This one-of-a-kind training is designed for everyone who cares about vets and first responders: professionals in health and wellness fields, families, and friends.




Brian Sims, Veteran, Certified Recovery Peer Specialist and National Director of Project Rebirth, will be leading the training, sharing his experience and knowledge with attendees. The aim of the training is to provide participants with practical tools and resources for responding to the unique needs of veterans and first responders.
"We are excited to bring this incredibly valuable training to the community," said Pam Birtolo, Executive Director of Flagler OARS. "Anyone is welcome to attend and will leave the training feeling empowered and better equipped to respond to the needs of Veterans and First Responders. We want everyone to feel welcome and walk away with a deep appreciation for the important work of supporting our Veterans and First Responders."
Those interested in participating will receive a free lunch and are asked to register for the training at: https://www.eventbrite.com/e/walking-with-warriors-a-project-rebirth-training-tickets-634153679727?fbclid=IwAR3PVchRdF5Rm7eSORORDaALnRKmL6TaRCJlJu4xJLZDDbVC4QTyiX2yfsY.
Flagler OARS can be reached at https://flagleroars.org/, or 386-569-4310. They are located at 160 Cypress Point Pkwy Suite B205, Palm Coast.