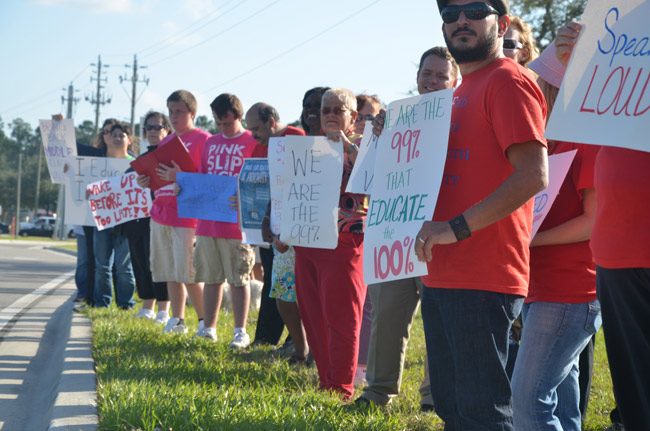 At the break of dawn Wednesday, teachers and school staff will join with parents and community supporters at schools from Pensacola to Key West, including at eight of Flagler's nine traditional public schools, for a morning "walk-in" in support of increased funding for neighborhood public schools.
"We are taking a positive approach to calling attention to a very serious issue," Katie Hansen, president of the Flagler County Education Association, the teachers union, was quoted as saying in a release issued by the organizers ahead of the walk-in. "State lawmakers have starved our public schools of desperately needed funds for more than a decade, and children are paying the price. We see it in the number of classrooms that don't have a qualified teacher in front of students, in the programs and resources we can provide to kids, in school facilities. It's time for lawmakers to fund our future and invest in the neighborhood public schools that educate the great majority of this state's students."
"Walk-ins" have become popular means for unions to demonstrate their causes without walking off the job, but rather by emphasizing their devotion to the job–hence the walk-in. The tactic is effective in states like Florida where it is against the law for teachers to strike.
Modeled after a walk-in organized by teachers in North Carolina in 2013, a national walk-in was staged in 2016 by the Alliance To Reclaim Our Schools with the National Education Association and the American Federation of Teachers. Many of those walk-ins were a reaction to the erosion of public education dollars through charter schools and voucher programs. Charter schools are publicly funded but privately run, often abiding by standards that are lower, or less accountable, than those at traditional public schools. Voucher programs, extensive in Florida, use public dollars to pay for students' private school education.
Florida ranks among the bottom 10 states nationally in funding for students, and education spending remains below pre-recession levels. The average teacher salary in Florida has dropped to 46th in the nation, while many school staff earn a wage that is below the federal poverty line.
The state faces an unprecedented teacher shortage, according to the union. More than 4,000 classrooms were without a qualified teacher at the start of this school year, and there may soon be more than 10,000 teacher vacancies, according to Florida Department of Education projections.
For Wednesday's walk-in, groups of teachers, staff, parents, faith leaders and other community supporters will gather 30 to 45 minutes before the start of the workday at dozens of schools throughout the state. They may picket, pray or simply share coffee and doughnuts, then employees will walk in to school together.
In Flagler, public school advocates will gather at the schools flagpole, all in the morning: Indian Trails Middle School at 6:50, Buddy Taylor Middle School at 6:55, Flagler Palm Coast High School at 7:35, Wadsworth Elementary School at 8, Old Kings Elementary School at 8:10, Belle Terre Elementary School at 8:10, Bunnell Elementary School at 8:15, and Rymfire Elementary School 8:30.
"People in this community love our schools, and state leaders need to know that," said Brun Hudson, president of the the Flagler Educational Support Personnel Association. "We invite anyone who supports public education to join us. If you can't make the walk-in, call a lawmaker or write a letter to the editor. Our students and schools need all the support they can get."
Members of the public are also invited to sign a petition calling on Gov. Ron DeSantis and legislators to increase funding for public schools here.
The April 17 walk-in was organized statewide by the Florida Education Association in conjunction with local affiliates.