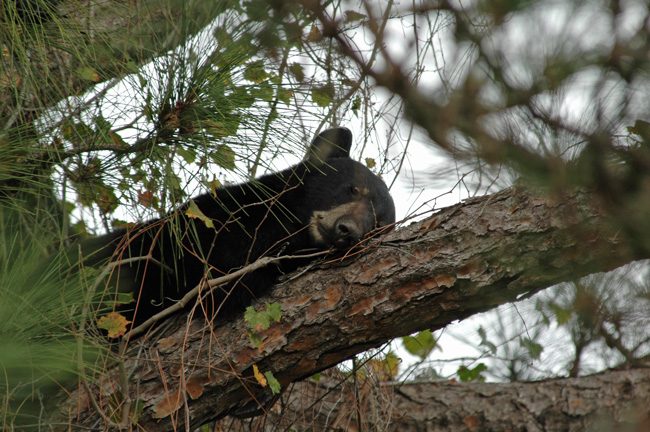 If the Florida Fish and Wildlife Conservation Commission decides to hold another bear hunt later this year, Volusia County officials don't want any part of it.
The Volusia County Council on Thursday unanimously approved a "symbolic" resolution urging the commission to reinstate a prohibition on hunting Florida black bears.
Council member Josh Wagner, who has purchased lifetime hunting licenses for himself and his two children, said the hunt goes against efforts and money spent to establish bear corridors and bear-management education programs.
"There is nothing greater than being out in the wild with your kids and teaching them about guns and teaching them about safety and the importance of wildlife," Wagner said. "At the same time, some things don't need to be hunted."
The Fish and Wildlife Commission last year lifted a ban on bear hunting that had been in place for decades and held a brief — but controversial — season in October.
If the commission doesn't want to reenact the ban, Kelli McGee, Volusia County's director of growth and resource management, said the resolution also asks that the hunt not be held in the bear-management area that includes Volusia County.
"If they won't restrict hunting statewide, perhaps they would restrict hunting in our area," McGee said.
Volusia County is part of the Central bear management region, which includes the St. Johns River watershed and the Ocala National Forest.
Fish and Wildlife Commission spokesman Tammy Sapp said Thursday in an email that the agency has been working with Volusia County to reduce the possibility of human-bear conflicts.
"We respect the county's efforts to address the challenges associated with black bears," Sapp said.
The state commission is expected during a meeting June 22 and June 23 in Apalachicola to discuss the possibility of holding another bear hunt.
Bear-hunt opponents are working with Seminole County on a similar resolution to the one approved in Volusia.
Jackie Lewis, a Deland resident who helped hunt opponents monitor the 2015 hunt, told the county council that educational efforts to reduce human-bear conflicts are more effective than hunts.
"This is just as much an issue of justice and democracy as it is of environmental stewardship," said Lewis. "Poll after poll showed that the majority of Floridians, 75 percent, were opposed to this hunt."
The 2015 hunt lasted two days and included the killing of 304 bears, with 21 in Volusia County.
The commission estimates the state has 4,350 adult bears, with 1,230 in the Central region, which includes all or parts of Alachua, Bradford, Brevard, Clay, Flagler, Lake, Marion, Orange, Putnam, Seminole, St. Johns, Sumter and Volusia counties. The region's estimated bear population has grown nearly 20 percent since 2002.
Volusia County has also accounted for 14 percent of the 25,728 calls received by the commission regarding human-bear conflicts from 2012 through 2015.
This year, Florida lawmakers included $500,000 to reduce human-bear conflicts in the state's $82 billion budget. The money is earmarked to match local dollars in purchasing bear-resistant garbage containers.
Sapp said the state agency is working with 14 counties that have the most incidents of human-bear conflicts, including Volusia, on ordinances needed to receive the state money.
—