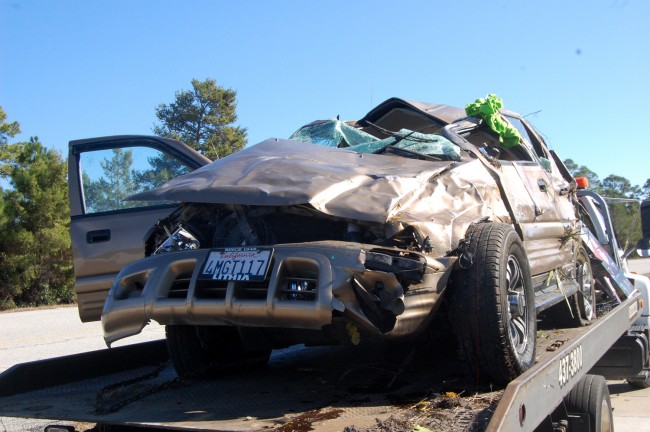 In the space of 18 hours between Monday afternoon and Tuesday morning on Flagler County roads, two wrecks involving three vehicles sent three people to Halifax Hospital in critical condition.
The first wreck took place at 4:30 Monday afternoon at the intersection of U.S. 1 and County Road 13, just north of the SR100 overpass in Bunnell. A semi truck was driving south, with Ocala driver Michael David Smith, 58 at the wheel. A 2004 Mitsubishi SUV driven by Joseph E. O'Guin, 22, of Bunnell, was on CR13, approaching US1. According to a Florida Highway Patrol report, O'Guin failed to stop at the intersection's stop sign. The semi truck struck the SUV on the driver's side, sending the vehicle into the treeline on the western shoulder of the road.
With O'Guin was 22-year-old Cacilia Jean Carter of Bunnell. O'Guin and Carter were not wearing their seat belts.
Both were unresponsive when Flagler County Fire Department paramedics arrived. Carter was breathing fitfully. She did not regain consciousness either at the scene or in the ambulance that transported her to Halifax. O'Guin was initially unresponsive, but started waking up as paramedics worked on him and extricated him from the car.
The driver of the truck sustained minor injuries. The cab of the truck sustained significant damage, estimated at $10,000.
The second wreck took place on Colbert Lane in Palm Coast at 10:10 this morning, involving one vehicle–a 2000 Isuzu Trooper–and one driver, Jessica Vides, 23, a 2005 graduate of Palm Coast High School and a tattoo artist who had just relocated back to the area after living in California for a few years.
Vides was traveling north when, for an unknown reason, she veered left, hit the sandy shoulder, and rolled onto, and beyond, the brush-line, down the embankment on the west side of the road. Her car was not visible from the road at that point, but two lawn maintenance men passing by noticed debris on the road and a broken taillight. They followed the path of the debris, and one of them began hearing the faint sound of music coming from behind the embankment, then saw the car and immediately called 911. Palm Coast Fire Department unites arrived on the scene. Vides' arm was pinned under the vehicle, which was on its back. Vides was mostly unconscious at the scene as crews worked furiously to free her from the car. She was then transported to Halifax Hospital.
The Florida Highway Patrol had no details explaining that crash as of Tuesday evening.