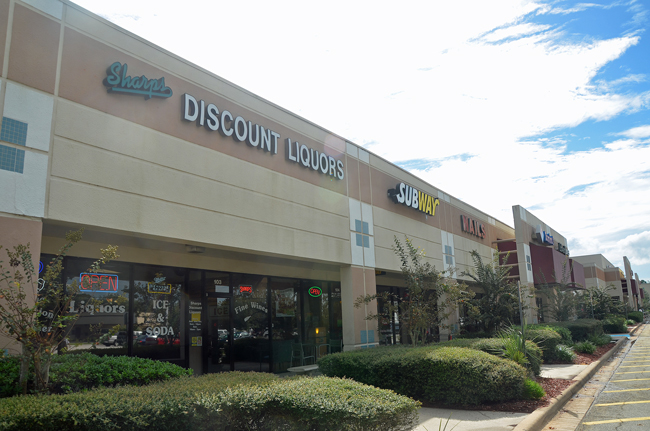 Subway, Sharps Liquor and Lovely Nails, three businesses at the Flagler Plaza Shopping Center on State Road 100 in Palm Coast , were all burglarized early Monday morning as thieves shattered the stores' glass front doors and in one case may have tampered with cash registers.
Soon after responding to the attack at Flagler Plaza, deputies received another call dispatching them to the shopping center on Utility Drive, off of Old Kings Road, where a similar attack was reported: the front doors or windows of five businesses were shattered. The businesses were Europa Salon and Spa, Scrapbook etc., Pet Spa, Colletti's Italian Deli and Lilly Green Children's Boutique.
At the State 100 location,  it appears that the attacks on the store were a case of vandalism rather than thievery in at least two of the stores, as those two stores (Subway and Lovely Nails) did not report anything verifiably stolen, and the insides of the two stores showed no evidence that they had been penetrated by whoever shattered the glass.
Units of the Flagler County Sheriff's Office arrived at the scene soon enough after the burglaries that one of the deputies reported hearing the sound of falling glass as he parked his cruiser on the east side of the plaza.
"It appears that all three of the above businesses were burglarized simultaneously," one of the police reports states.
At Subway, there were shoe prints along the counter, and "it appeared that items near the cash register were tampered with," a police report states.
The Sharps owner was unable to determine whether anything was missing, once at the scene, but he was making a surveillance video available later in the day.
At Lovely Nails, the left door of the business had a large circular shaped crack mark in the window, and the right front door was completely broken out, according to a police report. "Once inside the business, it appeared that nothing inside was rummaged through and the cash register was intact with a layer of dust on it and no visible fingerprints." Contact was made with the store owner. She made a walk-through of the property and said nothing was missing. The money had been taken out the evening before by store employees.
Canvassing the area produced no results, and the sheriff's office had no suspects.
Anyone with information on these burglaries is asked to contact the Sheriff's Office at (386) 586-4801 or Crimestoppers at 1-888-277-TIP (7477). You may be eligible for a reward of up to $1,000 for tips leading to an arrest.