Helga Van Eckert has accepted Flagler County's government's offer to become its latest economic development CEO. She will start in late February with a salary of close to $110,000 a year.
Barbara Revels, who chairs the county's jobs council responsible for setting Flagler's economic development direction—and hiring van Eckert—said the first priority for the new director will be to get "a more intensive tour of the county than she's already had, and basically getting out and about, introducing herself to the community."
Van Eckert's acceptance will be made official at the next meeting of the county's jobs council, on Tuesday, at 1 p.m., at the Government Services Building in Bunnell, though she won;t attend her first meeting of the council until March.
Van Eckert has been the director of the Perth Amboy, N.J., redevelopment agency since 2000. She'd been a project manager at an environmental engineering firm before that. Revels said van Eckert told Wilda Diaz, the mayor of Perth Amboy, that she'd accepted the offer, and was making arrangements to move.
The county's newly created Department of Economic Opportunity is currently headed by Greg Rawls, as department manager. Rawls was the executive director of Enterprise Flagler, the public-private partnership that served as the county's economic development arm from 2000 until its dissolution last summer. That group was led by volunteer business members serving on its board, alongside representatives from the county, Flagler cities and the school board. Palm Coast and the county were funding the majority of Enterprise Flagler's roughly $300,000 budget, but political gamesmanship, dissatisfaction with Enterprise Flagler's job-creation record, and a running rivalry between Palm Coast and the county led to Enterprise Flagler's disbanding.
Palm Coast is now leading its own economic development efforts through its Businesses Assistance Center, which helps mostly home-based businesses and small businesses navigate the risks of entrepreneurship, with some successes. The county is staking its economic development future on its recreated economic development department and its nine-member volunteer jobs council, with a $410,000 annual budget.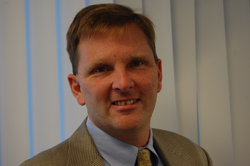 Rawls's future with the county is uncertain. "I guess that's a question for van Eckert and the new board," Rawls said. "I'm here for the transition." He added, "I'd love to stay on. If not, I understand."
As department manager, Rawls is paid a $67,500 annual salary. Van Eckert is expected to hire some staff, but her budget is limited. It's unlikely that she will have more than one or two additional employees.
When the jobs council meets on Tuesday, it will set a date for a retreat with van Eckert, where the group will set expectations for its new director. The council will then go on a field trip, to Daytona State College's Advanced Technical College in Daytona Beach. The council will also be visiting the University of Central Florida's business incubator in Daytona Beach.