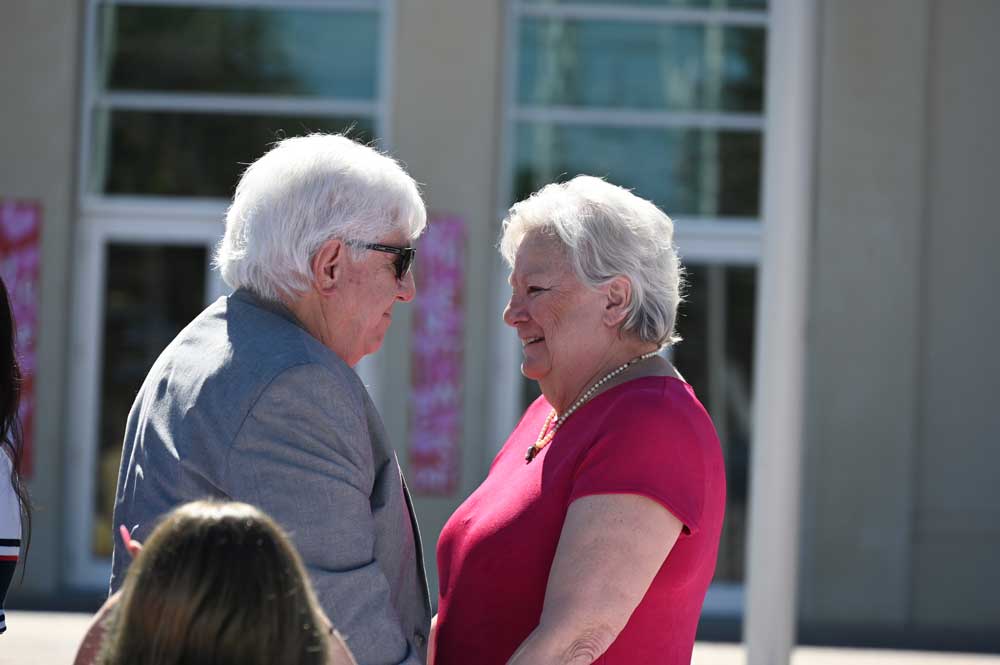 How we met: it's every couple's own creation story, a unique and cherished foundation that often speaks of the essential elements in a couple's chemistry. , goes to the heart of a couple's story with more truths than most myths. For M and J, it could be something out of an epic.
J had placed her grandson in foster care. M was her grandson's foster parent. They had occasion to see each other frequently. They became friends, they started dating, they fell in love.
Today, the two women were among the six couples who got married alongside seven other couples who renewed their vows in the return of the Valentine's Day mass wedding ceremony on the steps of the Flagler County courthouse for the first time in three years. (M and J are withholding their names because they plan a May ceremony with family back in the Gainesville area and don't want to let out news of their wedding just yet.)
"It's a big part of it, is how we got together in the first place," J says, "It's a big thing. This is just something that we wanted to do together."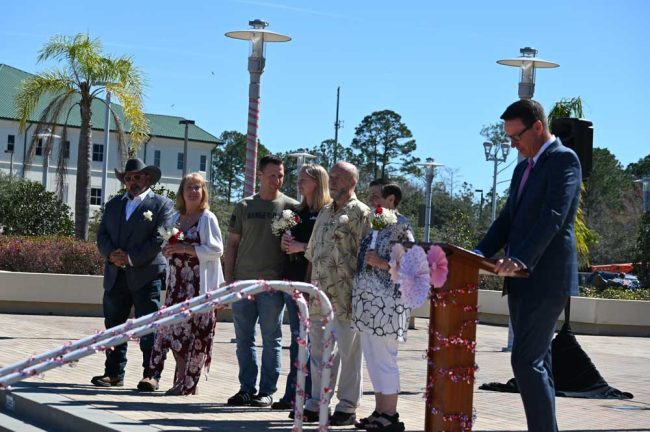 Clerk of Court Tom Bexley started the Valentine's Day tradition tradition in 2018, with 16 couples, and vowed to make it an annual event. He pulled off two more ceremonies, the last one mere weeks before the Covid pandemic shut everything down. So it wasn't entirely surprising when, turning to the brief sermon he likes to deliver on these occasions, he cautioned today, despite a radiant sun and the bursts of color around every couple flanking him: "This may sound a little dark, but please don't take it that way."




He spoke of his own marriage, now in its 18th year, the discovery that "every day cannot be a good one, the conversations that lead back to that question that has done in many a couple: "Do you have more good days than bad ones?" He nodded in the direction of the couples renewing their vows, some of them married since "American Graffiti" was cruising across America, some even further back: Mike and Dee Cocchiola have been married 56 years. "They have already lived the roller-coaster of marriage," Bexley said of the veteran couples.
"I can't help but think how hard it's been just being human over the past three years, much less professionally strong and maritally solid," he continued, enumerating the pandemic's toll on lives and children's education and retirement funds. "But while our personal relationships and marriages were stressed, I'd like to think that we have emerged stronger. My wife and I talk up all the time about the funk we've been in and the things we need to accomplish together to build our new normal. We like you were making the conscious efforts necessary to not only make it but to make it thrive. The part about this day that gives me hope, that all is not lost, is the fact that you here are standing before me and all of us. The fact that you met each other in the middle of a recession and a plague, became friends and lovers, and are now about to take the leap and pledge yourselves to one another for life."
Bexley then turned counselor, advising couples, with a little touch of Calvinism, to "get to work on your marriage right away," because "marriage is hard work, if done correctly." And with that, he asked: "Okay couples are you ready to take the leap?" The couples were not too shell-shocked. Some even said yes. "Damn right you are," Bexley said, moving on to the renewal of vows.




Every wedding, every vow renewal is a special occasion, but one couple stood out, at least for Bexley. The clerk of court had married Kate and Jack Soloviov in the inaugural mass wedding ceremony in 2016. Today, the Soloviovs were back to renew their vows. They hadn't planned it. They were at the courthouse, completing some paperwork, saw the signs about the ceremony at noon and decided to join in.
They did so for the same reason they had five years ago: the atmosphere, the music–a Flagler Youth Orchestra quartet playing live–and one element that stands out: "It's stress-free," Jack says. "Weddings, normally people are stressing out and running around, this didn't work out, that didn't work out."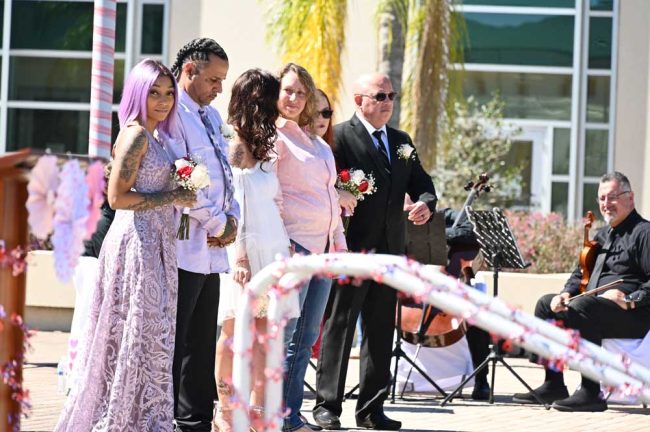 Not at the Valentine's ceremony, where the couples can relax, follow a couple of directions, listen to strings of Back, Mozart and Joplin as they walk to their seats, listen as Bexley administers the vows, kiss, and enjoy the rest of their lives, starting with goodies and gifts, all prepared by the clerk's staff and the wedding-planning of Toni Hollingsworth, a deputy clerk in the finance division. (No tax dollars were spent on the occasion: staffers dip into their own pockets.)
Mike Cocchiola met Dee on a blind date in Waterbury, Conn. (they were in a group, went to the drag races), started dating when she was 16 and he was 20, got engaged their senior year of high school, and got married when she was 20 and Mike was working construction and as a night watchman, so he could study al;l night: he was also in college. They married May 13, 1967, in a Catholic church with 150 guests (the same day Pope Paul VI was at Fatima, in Portugal–site of a celebrated Catholic shrine–pleading for peace. The late 1960s were rough times.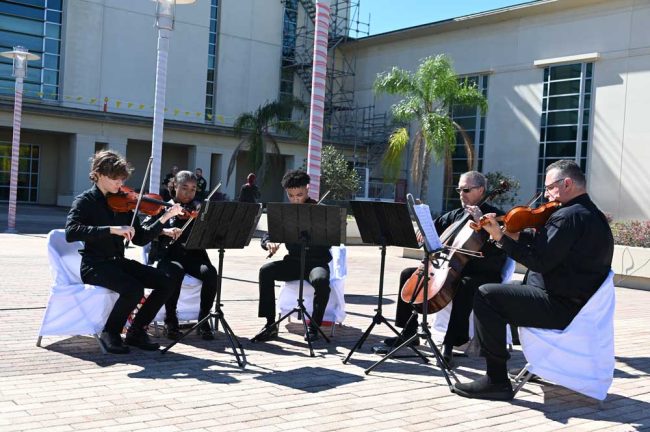 "Not only was it rough times but we didn't have any money, going to school we didn't have any money at all," mike says, "and then we had our first daughter, and we had even less money then. Yeah, it was rough." They had two children, their lives improved, and from the look of them today, as they renewed their vows conjoined in affection and as if on a planet of their own, the good days seemed to have far outnumbered the bad. (Mike isn't known as a softie around town. He is a firebrand advocate wherever civil liberties and civil rights are under threat, so he's been working overtime in the last few years.)
Why today? "I was trying to lock in another 56 great years," Mike said. "I figured out this way she's got to stay. She's stuck." The strategy, Dee said, is working. "He makes me laugh. He makes me laugh," she says.




There was also Jimmy and Lisa Scofield, married almost 18 years, together for 22, and their friends Bill and Joyce Fenstermaker, married almost 50 years, who all turned out for vow renewals. For Jimmy, it's a few steps from the lobby of the courthouse, where he's been a security guard with Giddens Security for five years (three at the courthouse), though today he was off, dressed to the nines with his boutonniere and Jerry Garcia tie. He used to see the Grateful Dead every year from 1979 to 1994. "Me and my wife the love of music is one thing that really brought us together," Jimmy said.
They, too, have their creation story. "We both been married before," Jimmy said of his days back in New York State. "A friend of mine from high school, Nancy, she was working with my wife," before they met, that is, "my wife was telling her that there's no nice guys out there anymore. She says, 'I know a real nice gentleman who has just went through a divorce, but I know your two would be great for each other.' I bowled with them on every Sunday. She said, 'Don't tell him anything, let me see what he looks like.' So then one day I'm bowling and I feel eyes on me, and I look back and there she is. So I guess she liked what she saw. And we hugged and we met and then we all went on a double date and we've been together ever since. That was 22 years ago this January."