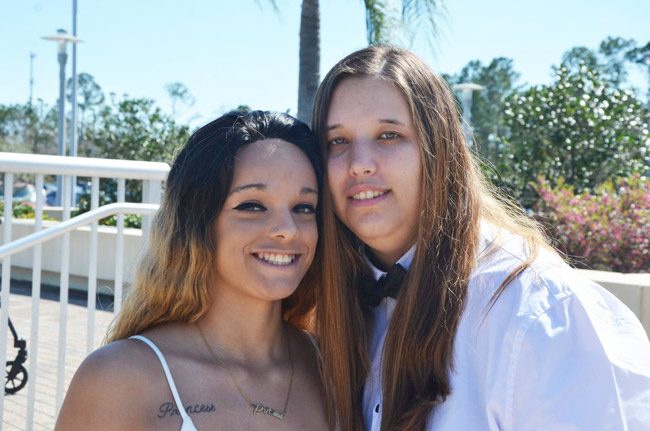 Planning a wedding for one couple can be an all-consuming ordeal. Imagine what it'd be like to plan one for 16 couples. Simultaneously.
That's the number of couples that turned out for the Flagler County Clerk of Court's annual Valentine's Day mass wedding ceremony on the steps of the Flagler County courthouse at noon today. (Well, 15 did: the 16th couldn't make it until 3 p.m.) It was the second such wedding on Valentine's Day after last year's inaugural ceremony.
Eleven were actual marriages, five couples were renewing their vows, like Rich and Debbie Cardoza. Rich proposed to Debbie on Valentine's Day 25 years ago ("in a romantic position," Debbie says with a mischievous smile) in Union Beach, New Jersey. The couple retired to Palm Coast in 2011.
Rich had no idea he was renewing his vows today. Debbie led him to believe that they were going to brunch at Olive Garden with a few friends. They were driving down Belle Terre Parkway when she popped the question.
"Coming down Belle Terre is when I said oh, I forgot, there was another card, I couldn't decide on which card to buy you so I bought you two," Debbie said.
"She was driving," Rich says, "she said open the glove compartment, there was another card in there, said, 'will you marry me today?'"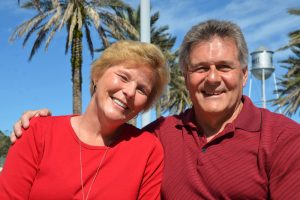 "Then he says yeah, but he still didn't get it," Debbie says. "And I was like, well, ok, we're going to get married. He's like, what? I said yeah, at the courthouse today. That's how that happened." She's that impulsive. "I just have a flair for enjoying every day and enjoying the sunshine and making the most of it," Debbie says as she shows the two rings they'll be wearing: his is the original ring he gave her before it got worn through the years.
"We just still love each other after all these years and we just thought for our silver anniversary year it would be really appropriate to do," Debbie said.
A couple of dozen chairs were arrayed at the foot of the stairs leading to the courthouse. A Flagler Youth Orchestra string ensemble was playing music as sunny as the skies above–in contrast with last year's ceremony, which was more overcast. Off to the side the clerk's staff was arranging all sorts of homemade cupcakes and gift bags prepared for the newlyweds, which brings us back to what it took to prepare for all this: the clerk's staff began organizing it all six months ago, setting up a committee that met five or six times since, and with Antoinette Hollingsworth, a deputy clerk in finance, actually setting aside money of her own month after month to pay for the goods. She and another deputy clerk baked all the cupcakes.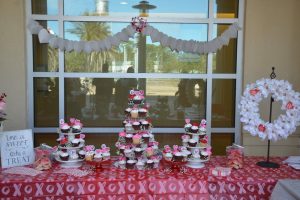 "I tried to save up and buy something every month so I can put it toward the weddings. It was a labor of love. I was very, very happy to do it," Hollingsworth said. "You do a little bit at a time and you don't even realize what you've done, but I'm very pleased at the way it worked out. Like I said, it's just I love the clerk's office and I just love the people that come in and I wanted to do something special for them."
Among those young people were Emily Lamond, 19, and her girlfriend of three years, Taylor Deacon, 21, the youngest couple to be married today. They couldn't afford Venice (Emily's biological father's native town) or Las Vegas (a twinkly-eyed fantasy of Taylor's) and the clerk's big wedding seemed convenient. "We made the decision to get it done here rather than anywhere else," Emily, who'll be taking Taylor's name, said.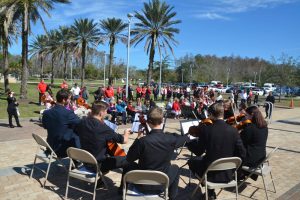 Before the wedding all the couples had gathered in a jury-assembly room on the first floor of the courthouse. There was a bit of nervousness there, Emily and Taylor said, but at least this time the couples walked out onto the plaza together, as opposed to last year, when the grooms came out from one part of the courthouse and the brides from another. These days, the concept of brides and grooms seems dated and off-kilter, making the couples' walk more naturally appropriate. And what will make for a lasting marriage? "Love, loyalty, respecting each other. Loyalty is the biggest thing," Emily said.
"Love is in the air," is how Clerk of Court Tom Bexley saw the theme of the wedding moments after speaking with all the couples in the jury assembly room. "I did this two times. I would encourage everybody to make sure you do it right the first time, although the second time around was absolutely wonderful and perfect for me." He told the couples he was nervous for them, and hoped they grasped the solemnity of the occasion.
Carlos Oliva, a native of Cuba–he got to the United States around 2001–was among the newlyweds, marrying Nina Heikkinen of Jokoping, Sweden, with Carlos's 7-year-old daughter Mia Rose as the flower girl.
"We made the decision at the last moment. We went here to get the license," Carlos said of visiting the clerk's office just last MOnday. "They told us they have this ceremony for this special day, we thought it was an amazing opportunity to get married on valentine's Day, so that's what we did, we didn't think much about it. Just do it, let's do it. We looked at each other, and we made the decision with our eyes, right?" His wife laughs. She's only been in Palm Coast a month.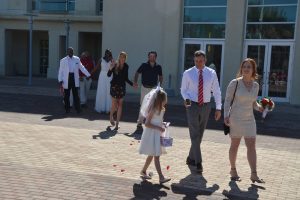 Last year Bexley found himself at the center of the story , not only because of the inaugural mass wedding, which he wants to be a Flagler tradition, but because his own parents were among those renewing their vows. They were there again today, but out of the limelight. Bexley just gave a brief sermon–the word is a bit too heavy for the much lighter occasion–and stepped aside for the pictures. "The years will come and go," he told the couples. "Don't take each other for granted. "You will laugh a lot, you will be the best parents you can be, you will grow older and wise together–hopefully. Marriage is an amazing journey with no end in sight."
The renewers, who were part of the audience at the foot of the steps, stood, renewed their vows and kissed, then it was the newlyweds' turn as they stood at the top of the stairs on either side of the clerk.
Debbie Cardoza, who's made it through 25 years of marriage with her husband Rich, had this advice for the newlyweds: "Just always remember why you came together–because you love each other, through everything. Ups and downs, all the struggles, we always remembered how much we loved each other, and that's why we're still together."