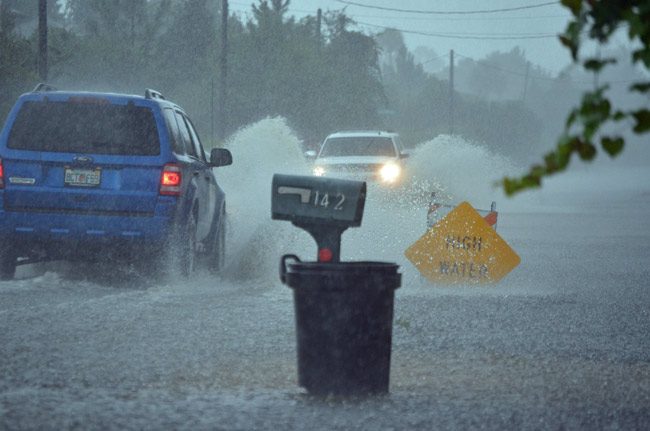 It's a one-two punch Palm Coast homeowners and businesses will start seeing in their utility bills in a few weeks, and that will accumulate gradually but steeply over the next few years, reflecting the largest combined water, sewer and stormwater rate increases in the city's history.
Last week the Palm Coast City Council approved a 21 percent rate increase for the city's water and sewer customers over the next four years, starting next month. By 2022, the average homeowner will pay $163 a year more for water and sewer than today's average, with average monthly bills going from $65.76 to $79.36. By 2024, that cost is expected to be $84.
Next week, the council is expected to approve increases to property owners' stormwater rates that will more than double by 2024, from the current $11.65 a month to to $23.95 a month, or an increase of $147 for the year. Residents annual stormwater bill will be $287.
By then, Palm Coast homeowners will be paying around $30 a month (or $360 a year) more in water, sewer and stormwater fees as the average monthly combined water, sewer and stormwater bill will go from the current $77.41 to $108. That's assuming current inflation rates stay modest (both stormwater and water and sewer bills will be indexed to inflation.)
That's also assuming the $26.30-a-month garbage rate, which is added to the bill, does not increase, an assumption unlikely to hold true: Garbage rates went up 9 percent in 2017. The current contract with Waste Pro expires in 2022. Garbage rates went up 9 percent in 2017.
Put another way: the $360 increase alone in the combined utility bill will be more than what a homeowner with a $125,000 house–with a $50,000 exemption–currently pays in Palm Coast property taxes ($344).
The saving grace: the increases will be a low-simmer singe spread over six years, though the stormwater fee is set to jump 33 percent in a few weeks, then settle down to smaller annual increases after that.
---
By 2024 the combined utility bill's annual increase alone will be more than what some homeowners pay in Palm Coast taxes.
---
Most property owners must pay Stormwater fees. Exceptions, which are increasing, include those properties or developments that have their own stormwater systems, such as Grand Haven. Some have hybrid systems, partially maintained by the city and partially maintained privately.
Since stormwater charges are "fees," the charge is kept off homeowners' tax bills and charged instead on their utility bills, though the council has the option of funding the stormwater system by other means–through the property tax, for example, or by instituting an electric utility tax. The utility tax was discussed a few years ago but ran into staunch public opposition. The distinction between taxes and fees helps politicians claim that they're keeping taxes law. But for most property owners there's little distinction between a tax and a fee.
The last time the council approved a stormwater fee increase was in 2012, when fees jumped 46 percent–from $8 a month to the current $11.65. But the council did not approve indexing the fee to inflation, or to reflect any increase in annual operating costs, as is the case with the water and sewer bill. "That is one of the reasons why our costs are going up but the fees are staying the same," Landon said. Indexing would not start until 2025.
The council has been contending with water, sewer and stormwater fee increases for the past several weeks, and discussing the stormwater increase over two successive workshops, the last one on Tuesday, ahead of next week's rate-increase approval, though it started considering an increase two years ago.
Palm Coast has big needs to modernize its stormwater system, an infrastructure is far more intricate and varied than swales (though 1,222 miles of swales is no small thing). It includes pipes, 31 major water control structures, 13 lakes, retention and detention ponds and canals, and 154 miles of ditches, among other critical underpinnings, all of which requires maintenance or upgrades. The city's 51-mile freshwater canal system needs dredging for the first time in the city's history. The city is planning a 12-year dredging program that will cost millions. It also has 26 miles of saltwater canals.
Earlier this month the city's consultants returned with proposals to the council that seemed too costly. They were asked to revise their approach. They did so to "level out the rates a little better and hopefully still have an accelerated plan," City Manager Jim Landon said, describing the updated plan as "more realistic."
The plan adds up to collecting $75 million in revenue, 54 percent of it from stormwater fees, 46 percent of it from new debt. Residential property owners with the usual quarter-acre lot size will pay a monthly stormwater fee of $15.55 starting in a few weeks, up from the current $11.65. The $3.90 increase will be the steepest. After that, the fee will increase $1.68 every year, and after 2024, it will be indexed to inflation, continuing to increase but at a slower rate.
The council rejected a pay-as-you go plan that would have seen monthly rates jump as high as $30 by 2024, and other options that also saw rates increase much more steeply.
The challenge now will be to explain it all to property owners who'll be paying the bills.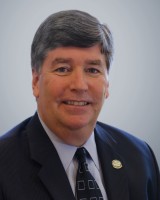 Part of this needs to be a communications aspect," Mayor Milissa Holland said. "We've got to really inform, inform, inform as much as possible."
The plan hinges on a more comprehensive approach to stormwater management, though that was the rationale behind the last stormwater rate increase as well.
"Right now we're a lot more reactionary," Landon said. "People call and complain and we try to take care of it. We really need to get away from that and have a drainage basin and say, in that drainage basin have a schedule as to what ditches we're going to do, what swales, and communicate that to people and actually have that schedule, that way when you get done with one drainage basin you move on to the next." It won't be just the drainage ditches but the entire system that would be tackled that way.
Council members Nick Klufas and Vincent Lyon were also supportive of the plan.
"If we do nothing as we are today we're going to keep getting behind," Holland said, "especially without the indexing being put in place for the cost of the infrastructure going up every year. But I do think this also allows and provides for us to not only accelerate the program, but do it in a way which is much more methodical or strategic in enhancing our infrastructure."

Palm Coast's Stormwater Cost Options and Plan (2018)