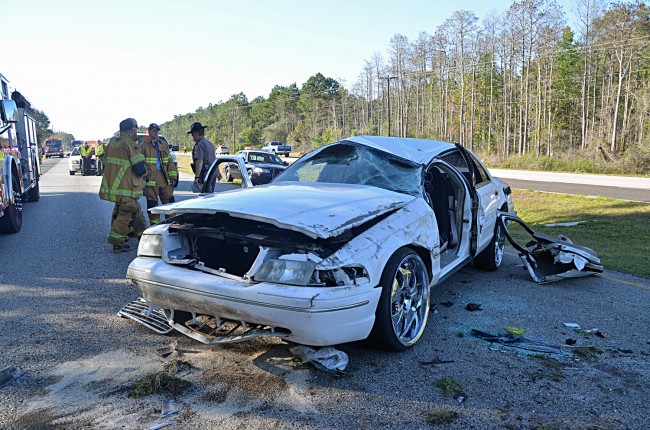 A single-car wreck closed U.S. 1's southbound lanes south of Belle Terre Boulevard for an hour after 4 p.m. this afternoon, and sent two people to the hospital with serious injuries.
The wreck took place at 4:07 p.m. just south of County Road 304, in front of the Mobil Station. Antoinette Marie Nikas, a Flagler County resident in her mid-20s, was driving north in a white, older-model Ford Crown Victoria when, according to what she told a Florida Highway Patrol investigator, another driver pulled in front of her suddenly. The investigator, however, heard reports that she was driving fast and zipping in and out of traffic. The investigator said she'd reported having been on her way to pick up her children from an after-school program.
Nikas lost control of the car, which swerved then gashed into the median, causing the car to start overturning and rolling into the southbound lanes. The car overturned possibly two times, the investigator said, before coming to rest on what was left of its four wheels, astride both southbound lanes, facing southwest. The car was totaled, its driver's side roof caved in somewhat. The passenger, Shane Miller, was hurt more seriously than Nikas, the investigator said. Both were transported by ground to Florida Hospital Flagler. Both were wearing seat belts. But there was no trauma alert.
No other vehicle was involved in the wreck, which closed the southbound lanes of U.S. 1 from County Road 304 to Karas Path and Karas Trail, onto which the Palm Coast Fire Police diverted traffic.
Flagler County Fire Rescue and the Bunnell Volunteer Fire Department responded, as did the Flagler County Sheriff's Offfice, in addition to FHP. John's Towing removed the wreck at 4:45 p.m. The road was reopened shortly after 5 p.m.