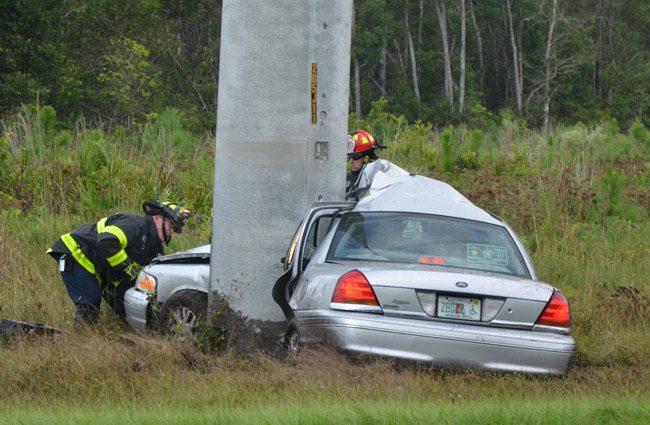 Last Updated: 2:25 p.m.
After going nearly four months without a fatality, Flagler County roads have been the scenes of two deaths in just over 24 hours.
Pedro Emilio Marin, 79, was killed on U.S. 1 at 9:30 this morning when his car veered off the road and slammed into a concrete, high-power-line utility pole on the west side of the road. Marin had been driving south in a gray Ford sedan and had just gotten past Whiteview Parkway, about a quarter mile to the north, when he appears to have lost control of the car.
The vehicle wrapped itself around the base of the utility pole from the violence of the impact, with the driver's side taking the brunt of the impact. A Florida Highway Patrol release about the crash lends no explanation on the reason for the crash.
The Ford is registered to a person with a disability, according to its license plate. The car's owner displayed a set of Florida Sheriff's Association insignias against its back windshield.
Palm Coast Fire Department and Flagler County Fire Rescue personnel was dispatched to the scene, but most returned to their stations once the victim, who appears to have been killed instantly, was pronounced dead at the scene.
The Flagler County Sheriff's Office was at the scene but would soon be turning over the investigation to the Florida Highway Patrol. The Palm Coast Fire Police reduced southbound traffic to one lane, the crash being entirely off the road and in the right of way.
On Monday morning, a man was killed on I-95 at the north end of the county when he drove his semi truck into the back of another semi, which had been stationary on the highway because of other wrecks further south. Neither fatal crashes in the past two days were caused by weather: though it's been a wet morning, it was not raining on U.S. 1 at the time of this morning's crash, and the road was relatively dry. Today's crash was similar to a May 2017 crash off Old Kings Road, where a 30-year-old driver lost control of his sedan and crashed against a concrete utility pole several feet off Old Kings Road.