Not to worry: the ominous-looking spy cameras that have just gone up on both side of U.S. 1 between Royal Palms Parkway and Whiteview Parkway in Palm Coast, are not speed cameras. They're not even trained at most vehicles. They're aimed at heavy trucks only, to catch overweight truckers trying to evade the weigh stations either on U.S. 1 or on I-95.
The cameras on U.S. 1 went up last week. Another set will be built further north, by the northbound lanes of U.S. 1, opposite the weigh station, as part of the Florida Department of Transportation's $1.2 million virtual weigh station system that's been rigging up selected points around the county since last year. Similar cameras have been in place a year at the on-ramp of I-95 north and State Road 100, and at the off ramp from I-95 southbound, onto Palm Coast Parkway. That part of the system cost cameras cost $632,000.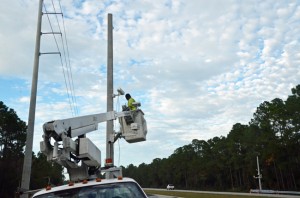 The cameras are linked to sensors in the road that are triggered only by heavy trucks, and that automatically take a high-definition picture of the truck and its license plate. The picture is immediately read and translated by software that pipes the information to a closed-circuit database accessible to the Department of Transportation and to the Florida Highway Patrol.
"We're providing the technology and the conduit but the end user is going to be law enforcement," Steve Olson, a Department of Transportation spokesman, said. Troopers can park a distance away from the cameras, watch their laptop, wait for a truck that exceeds the permissible 80,000-pound weight limit, and stop the vehicle. Alternately, truckers will also be able to pull in at a pair of unmanned kiosks, yet unbuilt, and pay whatever fine they're assessed, if they're overweight. The state fines truckers 5 cents for every pound overweight.
The virtual weigh stations replace a far more expensive and disruptive system DOT had planned for U.S. 1: a supersize weigh station in the center median, just north of Royal Palms Parkway, opposite Austin Outdoors and Verdego. Bunnell and Palm Coast city governments strongly opposed the $11 million plan, as did school officials, who feared it would send streams of heavy loads through the city.
The opposition stopped the project, and DOT agreed to install the less intrusive, less expensive but still highly effective virtual system.
Trucks have to comply with weigh regulations because the heavier the truck, the more damage to roads. "As taxpayers we're paying for these roads and it costs a lot of money to resurface them," Olson said. "Federal authorities want the state to make sure you don't have overweigh vehicles damaging roads because a certain amount of federal funding goes into your roadways."
But the cameras look almost identical to set of 43 red-light cameras that have snapped on to most major intersections in Palm Coast since the DOT cameras went up at Interstate on and off ramps, making people fear that they were under speed surveillance. Many drivers stopped to speak with contractors installing the cameras on U.S. 1 last week, either to complain or to ask questions. From time to time, drivers who see the cameras as they approach them slam on the brakes, thinking they're speed traps.
The Department of Transportation isn't making a secret of the cameras' intentions, nor is it unaware of drivers' dislike of cameras in general—or of driver behavior when encountering cameras. Yet the department has no plans to add signage explaining to drivers what the cameras are.
"If you're obeying the speed limits and such, there's really nothing to fear, and if you're a trucker and your weight is OK, you're fine," Olson said.
State law requires local governments such as Palm Coast to include clear signage warning motorists (or explaining to them) that red-light cameras are ahead. Asked why the state does not install similarly clear advisories—which would vastly reduce drivers' questions or sudden reactions—Olson said: "I don't know how to answer that."