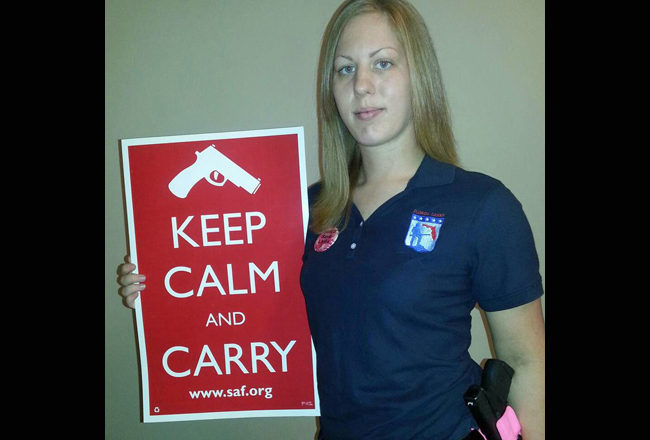 Alexandria Lainez, a business student at the University of North Florida in Jacksonville, is celebrating. On Tuesday, the District Court of Appeal for the First District in Tallahassee upheld her challenge of a UNF rule banning firearms on campus. The full court voted 12-3 to overturn a Duvall Circuit Court decision that had upheld the university's ban. (See the full opinion, concurrences and dissents below.)
UNF's policy, spelled out in its student handbook, barred "on-campus possession or use of any object that is classified as a weapon under Florida law including firearms, explosives (including fireworks), dangerous articles or substances, weapons (including non-lethal weapons such as pellet guns, bb guns, paintball guns, swords, including decorative swords, axes, pocket knives that are larger than the legal size defined by law or items that resemble weapons, or the use of any item used as a weapon."
In 2011, the Legislature passed a law pre-empting all local governments from regulating firearms. The new law mandated that all such regulations—if any—rested in the state's hands. Lainez, who is a member of Florida Carry Inc., the pro-gun pressure group, asked the university to remove its weapons ban. The university refused. Lainez and Florida Carry sued in October 2011 to stop the university from enforcing the rule.
"The Legislature has declared all regulation of firearms to be preempted by the Legislature," the complaint stated, "and has determined that students should be allowed to possess and/or store firearms in private automobiles on university campuses, and that there is no need for additional regulation of firearms by UNF."
UNF argued that state law "expressly permits universities to regulate firearms on university property." While the law forbids public or private employers from prohibiting customers or employees from keeping guns in their cars, the law does, in fact, make an exception for "any school property," and defines school to mean "any preschool, elementary school, middle school, junior high school, secondary school, career center, or postsecondary school, whether public or nonpublic." UNF is a public, postsecondary school.
A trial court agreed. The appeal court did not.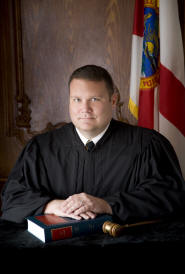 By law, Judge L. Clayton Roberts argued for the majority, "school districts" are "distinct legal entities that do not operate and control state universities," so the university does not qualify as a school district. But to reach that conclusion, Roberts skirted the explicit wording of state law and relied on the Constitution's definition of a "school district" that limits those districts to traditional, non-postsecondary schools—even though the Constitution hives university boards the power to regulate their grounds as they see fit.
"While school districts may adopt a waiver disallowing securely encased firearms in vehicles parked on campuses under their authority, neither UNF nor the UNF Board of Trustees qualifies as a school district under" state law, Roberts concluded, though it is the same section of law Roberts cites that includes postsecondary schools among those that may "adopt written and published policies" that regulate firearms on campus.
"The trial court needs to revisit its ruling with regard to the University's policy against lawfully storing securely encased weapons 'in their vehicle[s] while on any University property or University-controlled property,'" Judge Robert Benton wrote in one of several concurrences. "But a sweeping declaration that "[a]ll UNF rules and administrative regulations regarding firearms are null and void," as demanded in the first amended complaint, is plainly unwarranted."
Three judges dissented.
"These opinions pursue differing legal theories but they all arrive at the same conclusion," Judge Philip Padovano wrote in his dissent: "That a state university is powerless to prohibit students from bringing firearms to school. This remarkable conclusion is not supported in the law and, with due respect for my colleagues, I believe that it defies common sense."
"State universities," Padovano continued, "have independent constitutional authority to adopt rules and regulations governing the conduct of their students. Because the regulation at issue in this case falls directly within the scope of that authority, it is not subject to legislative preemption. Although we may disagree with the legal analysis in the trial court's order, the decision we have for review on appeal is nonetheless correct and it should be affirmed."
Padovano said the majority's focus on the trial court's erroneous legal analysis did not address the correctness of the decision, but rather the "validity of the reasons" behind that lower court's decision. As such, the majority skirted the matter of law. "The order under review in the present case should be affirmed on the ground that the university had independent constitutional authority to adopt the regulation," the judge wrote.
He added: "I believe that the University of North Florida had not only a right, but also a duty to adopt regulations such as the one before the court. It is fair to assume that most parents expect state universities to take reasonable precautions to ensure the safety of their daughters and sons while they are in school. This regulation was plainly designed as a safety measure. Whether it succeeds in that goal is, of course, debatable. Some would argue that the best way to keep students safe on campus is to allow them to be armed, while others would argue that the best way to ensure their safety is to prohibit guns on campus. But the debate on the merits of the policy is beside the point. We are dealing here only with the authority to adopt the regulation, not the wisdom of the regulation. If the university concludes that the best way to protect students is to prohibit guns on campus, it is not for the Legislature or the courts to interfere with that judgment."