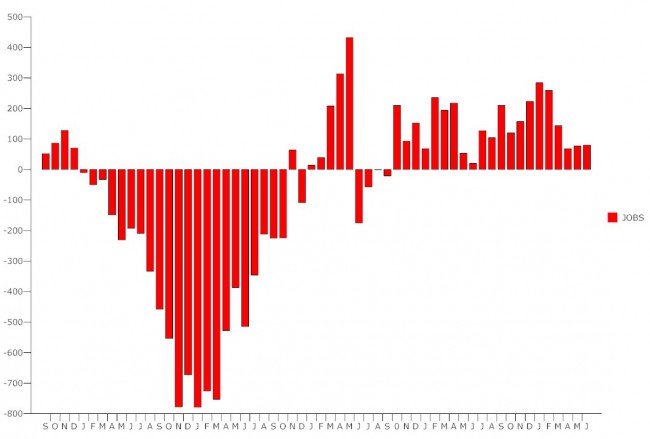 Last Updated: 9:28 a.m.
The national economy added percent for the third most 80,000 jobs in June, keeping the unemployment rate stuck at 8.2 percent for the third month in a row.
Job creation was revised downward by a few thousand in April, but upward by an almost equal amount in May, resulting in a combined job creation of 145,000 jobs for those two months, down from 146,000. But the last three months' combined job creation of 226,000 would, in a healthy economy, be barely enough to keep up with natural growth in the job market. About 150,000 new jobs a months are necessary to break even.
The number of unemployed people remains 12.7 million, as it was in May. Black unemployment shot up significantly, from 13.6 percent in May to 14.4 percent in June. The number of long-term unemployed, which had added 300,000 in May, was inchanged in June, at 5.4 million.
Both the civilian labor force participation rate and the employment-population ratio were unchanged in June at 63.8 and 58.6 percent, after going up slightly the previous month. When those rates go up, more people are entering the workforce. When they stagnate or fall, it's an indication of discouragement among workers.
The number of people who work part-time against their will, either because they couldn't find full-time work or because their hours were cut back, continued to rise in June, as it had in May. That number was 8.2 million in June, up from 7.7 million in March, but down from 8.7 million a year ago. (Looking at the numbers more closely, 5.4 million workers' hours were cut back or worked part time because of slack business conditions, while 2.5 million people could not find full-time work). An additional 18.4 million people work part-time for non-economic reasons, but even that number vastly masks necessity. The Labor Department defines non-economic reasons as "childcare problems, family or personal obligations, school or training, retirement or Social Security limits on earnings, and other reasons." That doesn't mean that in many cases, the worker needs full-time work, but is unable to perform it just then.
The more accurate, so-called U-6 unemployment rate, which reflects both the unemployment rate, the under-employed and those who have quit looking for work for being too discouraged, had been falling steadily since September, after peaking at 16.4 percent that month. But it started rising again in March and May, when it hit 14.8 million. It rose again in June, to 14.9 million.
All those underlying signs do not bode as well for the overall health of the economy as they do for the health of the Mitt Romney campaign, which will likely pounce on the latest numbers to criticize the Obama administration. The administration, on the other hand, will point to a 22nd straight month of job creation. Economists had predicted 130,000 new jobs–the figure they're predicting for every month until the end of the year. The number is not solid enough to power the economy, but it isn't weak enough to make it look as if it were stalling, either, making it difficult for either the president or Romney to fully capitalize on the numbers.
A continuing irony in the jobs climate: while Romney and other conservatives blame big government for choking job growth, the shedding of government jobs at the federal, state and local levels for the past two years, and local governments' continuing shrinkage, have been among the largest factors in adding to the unemployment rolls: since April 2009, America's public-sector jobs have fallen by 706,000 jobs (not including job losses in June). The federal government has barely began to add a few jobs, but with little effect.
"So while the federal government has grown a little since the recession, and many states have recently begun to add a few jobs," the Times reported in June, "local governments are making new cuts that outweigh those gains. More than a quarter of municipal governments are planning layoffs this year, according to a survey by the Center for State and Local Government Excellence. They are being squeezed not only by declining federal and state support, but by their devastated property tax base."
Some highlights: Employment growth has averaged 75,000 per month in the second quarter of the year, compared with an average monthly gain of 226,000 for the first quarter. Professional and business services added 47,000 jobs in June, with temp jobs accounting for 25,000 of the increase. Employment also rose in management and technical consulting services (+9,000) and in computer systems design and related services (+7,000). Employment in professional and business services has grown by 1.5 million since its most recent low
point in September 2009. Manufacturing added 11,000 jobs, health care added 13, 000 and wholesale trade 9,000.
Mining and logging, construction, retail trade, transportation and warehousing, financial activities, leisure and hospitality, and government, showed little or no change.
The average workweek for all employees edged up by 0.1 hour to 34.5 hours in June. The manufacturing workweek edged up by 0.1 hour to 40.7 hours, and factory overtime was 3.3 hours for the fifth consecutive month. Average hourly earnings for all employees on private nonfarm payrolls increased by 6 cents to $23.50. Over the year, average hourly earnings have increased by 2 percent.