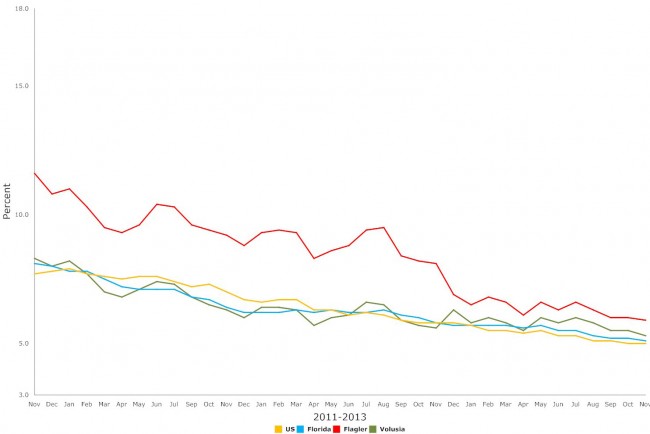 All numbers dipped a little in Flagler County's economic graphs in November in what amounts to a tepid unemployment report locally and in Florida. But most numbers are still heading in the right direction.
The unemployment figure in Flagler dipped a decimal point, to 5.9 percent, but only because the state's labor department revised October's unemployment figure upward by a decimal point, to 6 percent, after reporting it at 5.9 percent a month ago. The number of unemployed people in the county declined by 61, to 2,527. The number of people with jobs also declined, by 148 people, bringing the total number of people with jobs in the county to 40,332. That doesn't mean that so many people are working in Flagler County, but that they live here and are holding jobs, either locally or in surrounding counties, including part-time jobs.
The county's workforce also declined, by 209 people, and is 355 people below where it was a year ago. While the county's economic figures have largely improved over the past few years–and continued to improve this year–the one downside has been the workforce, which has not grown substantially, even as the population has added between 1,000 to 1,500 people a year since the recession. The majority of the new residents are elderly or retired. The fact is underscored in school enrollment figures, which have held steady or slightly declined in each of the past six years. This year is no different, a reflection of the absence of net new working families moving in.
The declining unemployment is a reflection of existing residents who'd been unemployed and who are filling jobs, what Helga van Eckert, Flagler's director of economic development, described as "filling that gap with existing residents." As more jobs become available once that gap is filled, new jobs are likely to be created, drawing new residents to the area. But the county's approach is not to go for big spikes in employment, but rather to create a sustainable job-creation climate, so as not to recreate the conditions that prevailed in the run up to the Great Recession. back then, the economy was driven by house-building and the housing boom. More houses were being built than were needed. And as soon as the market crashed, the area saw unemployment spike.
Now, van Eckert said, "The hope is that it happens slow and consistently, so the community can adjust to it." The department has been working on with businesses currently here and some considering a move to the area. "There's an uptick in interest for sure but nothing I can publicize today," van Eckert said. "We've had some that we lost and some that are still pending."
The flat workforce numbers are not unique to Flagler County. Alachua, Broward, Hilssborough, and indeed in Florida as a whole all see the same trend. Florida's seasonally adjusted labor force last month was 9.578 million, a decline of 52,000 over the year.
Florida's unemployment rate was also flat in November, coming in at 5.1 percent. That's the same level it was in October, but since the labor department revised the October figure upward by a decimal point in the interim, it could claim that the unemployment rate had actually fallen this month.
The full unemployment report is below.

Florida's November unemployment report.