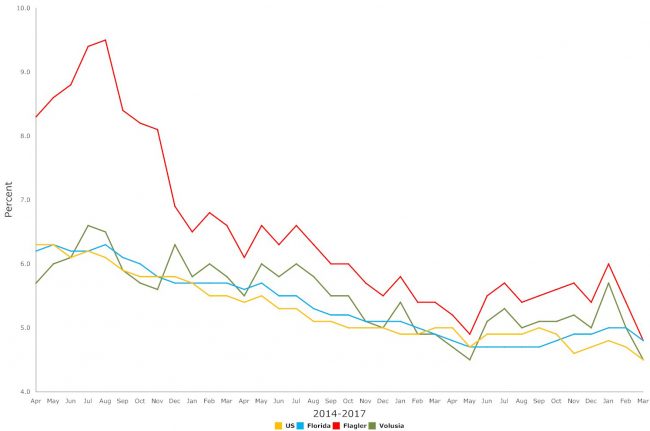 Flagler County's unemployment rate hasn't seen numbers like this in a decade. It hasn't been below 5 percent in a decade. And it certainly hadn't matched the state's generally healthier unemployment rate in a decade. In March, Flagler's rate hit those milestones, dipping down to 4.8 percent, matching Florida's rate, and coming close to matching the national rate of 4.5 percent, itself a post-recession low in March.
The county that for agonizing stretches of years had been stuck atop the state's chart for its worst unemployment rate is now 14th from the top. It could still do a lot better of course–18 counties have rates below 4 percent, Monroe is at 2.8 percent, and St. Johns, second-best in the state, is at 3.3 percent–but considering the steep climb from unemployment hell, Flagler is doing very well.
"I'm not surprised, because of what I see from the construction side of things," said Barbara Revels, the former county commissioner, current member of the county's economic development council, and long-time owner of Coquina Real Estate and Construction, the Flagler Beach real estate and development company. "I'm not going to say say all those jobs are in construction, but I can tell you, any builder out trying to do business in Flagler County now has a terrible, terrible time trying to find anyone to work on their job," whether it's survey company or getting a dumpster to the job site. One telling sign: dumpster companies have new rules limiting rentals to a month, because of the pressure to circulate their dumsters between construction sites.
"It filters through everything, getting quotes for materials, all the commodities have gone up dramatically," Revels continued. "I'm hoping we're not headed to another one of these run-up booms. But I believe a lot of those jobs you're seeing there are permanent construction jobs," which in turn spur the creation of other jobs down the line, as well as add pressure on local governments to keep up.
Other numbers in the fine print of the March unemployment report bear that out as well, as they have month after month: The number of unemployed in Flagler county fell sharply in March, from 2,482 to 2,214, a drop of 268, an impressive 11 percent decline. The unemployment rate in February had been 5.4 percent. While it's true that the county's unemployment rate for almost a year and a half had hovered in the 5 percent range, declining into the 4 percent zone represents a significant, positive breakthrough, especially if it is sustained in coming months. Economists generally see an unemployment rate in the 4 percent range as full employment.
Further: the county's labor force hit 46,000 workers in March, a new record, and a 2.8 percent increase over the 44,759 workers in the county at this point last year. Fewer than 50 percent of Flagler County's population is in the labor force because of the county's high proportion of retirees, and its usual proportion of children. But the growth in the labor force suggests that the new entrants in the county are working-age families with children, who buy homes, fill school seats, and take part on local commerce. The growth in the labor force also points to the willingness of those who'd been unemployed or on the sidelines of the labor force to rejoin it–a sign of optimism that translates in consumer confidence.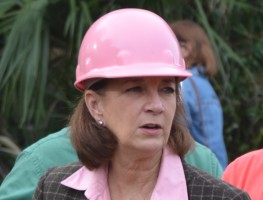 A couple of caveats, however. The unemployment numbers do not reflect the quality of jobs being created. Nor do they necessarily represent full-time jobs. It takes only one hour's work in a month for a worker to be recorded as having held a job for that month. Still, the significance is in the trend, as it compares with similar standards in previous months.
In the state, the 4.8 percent unemployment rate reflects 483,000 jobless Floridians out of a labor force of just over 10 million (the state's population is at 20 million). Just 6,200 jobs were created in March statewide, a relatively small number compared to the monthly average of 20,500 new jobs over the past 12 months.
Is it all sustainable? "I think it's very sustainable because we continue to grow in population," Revels said. The rental market is overburdened, with too few rentals to meet demand, which should dictate more growth, she said. And as subdivisions that had sat mostly empty for years now begin filling up, activity could then start on the much larger DRIs, or developments of regionmal impact, those mammoth developments Palm Coast approved–including three of them at the west and south end of town–that project thousands of additional homes and hundreds of businesses at build-out. "As we start to burn up vacant land inventory, that's when pressure will come about on those DRIs," Revels said.
Revels had been the founding force behind the county's economic development council and department six years ago. That council, she said, will not be made obsolete by the economic revival, namely because of the lessons learned through the previous recession: the county still needs to work toward diversifying its economy "so if we do have another housing bubble, we won't be so devastated, ther'll be other employment here."

Unemployment Report, March 2017: