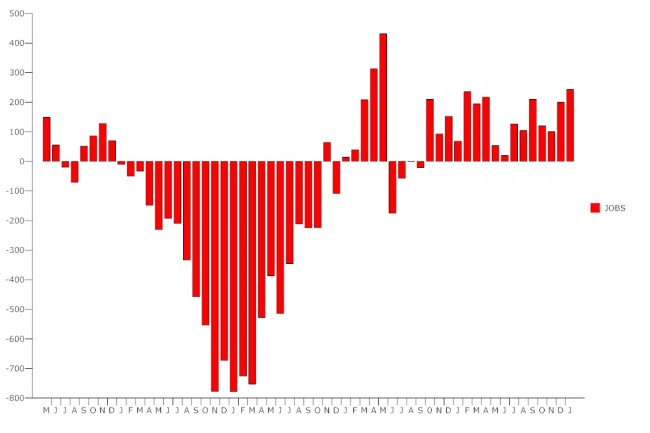 The economy's recovery continued to solidify as employers added 243,000 jobs in January, the third-best total in three years, and the unemployment rate fell to 8.3 percent. Job gains for November and December were also revised to add 60,000 to the tally, for a total of 360,000 jobs over those two months.
Job growth was widespread in the workforce, with gains in professional services, tourism and manufacturing. The total number of officially unemployed persons fell to 12.7 million, and the unemployment rate is now at its lowest in three years: it was last at 8.3 percent in February 2009, the first full month of Barack Obama's presidency. The improving numbers play into an election year driven mostly by economic conditions.
Private sector employment actually rose by 257,000, but was offset with still-more layoffs in government ranks. Tourism and hospitality services such as restaurants added 44,000 jobs, professional and business services added 70,000, department stores added 19,000, and manufacturing added a healthy 50,000 jobs. Construction, too, increased by 21,000, following December's increase of 31,000.
"It's an unequivocally robust number. There's been a lot of skepticism over whether [recent stock gains] represented anything material. This reinforces that businesses are regaining confidence and increasing hiring," David Joy, chief market strategist at Ameriprise Financial in Boston, tells the Wall Street Journal.
But underlying numbers still raise concerns: the number of long-term unemployed (those who've been jobless for 27 weeks or more) remains stuck at 5.5 million, accounting for almost 43 percent of the unemployed. And when the unemployed are added to those who are employed part-time involuntarily, and those who have quit looking for work altogether, the unemployment and under-employment rate rises to 15.1 percent. That rate is still a considerable improvement over the 17.3 percent rate of a year ago.
According to a new report by the Pew Fiscal Analysis Initiative, 4.4 million people, or approximately 31.8 percent of the nearly 14 million Americans who were unemployed at the end of 2011 had been jobless for a year or more. Federal spending on unemployment benefits in 2011 is projected to total $120 billion, down from $159 billion the year before. In economically healthy years, unemployment compensation is usually below $35 billion.
Dow Jones editor Kevin Kingsbury added this caution: "A worrying point of the US jobs report is percentage of people in the work force slumping further, remaining at levels last seen nearly 30 years ago. While 508,000 more people were part of the labor force in January than December, 1.2 million more were out of it, according to the Labor Department. That pushed the participating rate down to 63.7% from 64%. Meanwhile, the number unemployed fell by 339,000 and there were 847,000 more people employed. That latter point is certainly good news, but growth in the non-labor-force population above every other number is still worrisome."
And the federal numbers still contrast sharply with Florida's and Flagler's more anemic progress on the jobs front. Flagler's unemployment rate is 13.9 percent, highest in Florida. Florida's has been falling slowly, and is now at 9.9 percent.
The average workweek for all employees on private payrolls was unchanged in January. The manufacturing workweek increased by 0.3 hour to 40.9 hours, factory overtime increased by 0.1 hour to 3.4
hours. Average hourly earnings rose by 4 cents, or 0.2 percent, to $23.29, for a 1.9 percent increase over the past 12 months.