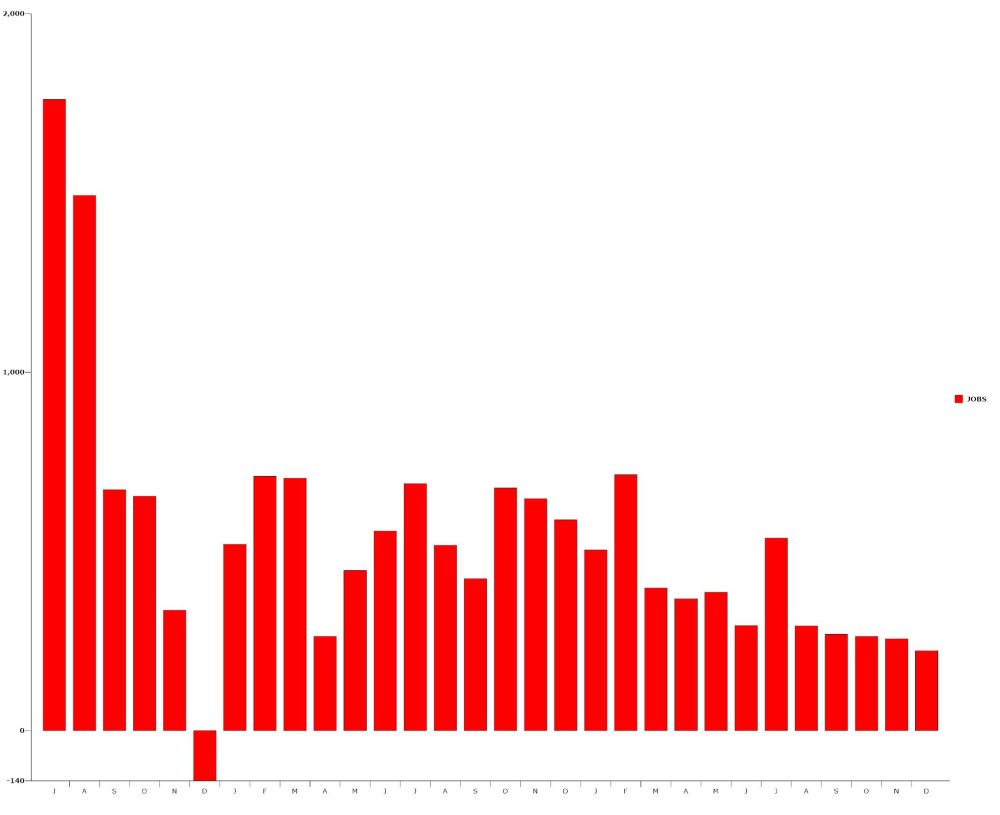 You can see the downward trend in job creation over the past 15 months, and the contrast with 2021: the economy is steadily losing power even as it continues to generate enough new jobs to lower the unemployment rate: 223,000 new jobs in December. That's the lowest total in two years, but still nowhere near recession territory.
The unemployment rate dropped to 3.5 percent, matching its lowest pre-pandemic level, after starting the year at 4 percent.




In 2021 the economy created 6.64 million jobs, its best single-year performances ever, an average of 553,000 jobs per month. In 2022, the economy created 4.1 million jobs, still a robust number: it's the second-highest total on record, averaging 344,000 a month. The average for the last six months fell to 307,000 a month, suggesting that 2023 will be a tougher year.
Diminishing job creation is a reflection of the federal reserve's continuing assault on inflation, raising interest rates from 1 percent last May to 4.5 percent in December. That increases the cost of borrowing, sharply reducing the ability of people to buy a house or a car. The housing industry is paying the price, with mortgage rates between 6.5 and 7 percent, more than double the rate at the beginning of 2021.
Nationally, home sales have declined every month in the past half year. In Flagler County, just under 3,000 single-family homes had sold by the end of November, a 13.7 percent decline over the previous year's total even as the local median sale price has remained close to $400,000 for a single-family home. Other factors point to a slowing market: the median time to contract has more than doubled over the year, new listings have declined sharply, and the supply of homes has more than doubled, to 848, or about three months' worth, compared to a month's worth for much of 2021.
Still, today's unemployment numbers point to an economy slowing down, but not crashing: if there is to be a recession, it could be milder than feared a few months ago.
Leisure and hospitality picked up 67,000 jobs nationally, but the sector still is almost 1 million jobs short of its pre-pandemic level. Health care added 55,000 jobs, construction added 28,000, social assistance added 20,000, and retail added just 9,000. Air transportation added 3,000, though most travelers would likely not have noticed based on poor service and the ratio of airline employee-to-passenger.




Paychecks continue to grow: average hourly earnings for all employees on private payrolls rose by 9 cents,
or 0.3 percent, to $32.82. Over the past 12 months, average hourly earnings have increased by 4.6 percent, still not enough to overcome an inflation rate of about 7 percent.
The alternative measure of unemployment shows a significantly higher unemployment and underemployment rate of 6.5 percent. That rate includes workers who have dropped out of the labor force, out of discouragement, and workers who are holding part-time jobs because they could not find full-time work, or because their hours have been cut back. In December, 4 million people worked part-time because they could not find full-time work–including 2.57 million whose hours were cut back. Some 20.2 million Americans work part-time by choice.
The full report is below.

december-unemployment-report