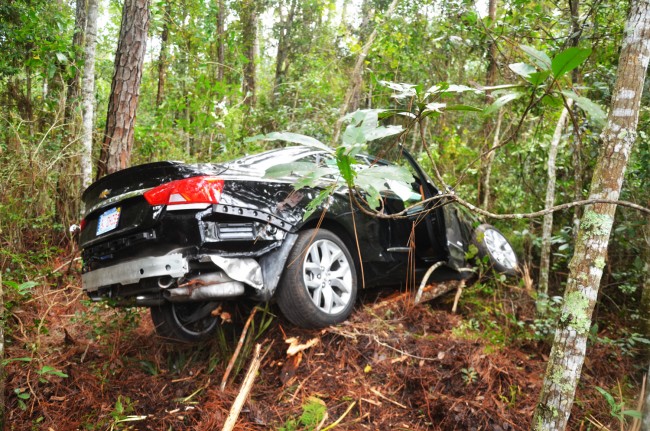 "They said I wouldn't believe it, and I didn't," the Florida Highway Patrol investigator said at the crash scene.
But there it was: a Chevrolet Impala, somehow still upright, in one piece but in mangles, at its "final rest," as investigators put it, some 150 to 200 feet inside the woods west of the intersection where Palm Coast Parkway ends at U.S. 1. The wreck took place just after 5 p.m.
The car, authorities said, had started accelerating at Pine Lakes Parkway and never stopped, going through the intersection, avoiding traffic in both directions on U.S. 1 (the light may have been green) and crashing through the woods. The dark-colored newer-model Impala somehow either avoided the largest trunks or leveled them, uprooted them and sideswiped them in its way, possibly went airborne, and burrowed further in until it stopped on a mass of dirt, the trees in front of it also uprooted for good measure. The front of the car was still relatively recognizable. The air bags had deployed.
The older man at the wheel, the FHP investigator said, is believed to have had a medical episode possibly triggered by diabetes (the car has a disability tag). He was accompanied by a younger man. The investigator said the two may have been father and son, though that has not been verified. The investigation was in its earliest stages. But the man, at first disoriented and requiring the help of paramedics to get out of the car, eventually was able to walk away, as was the passenger. Both were taken to Florida Hospital Flagler, where crash victims with non-life-threatening injuries are typically transported by ground.
The distance from the paved shoulder to the line of woods, west of U.S. 1, is estimated at 200 feet, the investigator said, with another 150 to 200 feet in the woods, for a total of up to 400 feet of travel beyond the roadway, he said.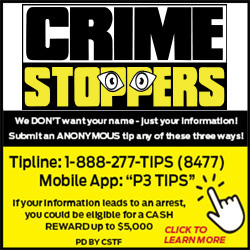 Other first-responders at the scene were also left in disbelief.
The Flagler County Sheriff's Office responded to the scene, as did the Palm Coast Fire Department, Flagler County Fire Rescue and the Palm Coast Fire Police. U.S. 1 southbound was reduced to one lane for a little over an hour after the wreck, which was cleared by Roger's Towing. The identities of the victims have not yet been released.