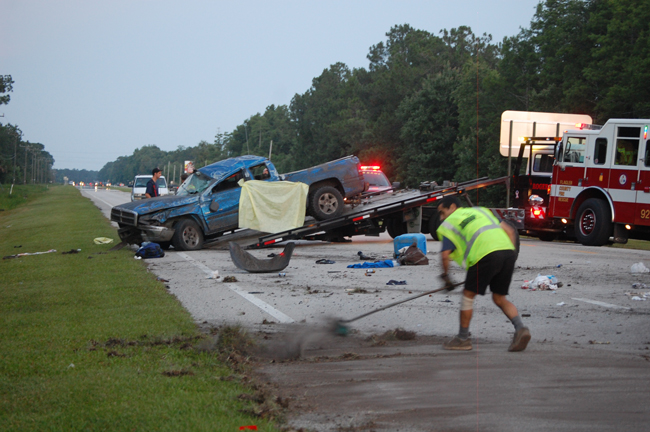 From the comments, from Amanda's Mom: "Mandy's "Celebration of Life Ceremony" will be on Saturday, June 26th at 12 noon. Location is White Chapel Church 1730 Ridgewood Avenue, South Daytona. The post will appear in the News Journal this Sunday and next Friday. Please feel free to wear whatever you want… jeans and boots are completely acceptable. It's not about what you wear it's about WHO we are celebrating and Mandy never judged anyone based on their outer appearance, she knew it was what was on the inside that made people special."

Most people 40 or older who've lived around Bunnell know that stretch of U.S. Route 1, just south of town near John's Auto Parts and Metals, as the "Triple-A Curve," after an AAA service station-juke joint that used to be there years ago. A member of the clean-up crew who was working the scene of the latest accident there Saturday night said it should be renamed "Dead Man's Curve" for the number of lives it's taken in traffic wrecks over the years.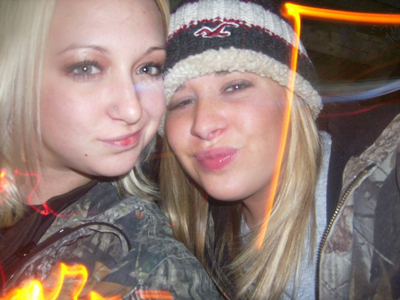 The latest fatalities were two 19-year-old women from Ormond Beach: Brandy Bennett, who was at the wheel of a pick-up truck, and Amanda Copeland. Joseph Ure, 19, of New Smyrna Beach, was taken to Florida Hospital-Flagler with serious injuries.
At approximately 5:45 p.m., the trio was traveling in a 1998 Dodge pick-up truck southbound on U.S. 1 when "it drifted off the road, way off on the right shoulder there, lost control, and came across the median strip, and flipped numerous times," said Lt. R.C. Brown of the Florida Highway Patrol, who was at the scene.
The truck traveled about 250 feet before coming to a rest. A deep gash in the median pointed to the place where the truck had slammed against the incline before going airborne and flipping on the northbound lanes. A driver heading north told police that she narrowly missed being hit.
The two women were ejected from the truck. Bennett was crushed by the truck and was killed at the scene. Copeland died at Halifax Hospital in Daytona Beach. The witness saw Ure immediately walk away from the truck after it came to a rest, upright. None of the three was wearing seat-belts. No other vehicles were involved.
Both northbound lanes of U.S. 1 were closed immediately because traffic was blocked. One lane was closed southbound for emergency vehicles. The northbound lanes were kept closed until 8:45 p.m.
Debris, including truck parts, a tire, a cooler, at least one empty Busch Beer 12-pack carton, and a lot of dirt scraped off the median was scattered all over both northbound lanes in a trail. Towels and swimming suits were also recovered. "It was inside the bed of the pickup truck," Brown said. "It looks like they'd come from the beach or somewhere where they were having a party or something." In fact, the trio had been mud-bogging in Bunnell.
Beer cans were scattered around the scene as well, almost all of them crushed. An investigation is ongoing.
The old AAA service station, according to the Flagler County Historical Society's Sisco Deen, was once operated by Mildred Close Nyland and Charles Mellford "Chick" Miller.