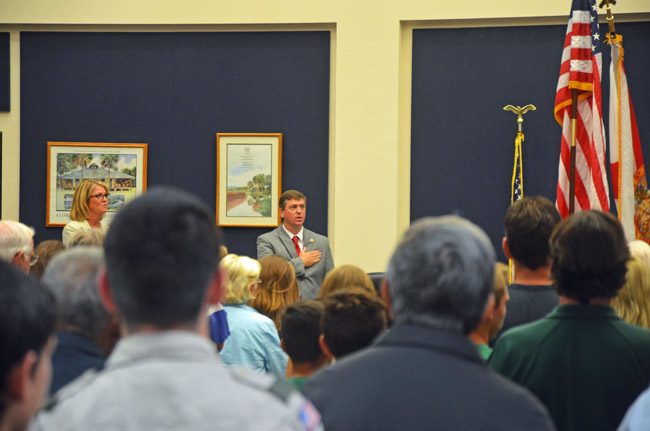 Trevor Tucker wants to change the way the Flagler County School Board does its public business.
Tucker on Tuesday was named chairman of the board for the next two years. He's in his second term on the board. He wants the board to meet half as often, but spend more time at its meetings.
Until the end of 2003, the board met just once a month, except for special meetings, and rarely held workshops. Starting in 2004, it met twice a month, with the second meeting devoted entirely to construction matters. That was when the district was keeping up with unprecedented growth. By mid-decade, Flagler-Palm Coast would be ranked as the fastest-growing region in the United States for at least two years running. As the construction spree was replaced with the housing crash, the district kept its two-meetings-a-month schedule.
It has since added more meetings in the form of workshops, where no votes are taken but where the real work takes place: board members analyze and more informally discuss issues they will be voting on. Under the past two superintendents, almost every bi-monthly meeting on the first and third Tuesday of the month has been preceded with a one-hour workshop. But often, workshop discussions would have to be aborted because of the scheduled 6 p.m. business meeting. So issues would be left dangling, or would end up on the agenda for a vote without having been completely fleshed out.
Tucker has a reputation for speaking less than any of his colleagues at board meetings. When he does, he makes his point, usually very briefly, and sits silent again. Though he'll debate an issue, he's not much for long and circuitous discussions. He wants the board to return to a one-meeting schedule, in so far as business meetings are concerned—that is, meetings where the board takes votes. And he wants the other bi-monthly meeting to be exclusively a workshop, with no time limit, and where every item scheduled to come before the board for a vote is on the agenda, ready for open discussion.
---
An idea based on a faulty analogy with Duval County schools.
---
The approach is similar to that of the Palm Coast City Council, but only by half: the council meets four times a month, twice in workshop, and twice in business, or voting, meetings, a practice instituted by former Mayor Jon Netts that has served the council well over the years, with every item to be voted on first getting vetted in workshop. The school district essentially replicated the same approach by squeezing both its workshops and business meetings in the same evenings.
"I know one meeting a month, we can get everything done," Tucker said. "If Duval has one action meeting a month, we should be able to. Duval is bigger than us. They have over a billion-dollar budget. We should be able to get it done at that point in time."
If Tucker's premise is Duval County Schools, it's not entirely accurate.
Duval, it's true, meets for only one business session a month. But it also meets in other ways dozens of times a month—for board committee meetings, for workshops, for special meetings, and for an innumerable number of meetings that never take place in Flagler, but could: bi-lateral meetings between two board members who think certain issues should be discussed. Those bi-lateral are not illegal, but fully within the allowance of the state's open-meetings law, as long as the meetings are publicly noticed—as they are on the Duval district's website—and an agenda of the proposed discussion is included. All those meetings, including the bi-lateral kind, are open to the public.
This month alone, for example, the Duval district has so far advertised 17 meetings of the school board in one fashion or another, nine of those as "board member" meetings involving fewer than the full membership of the board. The board also noticed three special meetings, one of them an expulsion hearing, and several workshops and subcommittee board meetings.
November was not an unusual month, but more like the norm. What the Duval school board most definitely does not do is meet once in workshop and once in a business meeting for the entire month, as Tucker implied. If anything, the Duval system would drive a meeting-averse member like Tucker rather nuts.
Nevertheless, it was on that premise that Tucker floated his proposal, which may have its biggest impact on the school administration, which must now adjust its way of preparing business for the board.
"I support it, but let's in April or March kind of take another gut check to see if it actually is realistic and works with staff," School Board member Colleen Conklin said.
Superintendent Jacob Oliva only hinted at the difficulties ahead when he did not exactly jump on the proposal, and used the word "challenge" to describe it.
"Our team is up for the challenge and we'll be able to work through this process," Oliva said. "We'll need some patience, I think, because there's going to be some items sometimes that just happen that we're going to have to flesh out."
School Board member Andy Dance said there's an advantage to having the two-meeting, two-workshop schedule, but he also saw the benefits of workshops that would not be time-limited. "The idea is to not have a deadline on workshops, basically workshop something until you fleshed it out and we're not in a rush for meeting the meeting deadline," he said. "The alternate to that is on our board days count the whole day as a school board day and start your workshops in the morning. You work as long as you need to on workshop items, take a break, and come back for the school board meeting at night."
Conklin was concerned about that approach if it is to reduce public involvement. As it is, Tucker wants to shift the workshops to a third-floor conference room, where previous workshop meetings held there have meant that the board is out of view, out of hearing. It does not either video-cast or audio-cast its meetings from its upstairs conference rooms, thus effectively preventing anyone who is not present to monitor the board's activities. The school board alone has on occasion reverted to that practice. Palm Coast, the county commission, Flagler Beach and Bunnell all ensure that both their regular meetings and their workshops, wherever those may be held, are broadcast live, either with video or with audio.
The board was on the whole supportive of the new approach, which would begin in January.