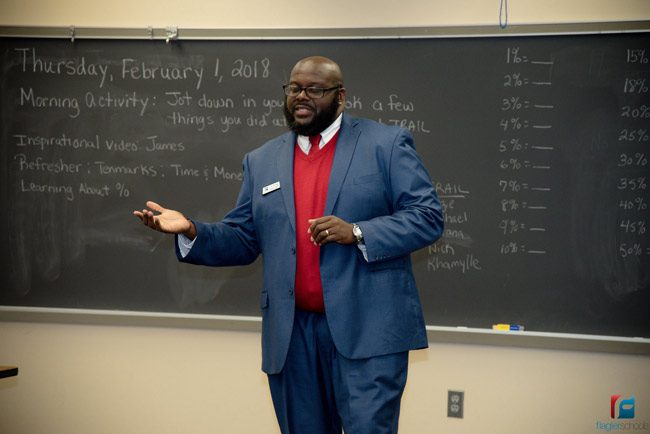 Flagler Palm Coast High School and Matanzas High School are each about to get extra vocational help for students with disabilities thanks in part to a $22,000 grant presented this morning to the Flagler Education Foundation, the school district's non-profit arm. At least 15 students are expected to participate in the program.
The grant is from The Able Trust, an outgrowth of the non-profit Florida Endowment Foundation for Vocational Rehabilitation the Legislature created in 1990 as a non-profit public-private partnership to make it easier for Floridians with disabilities to get jobs. Vocational rehabilitation is the focus of The Able Trust's programs and grants. The trust awarded nearly $2 million in grants last year, including 46 grants of $22,000 each, such the grant presented today in Flagler.
The grants help pay for what's called Florida High School High Tech programs. Those programs provide vocational opportunities to disabled students, improving their participation, increasing enrollment in college or post-secondary education and increasing high school graduation rates, according to the trust. The program which served 1,550 students last year in 40 other counties and 151 high schools and other educational settings–including juvenile jails–and graduated 373 students at a rate higher than for disabled students who are not in the program, according to the trust's annual report.
"This grant will allow us to institute The Able Trust's HSHT Program in two of our high schools, giving us the opportunity to provide students with all types of disabilities the chance to successfully explore jobs or postsecondary education leading to technology-related careers," said Joe Rizzo, executive director of the Flagler Education Foundation.
The check was presented by Susanne Homant, president and CEO of the trust. "Our research shows that people with disabilities are at least twice as likely to be unemployed as the general population," Homant said. The tech program improves on that ratio.
"We are proud and excited to bring this program to our students with disabilities," Tim King, director of exceptional student education for Flagler Schools, said. "We are passionate about ensuring all our students have the same opportunities."
Homant credited the Legislature for the program. "I'd like to extend a sincere thank you to them for making the expansion of the HSHT Program to Flagler County possible and for continuing to support Floridians with disabilities."
Continuing to support students with disabilities was somewhat of a misstatement: two years ago, the Legislature eliminated funding for Flagler's half-million-dollar Adults With Disabilities program, causing havoc with the program, which had to be scaled back at great cost to local families, though the local school board was able to keep it going. The program was restored to full funding the following year only after exhaustive lobbying by local school and legislative officials.