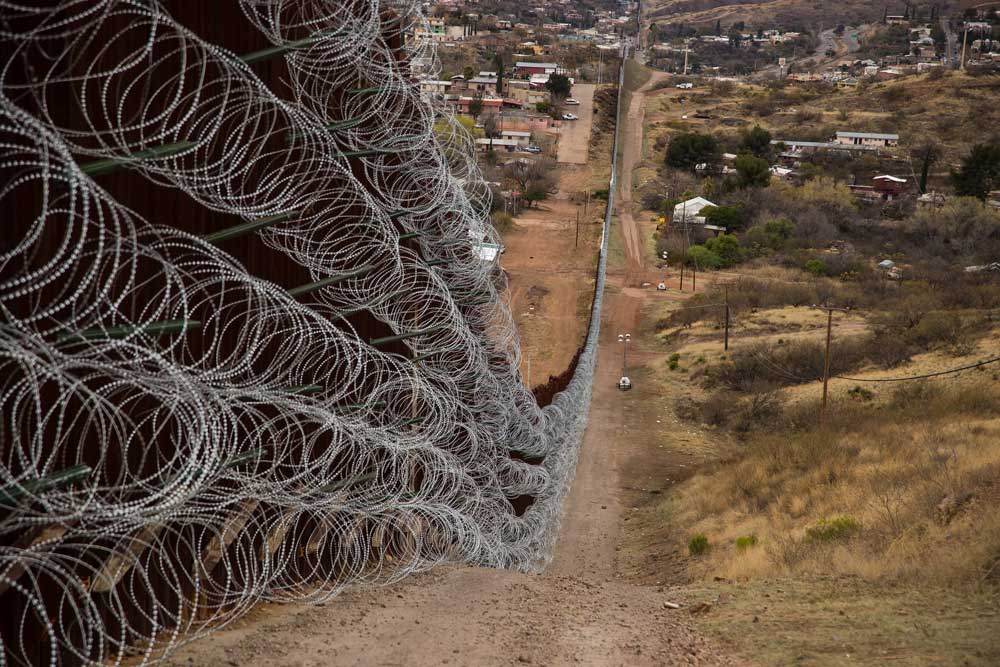 By Allegra Love
I listened to President Joe Biden announce his new plan for the U.S. border on Jan. 5 with fury.
A theme in his speech — to crack down on people who cross the U.S. border illegally and circumvent U.S. law — makes my blood boil.
Crossing the U.S. border to ask for asylum is emphatically not illegal. The president wants you to believe it is, while not noticing the fact that he has nearly eradicated the right to asylum at the border. With Biden's latest plan, the right is contingent on nationality. And it doesn't exist in the form that is legally required.
Folks talk about breaking the law all the time, but let's look at the actual text of 8 U.S. Code § 1158, which describes the general authority to apply for asylum:
"Any alien who is physically present in the United States or who arrives in the United States (whether or not at a designated port of arrival and including an alien who is brought to the United States after having been interdicted in international or United States waters), irrespective of such alien's status, may apply for asylum in accordance with this section or, where applicable, section 1225(b) of this title."
Pay close attention to the parentheses in that statute.
It says a person "who is physically present in the United States … whether or not at a designated port of arrival" may apply for asylum. This means that people who cross the border without permission for the express purpose of asking for asylum have done so in accordance with U.S. law.
Importantly, Title 42 has closed the ports of entry for nearly three years, and the only way to assert an asylum claim is to cross the border between ports.




This fact of asylum law is absent in any White House discussion about the U.S. border, and in the media coverage that follows.
When the president announced in November that Venezuelans could no longer ask for asylum if they crossed the border between ports of entry and then announced the same restriction on Thursday for Cuban, Haitians and Nicaraguans, he overrode U.S. asylum law as established by Congress in 1980.
So while the word "illegal" has no place in describing asylum seekers coming to the U.S. border, it is our own president who is breaking the law.

To make matters worse, the White House also invented a new policy and arbitrarily decided it is the only acceptable legal way for people from certain nationalities to come to the United States.
As a trade-off to ending asylum, the government will create an opportunity for up to 30,000 people a month from Haiti, Nicaragua, and Cuba to petition for humanitarian parole into the country.
On its face, that program is good.
We need more opportunities for people to apply for entry into the United States from their home country. But this program is not an appropriate replacement for the right to seek asylum. We should not believe the president when he makes the suggestion.




To start, the program is quite limited in number. Not everyone will be able to apply for it. Also those that wish to qualify need a financial sponsor in the United States. Furthermore, you have to apply for the program from your country, and if you leave, you are disqualified. All of these requirements make this program a terrible substitution for the right to asylum.
I have represented more people than I can count in their asylum cases. One constant factor in their stories is that they had to move. Most of my clients love their homes and imagined a future there until there wasn't one.
While every story is different, very few folks had the opportunity to wait and fill out an application or identify a sponsor in the U.S. to help them.
They had no other choice.
The right to leave a place where your life is in danger is at the very core of our global covenants to refugee rights. This is why we have asylum law in this country in the first place.
President Biden deciding that the only way to ask for help is to stay put is an assault on the entire concept of the refugee.
He said he has a message for anyone leaving Cuba, Nicaragua or Haiti "do not just show up at the border. Stay where you are and apply legally from there."
Just showing up at the border is the whole point of asylum.
It is sanctioned, and it is the actual process outlined under both international and domestic law. A person may not be eligible for Biden's made-up parole program but should be eligible to ask for asylum. The administration's decision that Venezuelans, Cubans, Haitians and Nicaraguans are simply not eligible to benefit from those international and domestic rights is unlawful.
It must be called what it is.
President Biden is a villain on the border.
I am tired of hearing his policies attributed to Trump in the media.




They are Biden's policies, and he is finding new and more ghoulish ways to violate migrants rights on the U.S. border than his predecessor ever managed.
Biden ended asylum in the U.S. for four nationalities, and there is absolutely no reason to believe he will not expand that to include other nationalities the moment they become politically inconvenient.
It's time to treat this president as the same level of threat that Trump was to the rights of migrants across the globe.
Allegra Love is an immigration attorney from Santa Fe, N.M. She is a graduate of Dartmouth College and the University of New Mexico School of Law. She is the founder of and former director of Santa Fe Dreamers Project, a legal services organization serving immigrants and refugees. She also worked at the El Paso Immigration Collaborative to represent detained asylum seekers in the Southwest.
Reader Interactions